This is a portion of an article originally posted at God's Own Party on March 31, 2012.  The introduction by another person has been left out and some of the content changed.  These changes do not effect the total content, so if you are still with me still, read on…
If you were to go to the website Alec.org, you would find a benign site that tells you how the group American Legislative Exchange Council (ALEC) was founded to "advance the Jeffersonian principles of free markets, limited government, federalism, and individual liberty".  They will tell you they do this through a "nonpartisan public-private partnership of America's state legislators, members of the private sector, the federal government, and general public".  Then they further tell you they are doing this for us by "developing policies that ensure the powers of government are derived from, and assigned to, first the People, then the States, and finally, the Federal Government".  Further they will do this by "enlisting state legislators from all parties and members of the private sector who share ALEC's mission".  But wait, I thought this was for we the people but now they tell us only "we the people" who agree with their mission?  I wonder what else they are going to do for we the people?  Well, they tell us in a further statement: They will "conduct a policy making program that unites members of the public and private sectors in a dynamic partnership to support research, policy development, and dissemination activities".  And according to them, if we trust them, "they will prepare the next generation of political leadership through educational programs that promote the principles of Jeffersonian democracy, which are necessary for a free society".  That sure sounds like something we can all get behind, but not so fast.
I am sure that little part about agreeing with their mission is just an oversight, right?  I suppose if you were to peruse their site and not dig any further, you could walk away with that impression.  The problem comes into play IF you do dig further because what you will find out is that ultimately ALEC is looking after Corporations and not we the people, in any respect.  They dress it up to lull the public while in the background they work to ensure legislation is geared toward the benefit of Corporations alone and while  we may realize some crumbs they deign to throw at us, make no mistake they are in it to win it for themselves and their corporate masters alone.
A quick note for those of you new to this particular area of semi-secretive activity: the American Legislative Exchange Council (ALEC) is a 501 (c) (3) tax-exempt not-for-profit organization that bills itself as being the nation's largest "bipartisan" public-private legislative partnership. As such, ALEC consists of more than 2,000 state lawmakers and more than 300 of the nation's leading corporations, lobby firms and 'think tanks.'  Some of those leading coporations are: Bayer, Glaxco,Smith.Kline, Centerpoint360, Exxon/Mobil, Phrma, Kraft Foods, Walmart and Koch Enterprises to name a few.  Of course it would be difficult to name them all here, but you get the general idea. To give you a good idea of the stealthness, watch Real Time with Bill Maher sometime.  You will see a gentleman from time to time named Stephen Moore on the show.  Bill introduces him as a senior economics writer for various publications, mainly the WSJ.  Never once does he say anything about Mr. Moore's connection to ALEC.  I don't know about you but it makes me question Bill Maher's due diligence in investigating his guests' backgrounds and HBO's decision to hire someone who would portray this gentleman as just another economics scholar, never mentioning his seat on ALEC's Board of Scholars.  But then again, perhaps that is intentional.
So you are probably wondering exactly what it is that ALEC does and I am ready to tell you.  ALEC has members in nearly every state of the union in Congress, State Legislatures, State Assemblies, Governorships, perhaps even in the White House either in the past or currently.  That is not to say our President is aware of it, just that it could happen.  It is hard to determine all the areas they cover but knowing these people are the ones determining legislation in your state and country is chilling enough.  You can email your representatives all you want expressing your views on a particular piece of legislation, if it is not in line with ALEC's mission, your representative is not going to vote for it, especially if they are Republican.  So you can see where their mission, not your needs, comes into play because they and their corporate board members have the money, you do not.  You will also probably not be too surprised, at this point, to know most members belong to the Republican party.  I have found a few Democrats but not nearly enough to consider them truly "bi-partisan".  Understanding that, you have another problem because who do you think they are going to favor in legislation and at the voting booth?  You guessed it, Republicans.
So what is some of the legislation they have sponsored and won?  Voter ID laws for one and in the mid-term elections of 2010 you could also guess they were behind the majority Tea Party and Republicans gaining control of the House of Representatives.  They knew if they won the house and local elections, they would gain the upper hand in re-districting and that is exactly what happened.  Remember the Koch brothers are members and it was the Koch brothers who bankrolled the "grassroots" Tea Party Patriots and by association their candidates.  I saw where a person referred to the Koch brothers as the Kochanostra and I happen to think that label is appropriate when you keep turning over the layers to see how much they try to influence laws, the environment and our elected offices.  Isn't that what the Mafia did and isn't some of that activity exactly what resulted in Rico charges against them?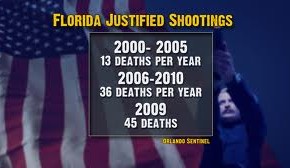 The "Stand Your Ground Law" is another piece of legislation that was sponsored (always in the background) by ALEC. I am sure you have all heard about the tragedy that befell the Martin family in Florida.  In case you have not heard, the shooter(George Zimmerman) of Trayvon Martin, a 17 year old high school senior, is claiming he should be protected by Florida's stand your ground law.  In short, he was a self imposed "neighborhood watchman", who, despite being advised by 911not to follow a "person of interest" in his gated community, did so anyway.  An altercation occurred and George Zimmerman (the watchman) shot and killed Trayvon Martin claiming the young man accosted him as he was returning to his vehicle.  The "Stand Your Ground Law" protects citizens if they need to use deadly force in the process of defending themselves.  In short, it makes you or I a vigilante and it may be coming to a state near you thanks to ALEC.
But where does the encouragement of vigilante (in) justice fit into this picture? It is the same old story, the long-standing exploitation of public fears.  Republicans have done this again and again.  During the Bush administration they even had a color-coded chart to tell us exactly how afraid we should be, red was terrified and green meant to go out shopping.  It should come as no surprise that the NRA and ALEC have been allies for a long time as well.  Who benefits from lax gun laws?  The NRA and the manufacturers and retailers of weapons.
Many ALEC-drafted bills pursue standard conservative goals: union-busting, undermining environmental protection, tax breaks for corporations and the wealthy. ALEC seems, however, to have a special interest in privatization — that is, on turning the provision of public services, from schools to prisons, over to for-profit corporations. And some of the most prominent beneficiaries of privatization, such as the online education company K12 Inc., EdisonLearning and the prison operator Corrections Corporation of America, are, not surprisingly, very much involved with the organization.
What this tells us, is that ALEC's claim to stand for limited government and free markets is misleading. To a large extent the organization seeks not limited government but privatized government, in which corporations get their profits from taxpayer dollars, dollars steered their way by friendly politicians. In short, ALEC isn't so much about promoting free markets as it is about expanding crony capitalism.
And in case you were wondering, the kind of privatization ALEC promotes isn't in the public interest; instead of success stories, there are a series of scandals. Private charter schools take tax money to operate and seldom show increased educational achievement.  In fact, EdisonLearning is being funded by the Florida Teacher's Pension and the funding was done while Jeb Bush, as governor/trustee, agreed to use the funds to help Liberty Partners prop up the company which, in it's history, has consistently lost money.  And like Bain Capitol, Liberty Partners is in the business of LBO's.  If things go wrong again, they will file Bankruptcy once again and most in the Pension fund will never know.  These people, who love to stir up the Islamaphobia, have entrusted a man who is a devout Muslim to run some of these Charter Schools.  Now I do not have a problem with this as the evidence is very shady, but if these people and their followers realized that I just wonder how they would deal with it.  A friend of mine inadvertantly gave me the answer.  Of course they would blame it on President Obama, thank you Sally.  The link to the website is below.


There is one thing these people do not like and that is sunlight. Sunlight for those sunflowers above make them flourish, not so for these people in fact you put sunshine on their activities they will fight back.    Sunlight on their organizations means trouble for them, whenever sunlight is brought to bear they need to refute it, if serious enough.  You may have heard of a new organization called Americans Elect.  They have positioned themselves as a grassroots organization which I find hard to believe.  First of all they were funded with Wall Street assistance and they have hired a CEO from the CFR(Council for Foreign Relations).  How can a member of the CFR possibly understand the everyday problems of the 99%?  Second, they have positioned a member of ALEC on their rules board.  So a member of ALEC is going to judge and make decisions in the nominating and voting rules?  You just finished reading this piece, don't you just wonder how that could possibly go wrong?  Would you question the motives of the people in both organizations?  If so, then tell the world.  Don't be quiet about it, that is what they count on – our silence.
http://libertylinked.com/posts/9722/u-s-house-trying-to-stop/View.aspx
Obama to blame for Charter schools
http://alecexposed.org/wiki/ALEC_Exposed
ALEC Exposed
ALEC Official Site