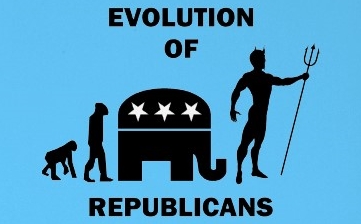 BREAKING NEWS:

In a press conference today, Republican National Committee Chairman Reince Priebus announced his party's new Contract Against America which is centered on an avowed opposition to the following items:

1. Sex
2. Winning the Lottery
3. Juicy Hamburgers
4. The Death of Osama Bin Laden
5. The Wheel
6. Jesus (but not The Old Testament God)
7. Laughter
8. Being Cozy in Bed on Rainy Nights
9. Puppies
10. Oxygen

To balance the scales, Priebus followed up by providing a list of what the GOP supports:

1. Dog Bites
2. Telemarketing Phone Calls During Dinner
3. Yeast Infections
4. Sudden and Expensive Car Repairs
5. Impotence
6. Forgetting Wedding Anniversaries
7. Hell
8. Watching Fox News (see 7.)
9. Spontaneous Combustion
10.A Giant Meteor Striking the Earth and Exterminating All Life

Priebus concluded the press conference by deeming baseball, hot dogs and apple pie offensive and UnAmerican and promised that if voters returned Republicans to majorities in Congress and the White House this year, they would finally allow Satan back in the classroom.
Though I wish I was joking about this, the GOP has indeed come out against the concept of "good things". They oppose tax fairness for all Americans as "class warfare", criticize immorality as "opposing Free Enterprise", protest helping the poor and needy as "enslaving people" and object to the refusal to turn everyone over the age of 65 into a cheap and plentiful food source for the 99% ("Soylent Greed").
During the Superbowl, Chrysler presented an ad starring Clint Eastwood that basically expressed that though we've suffered and are suffering hard times, as Americans, we have the strength and will to come back.
This was of course an outrageous attack on Republicans. Karl Rove responded this way to it:
ROVE: "I was, frankly, offended by it. I'm a huge fan of Clint Eastwood, I thought it was an extremely well-done ad, but it is a sign of what happens when you have Chicago-style politics, and the president of the United States and his political minions are, in essence, using our tax dollars to buy corporate advertising."
Put through the GOP Translation machine:
ROVE: "How the hell are we supposed to win in November if Americans become hopeful and they see the truth that the economy is getting better? Anyone who tries to inspire hope and confidence in Americans or points out that things are improving is an enemy of the GOP. We need a desperate and angry nation that is fearful for the future if we want a chance of winning! I mean, we sure as hell aren't going to win on substance or Mitt Romney alone!"
When the unexpectedly positive jobs report and the sharp drop in unemployment numbers to 8.3%, the lowest level since February 2009, was announced next week, how did Republicans respond to things getting better for the nation and most Americans?
REP. JEB HENSARLING (Chairman of the House Republican Conference): "Today is an indication of another failure of this president's policies, 36 months in a row of 8 percent-plus unemployment.
REP. BILL FLORES: "The president's team is gonna trot out their happy faces today. But the American people are gonna say, 'not so fast.'"
MITT ROMNEY: "We welcome the fact that jobs were created and unemployment declined. Unfortunately, these numbers cannot hide the fact that President Obama's policies have prevented a true economic recovery. We can do better."
Reality and things getting better in America is clearly anti-Republican. Both are deeply offensive to Republicans and inspire a push back from Republicans that despair is what America is all about.
It's no revelation that Republicans nearly always run on hate and fear. The Rovian strategy of Bush's re-election wove the fear and loathing of gay marriage along with the certainty of a terrorist attack on America if a Democrat was elected. The McCain/Palin run was predicated on fear of a black, socialist Kenyan pal of terrorists taking over the White House and beheading Christians in the streets while making their children convert to Islam.
So here we are again in 2012 and once again, the campaign is again instilling fear of other nations and races (including that "feriner" Obama), instilling fear of the nation's economy and social fabric being destroyed (by that "feriner", socialist Obama) and instilling anger about things that are getting better by insisting that they are not getting better fast enough (thanks to that "feriner", socialist, failure Obama).
There is no positive or hopeful view about America from the GOP. Romney may blather about how he "cares" about the middle class but he can't talk about what specifically he will do to make things better for 99% of Americans. That's because his budget plan would raise taxes by more than 60% on the poor.
What is surprising is how unsurprising this all seems to far too many Americans. It is positive to see that as of now, when Romney should be at his highest advantage over Obama, Obama is polling well ahead of Romney. However, 45% of those polled are supporting Romney and the negative and nihilist policies he represents.
How can this be? Are 45% of American voters closet super-villains? Do they really oppose truth, justice and The American Way? Of course not, there are a variety of reasons why people are supporting, ignorantly and against their own interests, the GOP as the party of Anti-Good.
There is of course the mindless GOP Base which would support steamrollers destroying their homes and all of their possessions if it was supported by the GOP. Then there are those who are racist,  hate that a black man is in the White House and want to do everything they can to replace him with a lying, uncaring and unprincipled white man to restore integrity to the office.
The group supporting doom and gloom in the form of The Republican Party that may be the most annoying is The Short Term Thinkers. The Short Term Thinkers use the fractured logic of, "Well, we may have had the worst recession since the depression, things may be getting better but as long as everything isn't perfect for me today, we need a new President." Such ignorance about the need for programs and leadership to become most effective and beneficial over time is astounding.
Would these same people expect to be able to save up a retirement nest egg in one year? Would they vote against evolution because it didn't change things quickly enough?
Preceding the economic crash, Americans have been programmed by our corporately designed greed and self-indulgence-oriented society that "You can have it all…now!" There is a harmful lack of long term planning and commitment by Americans to big goals and an almost neurotic leaping back and forth from party to party based solely on wanting things now.
There is an extraordinary amount of wishful thinking and naivete as well, frequently believing the pie-in-the-sky promises of one party's candidates to make everything better immediately…which appears especially ignorant after these same people have seen time and again that better times can't be brought about by any politicians or party instantaneously.
Sometimes, the hobbled reasoning of these people is, "Well, I don't like that things aren't how I want them now so I'm just gonna vote against the party in power!" What is glaringly absent from the reasoning of such people is that they aren't thinking about how much worse things could be under that specific alternative they would put in power by default.
If you're unhappy with your car because it doesn't go fast enough for you and just jump into any other car because it isn't your current car, you could be trading a decent car for one that breaks down and sabotaging your ultimate goal, that is, safely arriving at your desired destination.
If one doesn't explore and compare choices and just gives power to another entity based solely on rejecting the current entity in power, you can (and we have) indeed go from the frying pan into the fire.
There are those Short Term Thinkers who vote primarily on their immediate feelings and emotions, those who either refused to vote in 2010 or voted for Republicans out of spite for Obama and the Democrats not giving them the miracle they wanted.
VWA (Voting While Angry) is dangerous. Reason and critical thinking is abandoned. Such people not only cut off their noses to spite their face, they'll cut off their own unemployment insurance as well, along with Social Security and Medicare. What these people care about is "getting even" and hurting the politicians they're mad at…even though they may be harming themselves far worse than they have been. It's irrational.
A political party that is based upon hate, fear and bad things happening to 99% of good people should be a cult, a small quirky minority that is nowhere close to being a mainstream party. There are only about 28% of voters that identify themselves as Republicans. That sounds about right.
Without those voting out of ignorance, emotion or disappointment at not having it all now, the GOP would be consigned to being the minority oddity that it should indeed be.
So maybe, the answer this year is to use their opposition to "good" against them, appealing to the good in these people, something the GOP is unable to do and perhaps a long term trend against those who root against "good" could become a longtime or even permanent majority.
And that could be very, very good indeed.