You can access all the past editions of The Daily Planet on the green Category bar on the top of each page under the heading PlanetPOV.
________________________________________________
BUDGET
Secretary Of Defense Announces $487 Billion In Defense Cuts 
Addicting Info:
The trillion-dollar defense budget is being cut in half over the next ten years. Secretary of Defense Leon Panetta announced on Thursday that the Department of Defense will ask for a budget of approximately 525 billion dollars which is about where the budget was before September 11, 2001. Here are a few of the details.
• There is to be an 80,000 troop reduction in the Army by 2017.
• The Marines will shed 20,000 troops.
• The Air Force will retire 24 C-5A cargo planes and 65 of its oldest C-130 cargo aircraft.
The number of Navy Seal Teams will increase around the world. (And we all know what the Seals can do.)
• The number of drones will increase by 30%.
•The Navy will retire seven cruisers, while keeping its fleet of 11 aircraft carriers.
• The purchase of the new Virginia-class submarines will be delayed.
• The Navy, Air Force, And Marines will slow down their purchases of F-35 stealth fighter jets.
• The Pentagon is shifting their focus from Afghanistan and Iraq to counter other potential threats in the world and to cyber-attacks.
President Obama intends to send the new budget cuts in his 2013 budget proposal to Congress on February 13, 2012.
For years, Democrats and a majority of the American people have been calling for defense cuts to help pay down the debt and reduce the deficit. It now looks like that is happening. And it's about time. This is a promise that is being kept by President Obama, who has called for a leaner and more efficient military. Mr. Obama has demonstrated that smaller operations are efficient and successful. Just a couple of days ago, a Navy Seal Team rescued hostages held by Somalis after President Obama gave the order to execute the operation. Small operations using drones and Seals are also responsible for the killing of Osama bin Laden and several other high-ranking terrorists. President Obama has also demonstrated that more cooperation with allies is integral to US defense. With help from NATO, the people of Libya brought down their ruthless dictator.
This is the kind of news that America needs, especially since the economy is recovering. Military contractors and Republicans will most likely hate these cuts but they are a necessary step in the right direction for fiscal responsibility and make the progressive/liberal base of the Democratic Party happy. America will still have a strong military that can strike where any threats may lurk. But we'll save money that can be used to improve American infrastructure and domestic programs that Americans desperately need. It also allows us to pay more of our debt. This is exactly what President Obama outlined in his State of The Union Address on Tuesday night. One thing is certain. America is going in the right direction as long as President Obama is in charge.
BUSINESS
NYT: In China, Human Costs Are Built Into an iPad
The explosion ripped through Building A5 on a Friday evening last May, an eruption of fire and noise that twisted metal pipes as if they were discarded straws.
When workers in the cafeteria ran outside, they saw black smoke pouring from shattered windows. It came from the area where employees polished thousands of iPadcases a day.
Two people were killed immediately, and over a dozen others hurt. As the injured were rushed into ambulances, one in particular stood out. His features had been smeared by the blast, scrubbed by heat and violence until a mat of red and black had replaced his mouth and nose.
"Are you Lai Xiaodong's father?" a caller asked when the phone rang at Mr. Lai's childhood home. Six months earlier, the 22-year-old had moved to Chengdu, in southwest China, to become one of the millions of human cogs powering the largest, fastest and most sophisticated manufacturing system on earth. That system has made it possible for Appleand hundreds of other companies to build devices almost as quickly as they can be dreamed up.
"He's in trouble," the caller told Mr. Lai's father. "Get to the hospital as soon as possible."
In the last decade, Apple has become one of the mightiest, richest and most successful companies in the world, in part by mastering global manufacturing. Apple and its high-technology peers — as well as dozens of other American industries — have achieved a pace of innovation nearly unmatched in modern history.
However, the workers assembling iPhones, iPads and other devices often labor in harsh conditions, according to employees inside those plants, worker advocates and documents published by companies themselves. Problems are as varied as onerous work environments and serious — sometimes deadly — safety problems.
Employees work excessive overtime, in some cases seven days a week, and live in crowded dorms. Some say they stand so long that their legs swell until they can hardly walk. Under-age workers have helped build Apple's products, and the company's suppliers have improperly disposed of hazardous waste and falsified records, according to company reports and advocacy groups that, within China, are often considered reliable, independent monitors.
More troubling, the groups say, is some suppliers' disregard for workers' health. Two years ago, 137 workers at an Apple supplier in eastern China were injured after they were ordered to use a poisonous chemical to cleaniPhone screens. Within seven months last year, two explosions at iPad factories, including in Chengdu, killed four people and injured 77. Before those blasts, Apple had been alerted to hazardous conditions inside the Chengdu plant, according to a Chinese group that published that warning.
"If Apple was warned, and didn't act, that's reprehensible," said Nicholas Ashford, a former chairman of the National Advisory Committee on Occupational Safety and Health, a group that advises the United States Labor Department. "But what's morally repugnant in one country is accepted business practices in another, and companies take advantage of that."
Apple is not the only electronics company doing business within a troubling supply system. Bleak working conditions have been documented at factories manufacturing products for Dell, Hewlett-Packard, I.B.M., Lenovo, Motorola, Nokia, Sony, Toshiba and others.
Current and former Apple executives, moreover, say the company has made significant strides in improving factories in recent years. Apple has a supplier code of conduct that details standards on labor issues, safety protections and other topics. The company has mounted a vigorous auditing campaign, and when abuses are discovered, Apple says, corrections are demanded.
And Apple's annual supplier responsibility reports, in many cases, are the first to report abuses. This month, for the first time, the companyreleased a list identifying many of its suppliers.
But significant problems remain. More than half of the suppliers audited by Apple have violated at least one aspect of the code of conduct every year since 2007, according to Apple's reports, and in some instances have violated the law. While many violations involve working conditions, rather than safety hazards, troubling patterns persist.
"Apple never cared about anything other than increasing product quality and decreasing production cost," said Li Mingqi, who until April worked in management at Foxconn Technology, one of Apple's most important manufacturing partners. Mr. Li, who is suing Foxconn over his dismissal, helped manage the Chengdu factory where the explosion occurred.
"Workers' welfare has nothing to do with their interests," he said.
Some former Apple executives say there is an unresolved tension within the company: executives want to improve conditions within factories, but that dedication falters when it conflicts with crucial supplier relationships or the fast delivery of new products. Tuesday,Apple reported one of the most lucrative quarters of any corporation in history, with $13.06 billion in profits on $46.3 billion in sales. Its sales would have been even higher, executives said, if overseas factories had been able to produce more.
Executives at other corporations report similar internal pressures. This system may not be pretty, they argue, but a radical overhaul would slow innovation. Customers want amazing new electronics delivered every year.
"We've known about labor abuses in some factories for four years, and they're still going on," said one former Apple executive who, like others, spoke on the condition of anonymity because of confidentiality agreements. "Why? Because the system works for us. Suppliers would change everything tomorrow if Apple told them they didn't have another choice."
"If half of iPhones were malfunctioning, do you think Apple would let it go on for four years?" the executive asked.
Apple, in its published reports, has said it requires every discovered labor violation to be remedied, and suppliers that refuse are terminated. Privately, however, some former executives concede that finding new suppliers is time-consuming and costly. Foxconn is one of the few manufacturers in the world with the scale to build sufficient numbers of iPhones and iPads. So Apple is "not going to leave Foxconn and they're not going to leave China," said Heather White, a research fellow at Harvard and a former member of the Monitoring International Labor Standards committee at the National Academy of Sciences. "There's a lot of rationalization."
Apple was provided with extensive summaries of this article, but the company declined to comment. The reporting is based on interviews with more than three dozen current or former employees and contractors, including a half-dozen current or former executives with firsthand knowledge of Apple's supplier responsibility group, as well as others within the technology industry.
In 2010, Steven P. Jobs discussed the company's relationships with suppliers at an industry conference.
"I actually think Apple does one of the best jobs of any companies in our industry, and maybe in any industry, of understanding the working conditions in our supply chain," said Mr. Jobs, who was Apple's chief executive at the time and who died last October.
"I mean, you go to this place, and, it's a factory, but, my gosh, I mean, they've got restaurants and movie theaters and hospitals and swimming pools, and I mean, for a factory, it's a pretty nice factory."
Others, including workers inside such plants, acknowledge the cafeterias and medical facilities, but insist conditions are punishing.
"We're trying really hard to make things better," said one former Apple executive. "But most people would still be really disturbed if they saw where their iPhone comes from."
MORE>>>
Bank Of America's Offer To Homeowners: We'll Modify Loans If You'll Erase All The Mean Things Said About Us On Twitter
ThinkProgress:
In late 2010, Arizona launched an investigation into Bank of America, alleging that the bank misled homeowners who were seekingmortgage modifications. Arizona's attorney general claims that Bank of America "repeatedly has deceived" borrowers looking to lower their monthly payments.
According to BusinessWeek, Bank of America is fighting back by giving loan modifications to borrowers who have made complaints. The catch is that, in return for the modification, the borrower must agree to stay silent and expunge any previous criticisms of the bank from his or her public record:
Bank of America Corp. is impeding an investigation of its loan modification practices by negotiating settlements with borrowers who must agree to keep them secret and not criticize the bank in exchange for cash payments and loan relief, Arizona officials say. […]
One 2011 accord involving a borrower facing foreclosure who defaulted on a $253,142 mortgage included a $5,000 payment, plus $7,500 for legal fees, and the defaulted payments were waived and the loan was modified to a 40-year term with a 2 percent interest rate, court documents show. The terms of the original loan and the borrower's complaint about the lender weren't described in the documents.
The borrower "will remove and delete any online statements regarding this dispute, including, without limitation, postings on Facebook, Twitter and similar websites," and not make any statements "that defame, disparage or in any way criticize" the bank's reputation, practices or conduct, according to documents filed in state court in Phoenix.
This isn't the first time that Bank of America has been accused of obstructing an investigation into its mortgage practices. Back in June of 2011, the U.S. Department of Housing and Urban Development's inspector general claimed that the bank was blocking access to employees and data in order to slow down an investigation into its alleged misdeeds. "Our review was significantly hindered by Bank of America's reluctance to allow us to interview employees or provide data and information in a timely manner," said HUD's William Nixon.
Now, if the Arizona officials' claims are true, Bank of America has gone from obstruction to explicit payoffs in order to keep its mortgage mess under wraps. (HT: Naked Capitalism)
ECONOMY
"I promise you. Bill Gates does not envy the rich." — Barack Obama
[…] In an interview with the BBC, Gates noted "taxes are going to have to go up" and thus he'd prefer that they "go up more on the rich than everyone else." There needs to be "a sense of shared sacrifice," he said, adding, "right now, I don't feel like people like myself are paying as much as we should":
GATES: Well the United States has a huge budget deficit, so taxes are going to have to go up. And I certainly agree that they should go up more on the rich than everyone else. That's just justice.
BBC HOST: Is that a message you think that works with other people as wealthy as yourself, or is it just a small circle of friends — yourself, Warren Buffet, a few others.
GATES: Well, I hope we can solve that deficit problem with a sense of shared sacrifice — where everybody would feel like they're doing their part. And right now, I don't feel like people like myself are paying as much as we should.
Watch it:
GOP presidential candidate Mitt Romney has declared that people with Gates' view are just riddled with "envy." But considering that Gates' wealth dwarfs Romney's millions, it's highly doubtful that Gates is envious. He, like an increasing number of millionaires, just views paying his fair share as the right thing to do.
Where did all the workers go? 60 years of economic change in one chart
The Atlantic:
President Obama's State of the Union speech was surprisingly bullish on reviving manufacturing, prompting one very clever person on Twitter to say something along the lines of: "Democrats want the economy of the 1950s, while Republicans just want to live there."
It got me thinking: What did the economy look like in the 1950s? If you could organize all the jobs into buckets and compare the paper-shuffling professional services bucket to the manufacturing bucket, what would they look like around 1950, and how has the picture changed in the last 60 years?
National Journal addressed just this topic in its special report on the rise and fall and rise of manufacturing. The spectacular graphic compares employment by sector in 1947 and 2007 and its most important lesson is a whopper. Manufacturing and agriculture employed one in three workers just after World War II. Today, those sectors employ only one in eight.
Where did all the making-stuff and growing-stuff jobs go? They went into services.
The champion in the last six decades was finance, insurance and real estate, which doubled its share of employment from 10.5% to 21.4%. But the broader service industry — including professional and business services (a broad catch-all with marketing, managing, consulting, computer services) and health and education services — also grew from about 13% to about 30%. Everything else has stayed pretty much the same. Government, wholesale/retail, information, and construction account for a little more than a third of the economy today, and they accounted for a little more than a third of the economy 60 years ago.
MORE>>>
This is brilliant: romneyandme.com
Two-thirds of American investors support closing Romney's tax loophole 
Two-thirds of American investors support eliminating a tax break that helped former Massachusetts Gov. Mitt Romney (R) pay just 13.9 percent of his income in taxes last year, according to a survey conducted by Bloomberg. Just 27 percent of investors say the break that taxes so-called carried interest at a lower rate than regular income is justified, a break President Obama would close with "the Buffet Rule," as proposed in his State of the Union address. The carried interest tax break is "welfare for the rich," said one investor, while another called it "a misallocation of capital and resources from the poor and middle class to the rich." Romney maintains the break in his own tax reform plan, which would give himself a $3.5 million tax break compared to Obama's plan.
EDUCATION
Slate: The research that backs Obama's #SOTU proposal to require students to attend school until 18
[…] Currently, 30 states allow students to drop out of high school at either 16 or 17, so this would represent a significant change—one the president actually has no power to enforce, since state law governs most of the variables in education policy, including the ages of compulsory schooling. Nevertheless, Obama's remarks could act as an agenda-setter. The proposal reflects the thinking of Alan Kreuger, a Princeton economist and chair of the White House Council of Economic Advisors. In 1990, Kreuger co-authored a study that found that because of variations in the ages when children enter school—some kids turn 5 the January before they begin kindergarten, while others turn 5 that October—students become eligible to drop out at different phases of their educations. The paper concluded that many potential dropouts stick out their junior or senior years of high school only because they have yet to reach the age at which they are legally allowed to leave school, and that such students eventually go on to earn somewhat higher wages than "early birthday" dropouts who were able to leave school as sophomores, for example.
In 2003, another economist, Philip Oreopoulos of the University of Toronto, studied the long-term consequences of leaving high school early across three countries: the United States, the United Kingdom, and Canada. Oreopoulos found that an additional year of high school—even if the student doesn't ever earn a diploma—can double a worker's maximum annual wage.
If every state responded to these findings by raising the compulsory schooling age to 18, there would inevitably be unintended consequences to address. Some low-income schools would be challenged by an influx of would-be dropouts remaining in the classroom. Schools should be doing more not just to warehouse at-risk students, but to provide them with engaging curricula that are relevant to their lives; that's why, as I've written elsewhere, it makessense to offer teenagers compelling career and technical education programs. This is especially important in light of what we know about dropouts: A 2006 survey from the Gates Foundation found that 81 percent wish their schools had done more to connect them to the world of work.
ENVIRONMENT
Obama administration issues major rewrite of national forest rules
The Obama administration finalized a rule Thursday governing the management of 193 million acres of national forests and grasslands, establishing a new blueprint to guide everything from logging to recreation and renewable energy development.
The guidelines — which will take effect in early March and apply to all 155 national forests, 20grasslands and one prairie — represent the first meaningful overhaul of forest rules in 30 years. The George W. Bush administration had issued a management-planning rule for national forests in 2008, but a federal court struck it down the next year on the grounds that it did not provide adequate protection for plants and wildlife.
In announcing the new procedures, Agriculture Secretary Tom Vilsack said they were crafted to enhance the nation's water supplies while maintaining woodlands for wildlife, recreation and timber operations. The lands provide 20 percent of the nation's drinking water, according to the U.S. Forest Service, an agency of the Agriculture Department.
"Restoration is the philosophy, with a focus on forest health and our water," Vilsack told reporters in a conference call, adding that the rules require that planning decisions be "driven by sound science."
The debate over how best to manage forests — especially in regions such as the Pacific Northwest — has pitted timber companies against environmentalists and some scientists for decades. On Thursday, administration officials emphasized that they had sought input from an array of constituencies to develop a plan that could minimize thesepublic disputes.
"We expect to see much less litigation with this process," said Forest Service Chief Tom Tidwell.
The rule will serve as the guiding document for individual forest plans, which spell out exactly how these lands can be used. While these plans are updated periodically, Vilsack noted that half are more than 15 years old.
Michael Goergen, executive vice president and chief executive of the Society of American Foresters, said that given the scientific advances in the past three decades, "we need to put that knowledge to work and outdated rules aren't going to help us. The new rules should be given a chance to work."
Several environmentalists and scientists praised the guidelines, which were revised to include additional scientific safeguards after the department received 300,000 comments. But they cautioned that the rules gave local supervisors considerable discretion in their implementation.
"The vision is laudable, and this is no small shift in how the national forests will be managed, from one of commodity extraction into a vision of protection, restoration and water preservation," said Dominick DellaSala, president and chief scientist for the Oregon-based Geos Institute.
Society for Conservation Biology policy director John Fitzgerald said the rule had "several weaknesses," including the fact that it would "assume and not require the responsible official to show that the plan includes all practicable steps to conserve the full biological diversity" within a given forest.
Agriculture officials noted that the guidelines still compel managers to document how the "best-available scientific information" has guided decisions ranging from what areas should be logged to how officials are monitoring wildlife.
"We have 155 forests. They are not all alike," Vilsack said. "That requires some flexibility and some acknowledgment of that uniqueness."
House Natural Resources Committee Chairman Doc Hastings (R-Wash.) said the concerns that he and other lawmakers expressed about the planning rule's impact on jobs "apparentlyfell on deaf ears."
"These new Obama regulations introduce excessive layers of bureaucracy that will cost jobs, hinder proper forest management, increase litigation and add burdensome costs for Americans," Hastings said.
Officials at the American Forest & Paper Association, which represents pulp, paper, packaging and wood products companies along with forest landowners, said they were "still reviewing" the blueprint. But the group had concerns "regarding the costly procedural requirements in the proposed rule," said vice president and general counsel Jan Poling.
Study explains why it's useless to argue with climate deniers
Grist:
A study just out from the University of Kent inquires into the nature of conspiracy theorists, and comes out with this interesting or maybe obvious conclusion: It's not that they really believe what they're saying. It's more that they don't trust authority figures on the matter.
As Eric Barker noted when he flagged this study,
Apparently the logic is something like "It's not about whether my theory is right but what they are telling us is definitely wrong."
So, for example, as explained in the abstract of the paper,
The more participants believed that Osama Bin Laden was already dead when U.S. special forces raided his compound in Pakistan, the more they believed he is still alive. Hierarchical regression models showed that mutually incompatible conspiracy theories are positively associated because both are associated with the view that the authorities are engaged in a cover-up.
Which potentially explains why so many climate deniers are full of heaps and heaps of self-contradictory baloney. Sure, a few have created an internally consistent model of the universe that by definition violates some fairly basic physical law, but the rest are just looking for something to sputter when challenged with the brutal logic of climate change.
HEALTH CARE
The Hill: GAO report rekindles Democrats' call for more cuts to Medicare Advantage plans 
The federal government could save billions of dollars a year by halting overpayments to privately run Medicare Advantage plans, House Democrats said Thursday.
Democrats released a new report, which they had requested from the Government Accountability Office, that concludes MA plans routinely classify their customers as being sicker than if they were on traditional Medicare, triggering higher reimbursement rates.
The GAO found that MA plans were overpaid by $1.2 billion to $3.1 billion in 2010, with excess payments likely growing since then. The insurance industry however points out that the GAO report doesn't say MA plans anything wrong but rather that they offer "diagnostic coding that is more comprehensive," leaving open the possibility that they do a better job identifying conditions patients actually have.
MORE>>>
JUSTICE
Eric Schneiderman promises aggressive financial fraud probe
L A Times:
New York Atty. Gen. Eric Schneiderman, who was tapped byPresident Obama to co-chair a new state and federal mortgage crisis unit, promised Wednesday to move aggressively to coordinate investigations into the causes of the subprime mortgage market meltdown.
"We're undertaking a more coordinated effort to pull together all of the various strands of investigations relating to the conduct that created the mortgage-backed securities bubble and led to the market crash," Schneiderman told reporters in Washington after an event at the Consumer Financial Protection Bureau.
"There have been investigations going on in various states and branches of the federal government," he said. "We're now making a concerted effort to pull everything together and move forward aggressively to address these issues."
He said the new unit, part of the existing federal Financial Fraud Enforcement Task Force, would go after "every aspect of the conduct that created the bubble and crash," including the origination of mortgages and the packaging of them into securities.
Obama announced the new effort in Tuesday's State of the Union address.
"This new unit will hold accountable those who broke the law, speed assistance to homeowners and help turn the page on an era of recklessness that hurt so many Americans," Obama said.
Schneiderman has been one of the most aggresssive state attorneys general in investigating the actions of financial firms and others leading up to the housing bust. Along with California Atty. Gen.Kamala D. Harris, Schneiderman and several other attorneys general have balked at the ongoing talks between state officials and large mortgage servicers to settle investigations into foreclosure process abuses.
Schneiderman said Wednesday that the new unit's efforts shouldn't affect the foreclosure settlement talks because those investigations deal with conduct that took place after the housing market collapsed.
"The multi-state talks all relate to post-crash conduct. These are abuses in the foreclosure process," he said. "Our working group is focusing on the conduct related to the pooling and creation of mortgage-backed securities…the conduct that created the crash, not the abuses that happened after the fact."

MEDIA
Conservatives launch $5 million campaign to permanently trap their followers in state of mass ignorance
BuzzFeed:
A conservative media watchdog says it's launching a $5 million assault on the mainstream media today to beat back "an onslaught of character assassination against anyone who dares to challenge Obama."
Media Research Center founder Brent Bozell says in the video above that his campaign, conducted on bumper stickers, billboards, traditional and online advertising, will tell Americans, "Don't believe the liberal media."
He said the campaign is in the spirit of Newt Gingrich's attacks on debate moderators.
In South Carolina, "one fo the candidates finally confronted the media on their blatant bias, and Americans stood up and cheered," he says.
Bozell says the group has banked $3 million toward a $5 million goal of launching, among other things, "the largest social media effort ever undertaken by conservatives."
Political attacks on the media are nothing new, but the scale of Bozell's campaign could make it something to watch.
Twitter caves to global censorship, will block content on country-specific basis as required. 
Boing Boing:
A new Twitter policy which goes into effect today allows the social network "to reactively withhold content from users in a specific country," so that Twitter can further expand globally and "enter countries that have different ideas about the contours of freedom of expression."
The Twitter blog post announcing this news was titled "Tweets still must flow." And yes they must, but apparently in some countries, only if they're censored? Snip:
We haven't yet used this ability, but if and when we are required to withhold a Tweet in a specific country, we will attempt to let the user know, and we will clearly mark when the content has been withheld. As part of that transparency, we've expanded our partnership with Chilling Effects to share this new page, http://chillingeffects.org/twitter, which makes it easier to find notices related to Twitter.
Hmmm. Maybe I'm missing something, but it's hard to see this as anything but a huge setback and disappointment, given Twitter's laudable history on human rights, privacy, and freedom of expression—and the critical role the service played in global popular uprisings over the last year.
As journalist Shannon Young notes, "It would've been too ironic for twitter to have made this country-based censorship policy announcement yesterday, on the #Jan25anniversary." And, as Shannon points out, the announcement comes just days after Google announced new terms of user data collection.
Related (or not): remember about a month ago, when that Saudi prince dropped $300 million on a Twitter investment?
Update: Alex Macgillivray, the general counsel of Twitter, responds:
Three quick things:
#1: I can confirm that this has nothing to do with any investor (primary or secondary).
#2: This is not a change in philosophy. #jan25
#3: you'll see notices about withheld content at: http://www.chillingeffects.org… so you'll get to figure out whether we've "caved" or not with data. This change gives us the ability to keep content up even if we have to withhold it somewhere.
I asked Jillian York, Director of International Freedom of Expression at the Electronic Frontier Foundation, for her take on the news. She replies:
From my view, this isn't different from how Twitter's already been handling court-ordered requests, except that it won't affect users outside of a given country. Given their moves to open an office in the UK (with all of its crazy defamation laws), I can see why they've taken this route. It's unfortunate that they may have to censor any content at all, but I applaud their move to be as transparent as possible about it.
Fox's Bolling Attacks Obama For Using Air Force One
POLITICS
Republican debate in Florida: GOP makes Obama look good
Roger Simon, Politico:
The Republican field debated for the 19th time Thursday night and, once again, the media promised us it was going to be a "make or break" event.
Don't believe the media.
The media say the debates have been the most critical factor in the nominating race so far because the media have been forced to watch them all. And take notes. And write stories.
And we want someone to share our pain: Someone like you.
Having done my duty and paid attention to all of the debates, and since we do not have another debate scheduled until Feb. 22, I will announce my conclusion now:
These debates are making the Obama staffers in Chicago so giddy that after each one they are tearing off their clothes, running through Millennium Park and howling at the moon.
And why shouldn't they? The American people, after being treated to hour upon hour of Republican candidates being allowed to say pretty much whatever they want, are slowly discovering something: Barack Obama doesn't look that bad any more.
An NBC News/Wall Street Journal Poll released Wednesday said that "for the first time in six months, more people approve of the job the president is doing than disapprove."
Sure, the president's approval/disapproval figure is only 48/46, but he has achieved that after six months of solid Republican debating. After six months of attack. After six months of being told that the American economy is doomed without a steady Republican hand on the tiller of state.
So what else does the poll show? "More people said they believe the economy will get better (37 percent) in the next year rather than worse (17percent). That's the highest level in more than a year and a seven-point jump over last month."
Oh, my. This is not what the Republicans had in mind.
The debates were supposed to winnow the field and leave the strongest Republican standing. It is all very Darwinian: the survival of the fittest. (Even though some Republicans don't believe in evolution, just about all of them believe in survival of the fittest. That's because they believe they are the fittest.)
True, the number of lecterns on the stage has been winnowed from nine to four, but what have the "fittest" Republicans been telling America about their agenda?
Well, Thursday night, we had a good, long talk about America's moon colony. What moon colony? Fair question. America currently lacks a moon colony. But Newt Gingrich would like a moon colony, and it won't even cost a lot if we offer a "prize" to people to build one. As he once again reminded America, "Lindberg flew to Paris for a $25,000 prize."
Newt says we have to have a moon colony because, if we don't, the Chinese will have a moon colony and if that happens, well, it will be bad.
But Mitt Romney said a moon colony could cost a $1 trillion. So how big would the prize have to be to get people to compete for building the moon colony? More than $1 trillion, I would guess. And where would the U.S. government get that kind of money? We would have to borrow it from the Chinese. Who could just hold onto it and build their own moon colony.
Do you see now why Obama is doing better in the polls?
Not that we are supposed to spend our time worrying about the substance of these debates. That is for professional fact-checkers. (Don't ask me who fact-checks the fact-checkers. You don't want to know.)
Instead, the media decide who wins and who loses, who gets made and who gets broken. Looking for the little things help me decide.
Which is why my notes begin: "National Anthem. All put hands on hearts. Santorum and Mitt sing. Newt and Ron Paul don't. Why?"
I don't know. I am waiting for a fact-checker to tell me.
Further notes: "Newt praises Callista for playing French horn. Have words 'French horn' ever been spoken at political debate before? Unlikely, but not impossible. Especially if debate were in France."
"When asked by Santorum if people in Massachusetts must buy health care, Mitt replies: 'First of all, it's not worth getting angry about.' Presidency pays only $400,000 a year. So why would Romney get emotional about it?"
"Debate supposed to be Newt's best opportunity to win Florida, but at one point he says, 'Governor Romney is exactly right' and at another he says, 'I agree with Governor Romney.' Newt appears to be lacking in mindless aggression. This is no way to win a debate."
The debate wandered back and forth and finally ended up with CNN moderator Wolf Blitzer asking the candidates: "Why are you the one person on this stage most likely to beat Barack Obama?"
My notes say that Ron Paul cited his "freedom message," that Santorum said he could win Reagan Democrats, and that Romney said America needs "dramatic, fundamental, extraordinary" change.
Newt, I note, said, "This is a big choice election."
But he didn't say the choice was standing on the stage.
ABC Interview with President Obama:
https://www.youtube.com/watch?v=zyWh8YNFBWc&feature=player_embedded
Steven Law, president and chief executive officer of Crossroads Grassroots Policy Strategies:
[…] But even a clever slogan won't save the president's economic agenda, which he laid out Tuesday in his State of the Union address. There's one simple reason: Obama is pushing more spending, taxes and Big Government — but Americans aren't buying it.
Instead, an emerging majority is coalescing around some clear solutions to Washington's supersize debt, the sluggish economy and rising health care costs in the wake of "Obamacare."
Crossroads Grassroots Policy Strategies in the past two months has talked to nearly 2,000 independent voters across the country who don't identify with either political party. We polled to find out what Americans really "can't wait" for Washington to do. Here are the results:
First, middle-of-the-road Americans have given up "waiting" for Obama to lead them out of the fiscal and economic morass that is crushing hard-working families. They clearly understand that Obama spent trillions of borrowed dollars on "solutions" that didn't work. They know that the cost of health care is going up while quality of care is going down — contrary to what Obama promised about his health care bill.
Though they also blame Congress for failing to act on important issues, they see Obama as exacerbating the partisanship rather than fixing it.
When Crossroads GPS polled those independent voters in swing states this fall, we found deep skepticism about Obama's economic agenda and record.
Strong majorities reacted negatively and said they were less likely to support the president's reelection, when presented with factual arguments about the national debt (68 percent), his stimulus spending (65 percent), his bureaucrats' regulatory overreach (67 percent) and, of course, high unemployment (68 percent).
We found that those swing voters also reacted strongly negative to the "Obamacare" law (69 percent) and the president's persistent efforts to raise taxes (68 percent).
In contrast, Crossroads GPS is launching its New Majority Agenda. In it, we provide a road map for a financially competent federal government, a pro-growth tax system, a moratorium on "cash for cronies," a first-class energy infrastructure, fewer job-killing regulations and renewed U.S. leadership in the world — all of which makes good sense to independent Americans living outside Washington.
Starting this year, we're going to take this New Majority Agenda to citizens across the country, through television, social media, Web platforms, talk radio, press outreach and grass-roots efforts. We plan to encourage the majority of Americans who support these reforms to speak out to the elected officials who report to them — including the president.
Obama in December refused to authorize the creation of thousands of well-paying pipeline jobs because Washington lobbyists convinced him that the project would upset his political backers. So while Obama protected himself, thousands of families are going without those jobs this winter.
It's time for Obama and the rest of Washington to stop protecting their own jobs and agendas and start doing the work they get paid for. It's time for a New Majority Agenda.
In case you're curious, Who's Afraid of Saul Alinsky? [Longread]
Angry Black Lady Chronicals:
[…] Shortly before his death in 1972, Alinsky was profiled and interviewed by Playboy Magazine. That article and interview makes for the best way to get insight into Alinsky. It has been preserved on the web as a series of posts here and is highly recommended reading.
Alinsky's Influence
At the IAF, Alinsky worked with Fred Ross, who went on to mentor Cesar Chavez and Dolores Huerta to develop the United Farm Workers. Ed Chambers took over the IAF after Alinsky's death and has continued its work in social justice and training new organizers. They have trained thousands of organizers, many of whom have gone on to form organizations of their own.
One group that evolved from the IAF is the Gamaliel Foundation, a grassroots network of non-partisan, faith-based organizations that "organizes to empower ordinary people to effectively participate in the political, environmental, social and economic decisions affecting their lives."
2008 — The Alinsky Primary
While most of us have heard the name Alinsky closely associated with that of President Barack Obama, there was actually another Democratic candidate whose association with Alinsky was far more direct — Hillary Rodham Clinton.
MORE>>>
Video of that first beatdown At CNN Debate:
NYT: Secret Service Looks Into Image of Obama Riddled With Bullets 
PHOENIX — The Secret Service said Thursday that it was looking into a photograph posted on the Internet that showed a group of young Arizona men posing in the desert with guns while holding up what appeared to be a bullet-riddled image of President Obama's face.
The photograph showed seven casually dressed young men, four of whom clutched weapons and one of whom held up a T-shirt covered with small holes and gashes and bearing a likeness of Mr. Obama above the word "HOPE." The weapons held aloft appeared to be a revolver, a bolt-action rifle and two assault rifles.
"We're aware of it, and we're conducting the appropriate follow-up steps," said Ed Donovan, a Secret Service spokesman in Washington.
The photo, along with the remark "Another trip to the ranch," was posted on Jan. 20 on the Facebook page of Sgt. Pat Shearer, a police officer in Peoria, Ariz., a Phoenix suburb. The image was removed from Sergeant Shearer's page on Thursday afternoon shortly after inquiries about it to the Peoria Police Department. Sergeant Shearer, a decorated officer who was honored in 2007 for helping to save a driver trapped in a burning vehicle, did not respond to a request for comment on Thursday.
Jay A. Davies, a police spokesman, said in an e-mail that the department was conducting "an administrative investigation into any possible policy violations on the part of our employee."
The photograph was also posted on the Facebook page of one of the young men holding a gun in the image. He was identified as a student at Peoria's Centennial High School.
Danielle Airey, a spokeswoman for the Peoria Unified School District, said district officials were conducting an investigation and working to identify any students involved. "We will also wait to hear from local and federal authorities to cooperate with their investigations," she said in an e-mail.
The Secret Service has an Internet Threat Desk that reviews online comments and images that raise potential threats to protected officials, especially the president. Mr. Obama made a brief visit to the Phoenix area on Wednesday.
"Individuals certainly have a right to free speech, but we certainly have a right to speak to individuals to see what their intent is," Mr. Donovan said.
WaPo: Reminder: Fannie/Freddie didn't single-handedly cause the housing crisis. 
[…] First, note that the housing bubble was global. As McKinsey Quarterlyhas shown, countries such as Belgium, Ireland, Spain, the United Kingdom, Australian, Norway and Canada all had massive run-ups in housing prices from 2000 to 2007. It's hard to explain how Congressional rules on inner-city housing caused all of this:
But what if we focus solely on the United States? As it turns out, not only were Fannie and Freddie late in getting into the subprime game, but they remained a bit player in the whole affair. According to a Federal Reserve study, more than 84 percent of the subprime mortgages in 2006 were issued by private lenders:
What's more, only one of the top 25 subprime lenders in 2006 was subject to affordable-housing laws. For the most part, private firms such as Countrywide Financial were issuing "nontraditional" mortgages in order to package them off to Wall Street and make money, not to please Barney Frank. Like most policymakers, Frank didn't appear to see the housing bubble or looming subprime crisis before it was too late. But he didn't cause them, either.
Romney Lies About His Investments in Fannie/Freddie
American Bridge:
BRIAN KILMEADE (HOST): Yesterday Newt Gingrich joined us and said, "I just found out that Mitt Romney was in investor in Fannie & Freddie." What's the truth?
MITT ROMNEY: [Laughs] That's pretty funny. My investments, of course, are managed not by me. For the last ten years they've been guided and managed by a trustee, they're in a blind trust. And the trustee invested in mutual funds and so forth and apparently one of the funds had Fannie Mae or Freddie Mac bonds.
That's not true. As the Boston Globe originally reported in September: "And unlike most of Romney's financial holdings, which are held in a blind trust that is overseen by a trustee and not known to Romney, this particular investment was among those that would have been known to Romney." The Romney campaign has not disputed that report because it is public information:
Romney Reported Owning Between $250,001 and $500,000 in Federated Government Obligation Fund that Holds Significant Government-Investments in Mortgage-Backed Securities. In his most recent personal financial disclosure, Romney reported owning between $250,001 and $500,000 in the Federated Government Obligations Fund, which held investments in Fannie Mae debt notes, Freddie Mac debt notes, and Housing & Urban Development debt notes.  [Securities and Exchange Commission, 4/30/11; Federated, "Federated Government Obligations Fund," www.federatedinvestors.com; Federated Government Obligations Fund Prospectus, 9/30/10; Public Financial Disclosure Report, "Schedule A," Office of Government of Ethics, Willard Mitt Romney, Filed 2011]
Romney's Investment in Federated Government Obligation Fund Was Outside of His Blind Trust, and He Had Complete Discretion Over It.  "Other than assets and income sources listed on page 1 of Schedule A, all of the assets listed in this Report are held by the W. Mitt Romney Blind Trust, the Ann D. Romney Blind Trust, Mr. Romney's IRA or Mrs. Romney's IRA (collectively, the 'Reporting Entities').  In each case, R. Bradford Malt, as Trustee (the 'Trustee'), has complete investment discretion over the assets held by these investment vehicles, except where the Trustee has delegated that discretion to third party investment managers."  [Public Financial Disclosure Report, "Notes to OGE Form 278, Schedule A," Office of Government of Ethics, Willard Mitt Romney, Filed 2011]
Romney's Federated Government Obligation Fund Was Almost Half Comprised Of Holdings in Fannie Mae, Freddie Mac and Federal Home Loan Bank Notes. Romney's Federated Government Obligations Fund reported holding investments in Fannie Mae and Freddie Mac debt notes.  Out of the mutual fund's $28.5 billion portfolio, the fund held $2,706,357,583 worth of Fannie Mae debt, $2,332,175,880 in Freddie Mac debt, and $7,931,931,437 in Federal Home Loan Bank debt notes.  [Securities and Exchange Commission, 4/30/11; Public Financial Disclosure Report, "Schedule A," Office of Government of Ethics, Willard Mitt Romney, Filed 2011]
Romney lied about whether he has seen his super PAC ads. Full fact check: 
Democrats.org:
Romney Said He Hadn't Seen Restore Our Future's Ads Before Admitting That He Saw One. Romney: "They wouldn't be putting money into a PAC that supports me if they weren't people who support me. And with regards to their ads, I haven't seen them. And, as you know, under the law, I can't direct their ads. Speaker, hold on a second. I, I can't direct their ads. If there's anything in them that's wrong, I hope they take it out. I hope everything that's wrong is taken out. But let me tell you this, the ad I saw said that, that you'd been forced out of the speakership, that was correct." [Meet The Press Debate, NBC News, 1/8/12]
Romney: "With Regards To Their Ads, I Haven't Seen Them." [Meet The Press Debate, NBC News, 1/8/12]
Romney Goes On To Describe The Restore Our Future "Ad I Saw":"But let me tell you this, the ad I saw said that, that you'd been forced out of the speakership, that was correct… It said that, that you'd sat down with Nancy Pelosi and, and argued for, for a climate change bill. That was correct. It said that you called the, the–Ron Paul's, Ron Paul, Paul Ryan's plan to, to provide, to Medicare reform, a, a, a right wing social engineering plan. It said that, that as part of an investigation, an ethics investigation, that you had to reimburse some $300,000. Those things were all true. If there was something related to abortion that it said that was wrong, I hope they pulled it out. Anything wrong, I'm opposed to." [Meet The Press Debate, NBC News, 1/8/12]
Romney Said Restore Our Future's Anti-Santorum Ad "Is Accurate" But "I Haven't Seen The Ad." Romney: "No, they — well, of course. And Rick Santorum says, Look, it's not fair that the super-PAC, I guess — and I haven't seen it, but says that he wants to give voting rights to felons. Well, he wants to give to it people who were former felons. I think they still call people who were in jail convicted of a felony — they still call them felons. … So it is — apparently, it is accurate. I mean, I — I haven't seen the ad, but it sounds like it is accurate." [Post-Debate Spin Room With Sean Hannity, Fox News, 1/16/12]
Romney Went On To Describe In Detail An Ad Against Gingrich After Saying: "I Have Not Seen All The Ads, I Don't Even Know What's Up In The Super PACs." Romney: "And my principle is I think that any ad should be telling the truth. And in the case of Speaking Gingrich's ad I think by far the most compelling part of the ad, as I understand it, I have not seen all the ads, I don't even know what's up from the ad folks in the Super Pacs but what I understand is that they have a picture of the Speaker with Nancy Pelosi, that was true. Promoting cap and trade and legislation on climate change, that's accurate. They have him saying that the plan put forward by Paul Ryan is right wing social engineering, he actually did that as well. They point out he was investigated for ethics violations and had to pay three hundred thousand dollars as part of that investigation that's also true. So, there's a lot of truth that's been put out there."  [Romney Presser, Florence SC, 1/17/12]
FOUR YEARS AGO ROMNEY DENIED ANOTHER IMMIGRATION AD AGAINST JOHN MCCAIN, AND FACT CHECKERS CALLED HIM ON IT
Factcheck.org: Romney "Was Wrong When He Denied That His Attack Ads Described McCain's Immigration Bill As 'Amnesty' For Illegal Aliens.""Romney was wrong when he denied that his attack ads described McCain's immigration bill as 'amnesty' for illegal aliens: McCain: [T]he fact is it's it [sic] not amnesty. And for you to describe it as you do in the attack ads, my friend, you can spend your whole fortune on these attack ads, but it still won't be true. Romney: No, no, no, no. I get a chance to respond to this. I'm sorry. I'm sorry. I don't describe your plan as amnesty in my ad. I don't call it amnesty. What I say is – and you just described what most people would say is a form of amnesty. In fact Romney has been running an ad since Dec. 28 that says 'McCain pushed to let every illegal immigrant stay here permanently' while Romney 'opposes amnesty for illegals,' adding: 'Mitt Romney, John McCain, there is a difference.' That's pretty clearly accusing McCain of supporting 'amnesty.' Otherwise there would be no 'difference' on that issue." [Factcheck.org, 1/6/08]
Romney Explains Profiting Off Florida Foreclosures: They Were 'In A Blind Trust…"
ThinkProgress:
[…] ROMNEY: First of all, my investments are not made by me. My investments for the last 10 years have been in a blind trust,managed by a trustee. Secondly, the investments they've made, we've learned about this as we made our financial disclosure, have been made in mutual funds and bonds. I don't own stock in either Fannie Mae or Freddie Mac. There are bonds the investor has held through mutual funds. And Mr. Speaker, I know that sounds like an enormous revelation, but have you checked your own investments? You also have investments through mutual funds that also invest in Fannie Mae and Freddie Mac.
[…]Notably, Romney never denied the charge that he made money off of foreclosures. Later in the debate, Romney was asked about the $3 million he kept in a Swiss bank account before it was closed in 2010. Again, Romney attempted to brush aside the question, saying, "I have a trustee" who manages a blind trust.
Romney's reliance on blind trusts is interesting, considering it was he who called them "a ruse" when running against former Sen. TedKennedy (D) in 1994. And as ABC News noted, the trusts are "not so blind," since they have been noted on his financial disclosure forms.The trusts are also maintained by Romney's personal lawyer and don't meet federal standards for elected officials. Romney's original investments into Fannie Mae and Freddie Mac, meanwhile, were never in a blind trust.
Bob Cesca: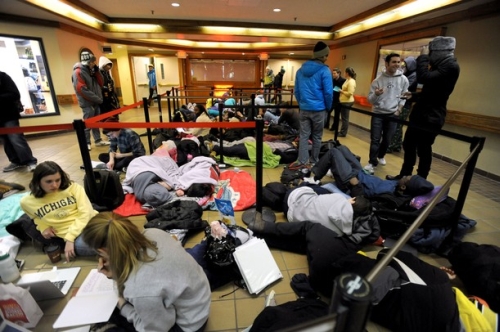 iPhone release? Twilight movie? No.
It's people sleeping on the floor lined up for tickets to view President Obama speak in Ann Arbor, Michigan on Friday morning.
Do you see people lining up like this, particularly young people, for the GOP candidates? Will you ever? I don't think so.
You can view more photos and video here.
YOWZA. The pro-Newt Super PAC is up with an epic, over-the-top one-minute ad called "Blood Money" that throws everything in the oppo file at Mitt Romney.
Did Romney Secretly Baptize Holocaust Victims To Make Them Mormon? 
Wonkette:
Here's a wacky fun-time ritual thing the Mormons do that you may or may not have heard about: they love to baptize dead people and thus declare them members of their magic moon faith, mostly so that the Mormons can claim a 7 billion person membership similar to the way that those McDonald's signs claim "50 billion anusburgers served since 1940″ to reassure you that it's, like, really popular. This has, throughout history, not always pleased the relatives of the dead people who were baptized — say for instance, the relatives of Jewish Holocaust victims who found their family members' names among those who had been posthumously converted to Mormonism. And so hey, know where there are lots of Jewish people these days? Florida. What's happening in Florida next week? A Republican presidential primary. Who's leading the polls in that primary right now? A Mormon. Has Mormon Mitt Romney been secretly baptizing Holocaust victims in his spare time?
He won't say! He will only say that he doesn't cheat and follows all the weird rules of his religion, and then he admits to baptizing some dead people in his youth the way that most other politicians would admit to smoking a little weed in college.
From HuffPo:
In 2007, when Romney made his first run for the Republican nomination, NECN in Hartford, Conn., asked him about baptizing the dead. He said he is "not a cafeteria Mormon" and adheres to all tenets of his faith. But Romney, a former bishop and top church official in Boston, referred specific questions to religious leaders.
When Newsweek magazine asked Romney if he personally had performed posthumous baptisms on anyone, author Jonathan Darman wrote, "he looked slightly startled and answered, 'I have in my life, but I haven't recently.' The awareness of how odd this will sound to many Americans is what makes Romney hesitant to elaborate on the Mormon question."
YES, IT DOES SOUND ODD. Hopefully the Jewish voters of Florida will not mind!?
Mitt Romney's campaign says $3 million oversight on ethics forms was 'trivial'
Daily Kos:
At this point I think Mitt Romney is just trying to make himself like an out-of-touch multimillionaire elitist who has no concept of how the little people live. Because you couldn't make this stuff up.
It turns out the financial statements Romney filed in August had some notable omissions on it, omissions which were only caught by reporters now that Romney has been forced begrudgingly to release some of his tax returns. Now notable? Via the Los Angeles Times:
Among the assets omitted is a Swiss bank account in Ann Romney's blind trust that campaign officials said held $3 million of the couple's money until it was closed in 2010.
All right, so we're dealing with "errors" in Romney's previously filed ethics paperwork to the tune of three million dollars just in one omitted asset. What's the worst way you can think of to handle that, if you're Mitt Romney? Oh, let's say:
The Romney campaign described the discrepancies as "trivial" but acknowledged Thursday afternoon that they are undergoing an internal review of how the investments were reported and will make "some minor technical amendments" to Romney's financial disclosure that will not alter the overall picture of his finances.
Trivial? A three million dollar error is trivial, now? Good God, if I accidentally discovered that my bank account had three million more dollars than I thought it did, that wouldn't be trivial, that would would be an occurrence of the caliber of discovering sentient Pop Tarts. And I can't even imagine how interested my bank and the government would be in how the hell I managed to stumble across an extra three million dollars. This isn't forgetting-it-in-your-other-pants money we're talking about.
But this is the same guy who said that the $480,000+ he made in speaker fees during one year was "not very much" money, so we already knew his idea of money was very, very distant from what most other Americans might think. The even more telling part is that he's probably telling the truth: Romney is worth at minimum $150 million, according to his own admissions (any bets on how accurate he's being there?), so accidentally forgetting to declare $3 million at a time is, indeed, probably considered "trivial" to him.
TPM: Top Dem offshoring expert smells something fishy in Mitt Romney's tax return 
Sen. Carl Levin (D-MI) says Mitt Romney will have to make his pre-2010 tax returns available. That may sound like a predictable demand from a partisan Democrat. But it's more than that.
Levin may well know more about tax avoidance strategies than anybody in Congress. In his capacity as the Democrats' top investigator he's has made extensive inquiries into the techniques businesses and individuals use, including overseas havens, to hide their money from the IRS. And what Romney's revealed so far troubles him.
"I saw in the paper this morning that the spokesperson for the Romney campaign said that it was just an 'ordinary' bank account in Switzerland," Levin told reporters at a Christian Science Monitor breakfast round table, referring to the revelation that the Romney family held a Swiss bank account in his wife's name from 2003 until 2010.
"Folks, we've done a lot of research. We went after UBS in my subcommittee. We have seen abuses by American wealthy folks trying to hide from Uncle Sam, putting their money in Swiss bank accounts and bank accounts in other tax havens," Levin said. "There was a period when the IRS said 'OK, come on in, pay your taxes on your Swiss accounts, and you won't have to pay any penalty.' Thirty-three thousand people, I believe, showed up in the last couple years to pay their taxes…. And the spokesperson for the Romney campaign says it was just an ordinary bank account in Switzerland that Mrs. Romney had. There is no such thing as an ordinary Swiss bank account. Now, there may be a few exceptions where you've got Americans who are living in Switzerland who have bank accounts, but as far as I know, Mrs. Romney was not living in Switzerland."
Levin also raised the issue of the carried interest loophole — a strategy Romney has exploited to avoid millions a year in taxation.Whether in the context of the fight over the payroll tax cut, or later in this session of Congress, Levin and other prominent Democrats plan to make closing the carried interest loophole a major legislative priority.
"My brother [House Dems' top tax guy Sandy Levin] is working on the language and I expect that somebody on the Finance Committee in the Senate or one of the conferees in the Senate will do something in terms of carried interest, and if they don't I will," Levin said. "I'll introduce my brother's bill when he finalizes it."
Nearly all tax experts agree that hedge and private equity fund managers should have to count their "carried interest" — their take in profits of the firms they manage — as wage income. But a loophole in the tax code allows them to treat it as long-term capital gains, and thus pay a significantly lower tax rate on it. This loophole is the key reason Romney's tax rate is so low. And Levin thinks the confluence of public outrage at inequity in the tax code, combined with Romney's prominence, will create a groundswell in support for closing this and other loopholes that overwhelmingly benefit the wealthiest Americans.
"This will be, in the middle of this year … there's a sea change going on, and that is now the Republicans who ideologically have stood against any revenue are not going to be able to withstand the onslaught of the public outcry against the use of tax loopholes in the code, the tax havens that have been used to avoid paying taxes, the fact that corporations are given deductions for stock options in amounts far larger than they show on their books," Levin said. "People's eyes glaze over when you talk that way — until now. And now, because of Romney's situation, there's going to be a real focus."
Click, Calculate, Enjoy: http://romneyandme.com/
The Number That Scares Team Mitt
TPM:
There's one big fact about the Obama presidency: the US economy has sucked all through it. Who you blame for that is the key to the American political debate. But the reality of the suck is the baseline. The President's approval on the economy has trended down over the course of the last three years.
Then in early 2011 it veered into really bad territory and peaked around the time of the debt limit debacle. From the summer into the late Fall the president's approval on this critical metric dipped deep into the 30s and hisdisapproval numbers were consistently at or above 60%. That's extremely dangerous territory for a sitting president.
But starting about three months ago those numbers started to improve substantially. The Romney campaign knows that if those numbers get back near even or actually go into positive territory, Romney's probably sunk in the general.
A Brief Theory of the Republican Party, 2012
Jay Rosen: Public Notebook
In so far as a political party in the United States can "decide" anything, the party decided not to have the fight it needed to have between reality-based Republicans and the other kind. And so it is having that fight now, during the 2012 election season, but in disguised form. The results are messy and confusing. […]
1.) When I say "reality-based Republicans" I mean those who recognize the danger in trying to make descriptions of the world conform to their wishes. By the "other kind" I mean those who don't. Or: members of the Republican coalition who exhibit certain behaviors F.A. Hayek wrote about in 1960. This quotation was dug up by Chis Mooney, author of The Republican War on Science. It is from Hayek's essay, "Why I am Not a Conservative."
Personally, I find that the most objectionable feature of the conservative attitude is its propensity to reject well-substantiated new knowledge because it dislikes some of the consequences which seem to follow from it – or, to put it bluntly, its obscurantism. I will not deny that scientists as much as others are given to fads and fashions and that we have much reason to be cautious in accepting the conclusions that they draw from their latest theories. But the reasons for our reluctance must themselves be rational and must be kept separate from our regret that the new theories upset our cherished beliefs. I can have little patience with those who oppose, for instance, the theory of evolution or what are called "mechanistic" explanations of the phenomena of life because of certain moral consequences which at first seem to follow from these theories, and still less with those who regard it as irrelevant or impious to ask certain questions at all. By refusing to face the facts, the conservative only weakens his own position. [///]
3.)  For a representative figure among reality-based Republicans I would go with David Frum, the former speechwriter for George W. Bush and a conservative who cannot stomach what has happened to his party. But rather than become a Democrat or claim some sort of ideological conversion, Frum has taken up his pen, as with: When Did the GOP Lose Touch With Reality? There he writes:
Few of us have the self-knowledge and emotional discipline to say one thing while meaning another. If we say something often enough, we come to believe it. We don't usually delude others until after we have first deluded ourselves. Some of the smartest and most sophisticated people I know—canny investors, erudite authors—sincerely and passionately believe that President Barack Obama has gone far beyond conventional American liberalism and is willfully and relentlessly driving the United States down the road to socialism. No counterevidence will dissuade them from this belief: not record-high corporate profits, not almost 500,000 job losses in the public sector, not the lowest tax rates since the Truman administration. It is not easy to fit this belief alongside the equally strongly held belief that the president is a pitiful, bumbling amateur, dazed and overwhelmed by a job too big for him—and yet that is done too.
Frum again:
Backed by their own wing of the book-publishing industry and supported by think tanks that increasingly function as public-relations agencies, conservatives have built a whole alternative knowledge system, with its own facts, its own history, its own laws of economics. Outside this alternative reality, the United States is a country dominated by a strong Christian religiosity. Within it, Christians are a persecuted minority. Outside the system, President Obama—whatever his policy ­errors—is a figure of imposing intellect and dignity. Within the system, he's a pitiful nothing, unable to speak without a teleprompter, an affirmative-action ­phony doomed to inevitable defeat.
Because he wouldn't stop with this kind of thing ("a whole alternative knowledge system, with its own facts…") Frum was dismissed from his position at the American Enterprise Institute, a leading Republican think thank, and dropped from further appearances on Fox News, though the network never announced or explained that decision. Frum is also a despised figure in the conservative blogosphere, where it is assumed that the reason he talks this way is that he wants liberals to love him. My point is that Frum is willing to have the fight that the rest of his party did not want to have.
4.) F.A. Hayek is an intellectual god within the conservative moment. David Frum was a good soldier and solid citizen who worked in a Republican White House. My purpose in quoting them is to underline that what matters about the flight from reality within the Republican coalition is that it's an internalstruggle. What liberal college professors like me think about it is irrelevant to the outcome of that struggle. What happened to David Frum matters; what I say about it does not. Reality-based Republicans will either realize the threat to their existence and fight it out with the other kind of Republican, or… they won't. So far they haven't. That's a mistake. It's bad for the country, it's bad for the political system, it's bad for the Democrats (because it breeds complacency and arrogance in the opposition) and it's catastrophic for the Republicans as a governing party.
5. So I'm not saying that the Democrats and progressives are the ones who are in touch with reality, while conservatives and Republicans are not. (But I guarantee you some will read it that way.) I'm saying that the tendency toward wish fulfillment, selective memory, ideological blindness, truth-busting demagoguery and denial of the inconvenient fact remains within normal trouble-making bounds for the Democratic coalition. But it has broken through the normal limits on the Republican side, an historical development that we don't understand very well. That is, we don't know the reasons for it, why it happened when it did, or what might reverse it. (We also need to know the degree to which it is a global phenomenon among conservative parties in mature democracies, or an American thing.) Political scientists: help!
Mitt Romney, the favorite to win the Republican nomination for president in 2012, is a reality-based Republican who cannot run as a reality-based Republican because he thinks he cannot win that way. Jon Huntsman's campaign is the proof of that calculation. All the candidates, including Romney, have to make gestures toward the alternative knowledge system, with its own facts. Overlaid on this pattern are the normal tensions between more ideological conservatives and what the press calls moderates, the usual conflicts among the libertarian strain, the corporate Republicans and the social conservatives. Journalists feel comfortable talking about these. They have no acceptable language for discussing reality-based Republicans vs. the other kind. So they don't. The result is a confusing mess.
Terrific piece: Pro Lefties' and Advanced ODS (Obama Derangement Syndrome)
Please Cut the Crap:
I woke up this morning preparing to finish a post on capitalism and the right wing this morning, so that I could put it up this weekend, when I received an email from the "Truthdig!" web site. The author, who is also the Editor of Truthdig, was Robert Scheer. I dropped my capitalism post immediately, out of concern for what has to be the worst case of Obama Derangement Syndrome I've ever seen in a professional lefty.
Robert Scheer was a liberal reporter and columnist of incredible note for many years. I've been a fan of his since I was a kid. Unlike many on the professional left, Scheer has unquestionable journalistic chops. He's one of the few on the professional left who can boast of Pulitzers and legitimate acclaim.
So, when I found the following article linked in my email this morning, I was concerned. If ODS can hit a pro lefty with his reputation, is anyone really safe? Here's the article of which I speak.
Obama's Faux Populism Sounds Like Bill Clinton
The title itself is not meant to be a compliment. You see, Robert Scheer is an old-school liberal, who inarguably knows a lot about politics. In relation to most of the rank amateurs in the professional left, Scheer knows a hell of a lot more.  And it is that knowledge that makes this particular attempt to throw basic logic out the window more concerning than recent attacks of ODS exhibited by Greenwald, Hamsher, Moore and the like. That Robert Scheer is just trying to attract pissed off liberals to his site and his columns just makes me sad.
This is troubling, folks. The Pulitzer Prize-winning Scheer is retreading the same tired, ridiculous arguments the far left has been pushing for years, and which have never had any validity. He pushes the absurd "President Obama is in Wall Street's pocket" meme so hard, he had to have herniated himself after writing it. The entire column is a whine about the people Obama's hired in his administration, and the things he hasn't done, without any consideration of what he's actually accomplished. And there isn't an actual fact in the entire piece. Not one.
That's how ODS works, folks. It sneaks up on a pro lefty and takes away his formerly rational sense of reason. For example, he actually claims that he feels "betrayed" by President Obama:
… I get angry because betrayal by the "good guys" for whom I have ended up voting has become the norm.
Yes, betrayal, because if Obama meant what he said in Tuesday's State of the Union address about holding the financial industry responsible for its scams, why did he appoint the old Clinton crowd that had legalized those scams to the top economic posts in his administration? Why did he hire Timothy Geithner, who has turned the Treasury Department into a concierge service for Wall Street tycoons?
ODS strikes the memory first. Apparently, Scheer's current memory is that his vote for Obama was a vote for a far left progressive when he voted for him in 2008. After all, that's the only way he could feel "betrayal." To feel "betrayal", you have to have trusted the person in question, don't you?
Fortunately for Robert, I was a regular listener to KCRW's "Left, Right and Center" podcast at the time. I can assure you; in 2008, Robert Scheer continually reminded the other panelists, Matt Miller, Tony Blankley and (sometimes) Arianna Huffington, that Obama was a centrist and not a full on liberal. His columns before the 2008 election (such as this one) and after the election but before the inauguration(like this one) also reveal that he knew he was voting for a "centrist," and one he didn't seem to like very much.
In other words, Scheer's ODS has been part of his life so long, and has been a part of his life for so long, he can't possibly feel betrayed.
It's especially sad to see an actual professional left journalist stricken by ODS, because they're so rare. His ODS is so severe, that he even engages in irational attacks on Tim Gethner, which seems to be a major symptom of ODS. From an ODS sufferer, the attacks on Geithner are always non-specific, because he really hasn't done anything objectionable as Treasury Secretary.  An off-hand remark that is absolutely unsupportable by fact such as "turning the Treasury Department into a concierge service for Wall Street tycoons" is unworthy of a Pulitzer Prize winning journalist, and a sure sign that the ODS has advanced almost to the point of no return.
Another example of the effects of ODS is apparent in the following passage:
Why hasn't he pushed for a restoration of the Glass-Steagall Act, which Clinton's deregulation reversed? Does the president really believe that the Dodd-Frank slap-on-the-wrist sellout represents "new rules to hold Wall Street accountable, so a crisis like this never happens again"? Can he name one single too-big-to-fail banking monstrosity that has been reduced in size on his watch instead of encouraged to grow ever larger by Treasury and Fed bailouts and interest-free money?
This has to be the ODS speaking. The journalist Robert Scheer knows the answers to all of these questions, and the implications are flat wrong.
Obama actually did push for a restoration of Glass-Steagall, which is why we have Dodd-Frank. What the president proposed what was pretty much a full restoration of Glass-Steagall in June 2009; it was in all the papers. If the ODS wasn't so debilitating, Scheer could have looked up the history of the bill on THOMAS.It seems to be too much to ask that the opinions of OGS sufferers be backed by facts. The ODS has clouded Scheer's judgment so much, he seems to not realise what a miracle it was to get Dodd-Frank passed at all, since Republicans in the Senate were filibustering everything Democrats proposed. He should know this; that's his job as journalist. But alas, the Obama Derangement Syndrome has taken its toll on his journalistic judgment.
If he isn't suffering from ODS, why would Scheer imply that Obama and Geithner bailed out the banks? The bailouts were passed before he became president. I would also point out that, assisted by Geithner, Obama has recovered MOST of the bank bailout money. And only an ODS sufferer would think a president could simply order private companies to break up? A Pulitzer Prize winning journalist without ODS would certinly understand that CONGRESS would have to pass a law that leads to them breaking up, and that such a law would never pass the Republican brick wall.
Scheer's ODS is apparently so ingrained that he even managed to take a little dig at Clinton in the passage above. To call it "Clinton's deregulation" is a bit sophomoric. Phil and Wendy Gramm were the masterminds behind that amendment, not Clinton, a fact that Scheer actually once knew all too well before his ODS took over his entire mind.
Here is Scheer from his appearance on Democracy Now, September 22, 2008:
ROBERT SCHEER: Yeah, well, the point is, when Bush and McCain and Paulson, who was head of Goldman Sachs before he was head of the Treasury, say they don't know how this happened, they designed this system. We had a regulatory regime in place ever since the Great Depression to prevent this kind of meltdown, and that said that stockbrokers, insurance companies, banks, investment banks, commercial banks, could not merge. And in 1999, they passed legislation, the Gramm-Leach-Bliley Act. Gramm is the guy who McCain supported for president in '96. He was co-chair of his campaign until he complained about the whiners out there, meaning the public. And that legislation is what caused this. It allowed the swaps and everything else.
And then, in 2000, hours before the Christmas break, Gramm introduced legislation. I'm holding it in my hand. This smoking gun is available on the internet; you can read it. And what it said is that the swaps is defined in the Financial Service Modernization Act, meaning that instead of going into a bank and somebody said, "OK, we'll give you a loan, and we expect you to pay it over thirty years. We know your house has the equity. We know you have the means to pay it" — that was the traditional way — instead, they allowed these mergers, and as a result, they could buy insurance on it, they could do these swaps, they could do what they call hybrid instruments. And it is legislation that was never discussed, was — never had hearings or anything, says that all of this stuff is exempted from all previous regulation. The SEC cannot regulate it, the Commodity Futures Board cannot regulate it.
So they gave these institutions, of which Goldman Sachs was critical — so was Citigroup, where Robert Rubin, who was Clinton's Treasury secretary, he had also come from Goldman Sachs. And, by the way, even though this is Republican-led, there were plenty of Democrats, in fact, a majority of Democrats, who voted for this. And Robert Rubin, who unfortunately is advising Barack Obama — I don't know how this guy can wake up and — you know, and not be embarrassed and how he can appear on television — and Lawrence Summers, these are the two guys in the Clinton administration who teamed up with Phil Gramm to pass that atrocious legislation.
A couple of things to note from the above. One is, obviously, Phil Gramm was the guy who wrote this crap, Clinton was given shitty advice from Rubin and Summers. But obviously, it's not "ClintonDeregulation." And look at his sideways attack on Barack Obama, just six weeks before the election. Again; how can someone "betray" you, if you never trusted him in the first place? Apparently, the ODS was already taking hold.
ODS is an insidious condition that turn an award-winning journalist's brain to irrational mush. Take this attempt to adopt what has become a de rigueur far left slur on Steven Jobs in his attempt to slam Obama.
It was also a bit bizarre for Obama to celebrate Steve Jobs as a model entrepreneur when the manufacturing jobs that the late Apple CEO created are in the same China that elsewhere in his speech the president sought to scapegoat for America's problems. Apple, in its latest report on the subject, takes pride in attempting to limit the company's overseas suppliers to a maximum workweek of 60 hours for their horribly exploited employees. Isn't it weird to be chauvinistically China baiting when that country carries much of our debt?
Like I said; ODS is an insidious disease. Look at the complete disregard for facts.
First of all, the notion that Apple is simply about "manufacturing jobs" has been debunked before, such as with this article from ZDNet. The fact is, jobs have been leaving the United States for such a longtime, we no longer have the factories or skilled workers to make something as sophisticated as the components in the machines Apple makes.  But it's also unfair, because Apple has created a class of entrepreneur that is huge in its scope. I'll get into this more in a later post, but suffice it to say, Scheer's ODS-driven whine about Apple is based on a Luddite's approach to economy. Computers simply won't work without the software and apps to run them. Without the software, which is largely made here, most computers, including Apple's, would be doorstops. It's the software that makes these machines work. And with their app store, anyone with the ability to write code has the opportunity to create something that will work on one of these machines. Computers are not toasters.
But the best evidence of the effect of Scheer's ODS comes when he accuses the president of tying to "scapegoat" China in the State of the Union Address. Seriously? He obviously didn't listen to the speech very well. Here was everything President Obama said about China:
Tonight, I'm announcing the creation of a Trade Enforcement Unit that will be charged with investigating unfair trade practices in countries like China. There will be more inspections to prevent counterfeit or unsafe goods from crossing our borders. And this Congress should make sure that no foreign company has an advantage over American manufacturing when it comes to accessing finance or new markets like Russia. Our workers are the most productive on Earth, and if the playing field is level, I promise you – America will always win.
(…)
I will not cede the wind or solar or battery industry to China or Germany because we refuse to make the same commitment here.
Those were the only mentions of China in the entire speech. I don't see any attempt to create a "scapegoat." I have to be honest here; the ODS has progressed so far, I'm not sure Scheer can behelped. How can you take anyone seriously when they accuse the President of the United States for trying to "scapegoat" a dictatorial country that acknowledges use of slave labor, imprisons anyone who tries to bring democracy to the country, and that openly acknowledges the use of what is practically slave labor? Even if he was trying to "scapegoat" China, any progressive should reject the notion out of hand.
Apparently, The ODS-addled Scheer isn't planning to vote in the next election, given the way he ends this silly column:
Of course, Romney, Obama's most likely opponent in the general election, will never challenge the Wall Street hold on Washington, since he is the personification of the vulture capitalism that is the true cause of America's decline. Obama should shine in comparison with his Republican challenger, but there is little in his State of the Union speech to suggest he will chart a much-needed new course in his second term.
Well, he won't be able to at all, if Obama Derangement Syndrome continues to grip the professional left.
There is a way to curb the spread of ODS among the professional left, and that is by promoting the truth. Join me in spreading this cure, won't you?
Daily Kos:
Sergeant At Arms:  Mr. Speaker, the socialist, class-warfare-loving, free-market-hating, Obammunist, President of the United States!
Obama:  All who work to produce should share equitably in the fruits of their labor.
vanishing loopholes and a minimum tax will mean that everybody and every corporation pay their fair share.
Government must have a heart as well as a head.
———
There can be no effective control of corporations while their political activity remains.
…we must guard against the acquisition of unwarranted influence, whether sought or unsought, by the military-industrial complex.
———-
We will establish a new system that makes high-quality health care available to every American in a dignified manner and at a price he can afford.
We have pledged to help our citizens find affordable medical care in the later years of life.
These reforms are the act of a vibrant and compassionate government,
———–
There can be no greater issue than that of conservation in this country.
The price tag on pollution control is high. The program I shall propose to Congress will be the most comprehensive and costly program in this field in America's history.
This requires comprehensive new regulations.
————-
The welfare of each of us is dependent fundamentally upon the welfare of all of us.
I am glad to know that there is a system of labor where the laborer can strike if he wants to. I wish to God that such a system prevailed all over the world.
Every gun that is made, every warship launched, every rocket fired signifies, in the final sense, a theft from those who hunger and are not fed, those who are cold and are not clothed.
Let us begin in unity, with justice, and love.
Thank you, and God bless you.
[Interrupted]
Text:  We apologize, due to a production error, all preceding quotes were taken from Republican presidents.
Back when the GOP was, you know . . .
socialist.
In order of appearance . . .
Dwight Eisenhower
Ronald Reagan
Theodore Roosevelt
Richard Nixon
George W. Bush
Abraham Lincoln
Reid is expected to bring the STOCK Act, a bill banning insider trading by Hill lawmakers, to the floor next week
Lobbying Disclosures Reveal Indiana Gov. Mitch Daniels Used State Dollars To Lobby For Keystone XL Pipeline
DCCC Out of Debt: Raised $61.4 million this year.
Why Marco Rubio won't be the VP pick
Reuters reports that while Sen. Marco Rubio (R-FL) might check a lot of boxes for the Republican Vice President nomination — "telegenic, Hispanic and a fiscal conservative who has been embraced by the Tea Party" — his financial troubles could be problematic in the vetting process.
"In 2008, despite earning a declared $400,000 — including his $300,000 salary from the Miami law firm Broad and Cassel — Rubio failed to pay down the principal on his home for several months, according to Florida campaign finance disclosures. During the same period he did not make payments on a $100,000-plus student loan from his days at the University of Miami, the disclosures said… Rubio's handling of his personal finances contrasts sharply with the image of him on his Senate website, which highlights Rubio's efforts to prevent Washington from 'piling up debt.'"
Looks like Senate GOP is backing down from a fight over Obama recess appointments to consumer board and NLRB
Greg Sargent:
After denouncing Obama's recess appointments to the new consumer protection bureau and the National Labor Relations Board as an act of tyranny or worse, it appears Senate Republicans are having second thoughts about entering into a protracted public fight over them:
Ahead of a closed-door party retreat Wednesday at George Washington's Mount Vernon estate, Senate Republicans suggested that they might let their business allies fight the battle over recess appointments for the National Labor Relations Board and the Consumer Financial Protection Bureau…
"I would be surprised if you see mass reprisals," Sen. Bob Corker added. "I just don't think that's what's going to happen. Idon't think anybody is going to consider that to be a very astute or intelligent thing to do."
Any senator can use the chamber's levers to bring business to a halt, but even those who have a history of gumming up the Senate's work don't seem eager to jump in.
"I don't think that'd be a particularly effective strategy," said Sen. Ron Johnson, who threatened to stymie Senate action last summer over fiscal matters. "I would much rather pursue a positive agenda."
This is particularly interesting when you consider the larger context. First, Republicans haven't exactly shrunk from "gumming up the Senate's work" in the past. Second, Senate Republicans previously had threatened to fight the appointments with everything they had.
Not long ago, for instance, Senator Chuck Grassley vowed that Republicans would "take action to check and balance President Obama's blatant attempt to circumvent the Senate and the Constitution." And in mid December, Senator Mitch McConnell assertedthat the GOP would not allow any recess appointments, threatening to hold up votes on Obama nominees unless he refrained from using the tactic.
Obama went ahead with the appointments anyway. And now it appears Republicans may decide to leave it to their "business allies" to fight this out in court, if they so choose.
Judging by the quotes above, some Senate Republicans appear to have concluded that it may be a political loser for them to take up his battle. After all, it could reprise the dynamic that played to the Democrats' advantage during the payroll tax cut fight: it could mire Republicans in an argument about process, even as the White House and Dems make the case for what their new consumer protection bureau would do for the American people.
With polls showing the public blames Congressional Republicans more than Obama for governmental gridlock, it would force Republicans into the position of engineering more dysfunction, while Dems argue that the GOP is trying to undo their efforts to defend the middle class against Wall Street excess. This would play neatly into Obama's strategy of preenting himself as the true champion of middle class interests while hammering Republicans for prioritizing the rich and running against a historically unpopular Congress.
Even if you concede that the politics of recess appointments themselves are unclear, it's hard to see how this particular fight would help the GOP brand.
AKA Jan Brewer is Full of Shit — Arizona Mayor Seems To Contradict Gov. Brewer's Story
TPM:
President Obama didn't exactly walk away from Arizona Gov. Jan Brewer (R) during their disagreement on Wednesday on an airport tarmac near Phoenix, said one of the only people to witness the exchange up close. The president simply began talking to the other two elected officials who were there to greet him.
Mayor Scott Smith of Mesa, Ariz., declined to say exactly what he heard Obama and Brewer talk about during their now-infamous tiff next to Air Force One.
But the mayor said he was standing right next to the governor when the exchange took place and Obama didn't seem to be in any kind of hurry to leave.
"There was no sense that he was running to or from anything," Smith told TPM. In fact, he said, the president stayed and had a pleasant conversation with Smith, who's a Republican, and Phoenix Mayor Greg Stanton, a Democrat.
It was "just the four of us," Smith said. "Mayor Stanton and I had a decent talk with him."
The portrayal of a calm, friendly president seems to at least partly contradict what Brewer has said about the encounter in numerous interviews since Wednesday afternoon. She described the president as "tense" and said he walked away from her while she was in mid-sentence. She told a Phoenix television station she felt "a little bit threatened" by the encounter.
Obama was in the area to tour a nearby Intel chip manufacturing plant and to promote his jobs strategy. But after landing in Mesa, the president somehow ended up talking to Brewer about a book she wrote last year.
Both the governor and White House have said the discussion involved a disagreement about how the book portrayed a June 2010 meeting between Brewer and Obama. A photo of the encounter shows Brewer pointing her finger at the president after handing him a letter she had written.
"It was somewhat of an animated discussion," Smith said on Thursday. "It revolved around the presentation of the letter…Other than that, I don't want to get into specifics."
Smith described the situation as an "awkward moment" but little more than that. He expected the meeting to involve casual pleasantries, not a sticky encounter. "You don't expect to see that at the bottom of the stairs of Air Force One," he said.
Smith was disappointed that a small dispute was getting more press than some of the region's success stories like the Phoenix-Mesa Gateway Airport, where the confrontation took place and which has grown exponentially even in the midst of the economic downturn.
He said he was glad the president came to town to highlight Intel and wished the focus could have remained there.
"It was an honor to be able to welcome the president to Mesa, to Arizona," Smith said, "and I hoped that this little episode between the governor and the president didn't overshadow all the great things that are going on in the middle of this recession."
Christie needs a history lesson: Southern blacks would have been psyched to have vote on their rights 
TPM:
Black lawmakers in New Jersey have sharply criticized Republican Gov. Chris Christie for comparing a ballot referendum on gay marriage to the civil rights movement thusly: "The fact of the matter is, I think people would have been happy to have a referendum on civil rights rather than fighting and dying in the streets in the South."
On Thursday, New Jersey Assembly Speaker Sheila Y. Oliver (D) released a statement decrying Christie's comments, saying that he'd "better sit down with some of New Jersey's great teachers for a history lesson, because his puzzling comment shows a complete misunderstanding about the civil rights movement."
Christie said on Tuesday that rather than pass a marriage equality bill in the New Jersey legislature — which is looking more and more likely — the state should put a referendum on the November ballot and "let the people decide."
Christie, who has said that he would veto a marriage equality bill from the legislature if it reached his desk, said that there's nothing "so special about this particular issue that it must be handled by a legislature." According to the Philadelphia Inquirer, he added: "The fact of the matter is, I think people would have been happy to have a referendum on civil rights rather than fighting and dying in the streets in the South."
The comment outraged many African-American leaders in the state, who pointed out that such a referendum never would have passedin the south during the 60s — and that many black people were also disenfranchised at the time.
"People were fighting and dying in the streets of the South for a reason," Oliver said. "They were fighting and dying in the streets of the South because the majority refused to grant minorities equal rights by any method. It look legislative action to bring justice to all Americans, just as legislative action is the right way to bring marriage equality to all New Jerseyans."
"The governor's comment is an insult to those who had no choice but to fight and die in the streets for equal rights," she added.
Newark Mayor Cory Booker (D) had a similar take. "Dear God, we should not be putting civil rights issues to a popular vote, to be subject to the sentiments, the passions of the day. No minority should have their rights subject to the passions and the sentiments of the majority. This is the fundamental bedrock of what our nation stands for."
Jerome Harris, chairman of the New Jersey Black Issues Convention, told the Star-Ledger: "The 1965 Voting Rights act was enacted to overcome the systemic, intentional racial suppression of the black vote. It's certainly a lack of historical understanding about how the expanding definition of who 'We the People' are has happened."
And State Assemblyman John Wisniewksi (D) added: "Rosa Parks didn't get to the front of the bus through a ballot question and Jim Crow laws weren't repealed by public referendum."
According to the Ledger, Christie defended himself Wednesday in a press conference: "My point is, they're trying to say the only way to deal with a civil rights issue is through legislation, and my point is that in a state like this, the fact of the matter is their own polling belies that position."
A recent Q poll found that the majority of NJ voters support marriage equality, 52%-42%.
Um … Rick Scott uses Holocaust quote to defend Bain Capital … seriously 
The Reid Report:
From the Miami Herald:
Florida Gov. Rick Scott has not endorsed a candidate in the U.S. presidential contest, but he strongly endorsed the "free market" Thursday morning, using a Holocaust-era quote to encourage business leaders to defend capitalism during the presidential primaries.
"I've got a quote in my office," he said before paraphrasing Martin Neimöller's famous statement criticizing the complacency of some during the Nazi-era. "First they came for the Jews, and I wasn't a Jew so I didn't say anything…"
He linked the quote to criticisms, made by presidential candidates former House Speaker Newt Gingrich and Texas Gov. Rick Perry, about Bain Capital, which former Mass. Gov. Mitt Romney started.
"We shouldn't be allowing candidates to attack people in business, we should be saying… 'That's us'," Scott said at a quarterly board meeting of Enterprise Florida, the state's economic development partnership with private businesses. …
I'm just going to go out on a limb and guess than any support from the country's most unpopular governor is shall we say, unwelcome to Team Mitt. But this? Wow.
Remember that time Ron Paul stood in front of a confederate flag and said the South was right?
Reid Report:
No? Well here you go …
MORE>>>
POLLS
Poll shows 52% of Americans favor bombing Iran.
Despite FL polls showing Romney opening up lead, Gallup national tracker shows Gingrich expanding lead
Poll: Americans Overwhelming Believe Ideology Drives Supreme Court Decisions 
VIDEO: Majority of Americans Want Govt to Act on Home Foreclosures 
AND IN OTHER NEWS…
NYT: Is grieving a mental illness? Another DSM-5 controversy erupts.
When does a broken heart become a diagnosis?
In a bitter skirmish over the definition of depression, a new report contends that a proposed change to the diagnosis would characterize grieving as a disorder and greatly increase the number of people treated for it.
The criteria for depression are being reviewed by the American Psychiatric Association, which is finishing work on the fifth edition of its Diagnostic and Statistical Manual of Mental Disorders, or D.S.M., the first since 1994. The manual is the standard reference for the field, shaping treatment and insurance decisions, and its revisions will affect the lives of millions of people for years to come.
In coming months, as the manual is finalized, outside experts will intensify scrutiny of its finer points, many of which are deeply contentious in the field. A controversy erupted last week over the proposed tightening of the definition of autism, possibly sharply reducing the number of people who receive the diagnosis. Psychiatrists say current efforts to revise the manual are shaping up as the most contentious ever.
The new report, by psychiatric researchers from Columbia and New York Universities, argues that the current definition of depression — which excludes bereavement, the usual grieving after the loss of a loved one — is far more accurate. If the "bereavement exclusion" is eliminated, they say, "there is the potential for considerable false-positive diagnosis and unnecessary treatment of grief-stricken persons." Drugs for depression can have side effects, including low sex drive and sleeping problems.
But experts who support the new definition say sometimes grieving people need help. "Depression can and does occur in the wake of bereavement, it can be severe and debilitating, and calling it by any other name is doing a disservice to people who may require more careful attention," said Dr. Sidney Zisook, a psychiatrist at the University of California, San Diego.
In blogs, letters, and editorials, experts and advocates have been busy dissecting the implications of this and scores of other proposed revisions, now available online, including new diagnoses that include "binge eating disorder," "premenstrual dysphoric disorder" and "attenuated psychosis syndrome." The clashes typically revolve around subtle distinctions that are often not readily apparent to those unfamiliar with the revision process. If a person does not meet precise criteria, then the diagnosis does not apply and treatment is not covered, so the stakes are high.
"The world has changed" since the last revision, in 1993, said Dr. James H. Scully Jr., chief executive of the psychiatric association. "We've got electronic media around the clock, and we've made drafts of the proposed changes public online, for one thing. So anybody and everybody can comment on them, at any time, without any editors."
Many doctors and therapists approve of efforts to eliminate vague, catch-all diagnostic labels like "eating disorder-not otherwise specified" and "pervasive development disorder-not otherwise specified," which is related to autism. But a swarm of critics, including two psychiatrists who oversaw revisions of earlier editions, has descended on many other proposals.
"What I worry about most is that the revisions will medicalize normality and that millions of people will get psychiatric labels unnecessarily," said Dr. Allen Frances, who was chairman of the task force that revised the last edition.
Dr. Frances, now an emeritus professor at Duke University, has been criticizing the current process relentlessly in blog posts and e-mails. Dr. Robert L. Spitzer, who oversaw revision of the third manual in 1980, has also voiced concerns, as have the American Counseling Association, the British Psychological Society and a division of the American Psychological Association. Some of the concerns have to do with important technical matters, like the statistical reliability of diagnostic questionnaires. Others are focused on proposed changes to the most familiar diagnoses.
Under the current criteria, a depression diagnosis requires that a person have five of nine symptoms — which include sleeping problems, a feeling of worthlessness and a loss of concentration — for two weeks or more. The criteria make an explicit exception for normal grieving, which can look like depression.
But the proposed diagnosis of depression has no such exclusion, and in the new study, Jerome C. Wakefield of New York University and Dr.Michael First of Columbia concluded that the evidence was not strong enough to support the change. "An estimated 8 to 10 million people lose a loved one every year, and something like a third to a half of them suffer depressive symptoms for up to month afterward," said Dr. Wakefield, author of "The Loss of Sadness." "This would pathologize them for behavior previously thought to be normal."
But Dr. David J. Kupfer, a professor of psychiatry at the University of Pittsburgh School of Medicine and the chairman of the task force making revisions, disagreed, saying, "If someone is suffering from severe depression symptoms one or two months after a loss or a death, and I can't make a diagnosis of depression — well, that is not being clinically proactive. That person may then not get the treatment they need."
MORE>>
Report: Prejudice Linked to Low IQ: According to psychology study.
The Daily Beast:
According to a controversial study published earlier this year in the journal Psychological Science, British children with lower generalintelligence factor (similar to IQ) are more likely to be racially prejudiced as adults. The LiveScience article on this study, posted Thursday, has the headline: "Low IQ & Conservative Beliefs Linked to Prejudice," and quotes the lead researcher of the study, psychologist Gordon Hodson of Brock University in Ontario. "Socially conservative ideologies tend to offer structure and order," Hodson said. "Unfortunately, many of these features can also contribute to prejudice." Yet it ought to be noted that the study refers only to "social" conservatives rather than "political" conservatives. And attitudes toward race were measured by whether people agreed with statements like "I wouldn't mind working with people from other races," which can be defined simply as "prejudice" rather than "socially conservative." The scientific correlation between prejudice and "right-wing ideologies" is questionable, and many studies have pointed to the fact that general intelligence factor and IQ only measure a very specific type of intelligence—that they "may simply be dumb," as the article says, is not accurate.
QUOTE OF THE DAY:
Repetition does not transform a lie into a truth.
~~Franklin D. Roosevelt