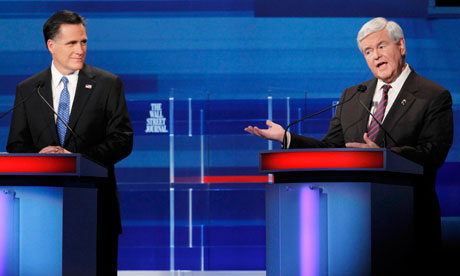 Perry's out! Newt's up! Romney's down! Newt's ex-wife attacks! Romney's taxes attack him! And the South Carolina primary is in two days!
Let's get ready to rum-m-mble!!!
Newt has pulled to a possible tie or better with Romney and is drooling at the possibility of beating Romney. Meanwhile, now that Romney's been exposed as having lost in Iowa and is deteriorating in SC, maybe the inevitable nominee has a lot longer fight to become inevitable.
Tonight's debate begins at 5:00 pm PST/8:00 pm EST on CNN and streaming at http://cnn.com.
Please join us for an always entertaining and insightful live blog of tonight's probable mudfight!
May the dirtiest candidate lose…to Obama.