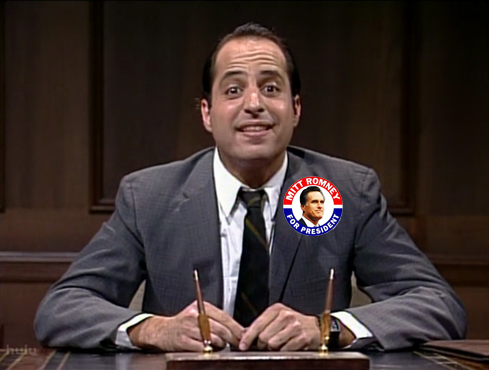 In the 1980's, Jon Lovitz played a character on Saturday Night Live named Tommy Flanagan but known as The Liar:
https://www.youtube.com/watch?v=pkYNBwCEeH4
If you've spent any time at all listening to Mitt Romney in debates or in stump speeches, you may agree that this appears to be Romney's role model. Consider Romney's speech in South Carolina today:
When I was at Bain, I was a wealth–…a job creator, yeah, that's what I was. I created a million jobs in a billion companies! Why, I even created the Middle Class! Yeah, that's the ticket! But Obama, he wants fairness–…er…European socialism! Yeah, that's what he wants. And he wants to…take everyone's jobs and money away and use arugula as the national currency! Yeah, that's his plan!"
Mitt Romney's track record would make Jon Lovitz blush. His betrayals and dishonesty on his past positions are well known. When Fox News' Brett Baier confronted Romney on the fact that he had completely flipped on his support for a health insurance mandate as contained in his own Romneycare plan, a fumbling Romney stated that Baier had his facts wrong.
As we've seen time and again, Romney's response to be caught red handed as a hypocrite and liar is, "I know you are but what am I?"
Can someone with no visible means of support when it comes to honesty, character and principles, an obvious and serial liar, be elected President?
We have had many deceitful and dishonest men elected President but none of them ran solely on lies nor ran on positions that were all the exact opposite of where they had stood just several years before.
There is nothing genuine about Mitt Romney (which may explain why the plastics industry has contributed hugely to his campaign, he is a great walking advertisement for them). There is no sign of sympathy or empathy for other human beings (or dogs for that matter) that is in evidence. Romney is an adult child who has been given everything he's ever had and naturally thinks he should continue to be entitled to whatever he wants. He has lived in a bubble of wealth and elitism and looks at 99% of Americans like beetles he's caught in a jar.
Coming from a life of self-entitlement, his only priority is getting what he wants and lying is irrelevant if it provides him with what he desires.
We know from this GOP Presidential Primary season that the core Republican base also doesn't care if their candidates are liars, in fact, if they see the lie as helpful in hammering the Democrats, they cheer it on (birth certificates anyone?).
There is a dynamic, a co-dependence between dishonesty and what it takes to make one most viable in the GOP Primary. To begin, the current requirements of racism, hatred, greed and religious purity that the GOP rank and file seek in a candidate is not humanly possible nor viable in a General Election so it is an unachievable fantasy.
Romney and the rest of the GOP candidates aren't principled enough to step up and say that such a childish wishlist isn't possible, they instead offer a wink and a nod and put on their Santa "Flaws" costumes and lie and deceive to play the role that the GOP "kiddies" are rooting for them to play.
For Mitt Romney, a man whose "principles" are more like interchangeable Lego blocks, the response is, "No problem, I can do that!"
Do Americans put a higher value on hearing what they want to hear or honesty? Will they vote for someone like Mitt Romney who is all but telling the public, "I am just lying non-stop to get elected President" as long as they like the lies they're being told by him?
It wouldn't be the first time that Americans have done so, we only need to look back to 2010. In that election, the same Republicans who lied, cheated and helped steal massive wealth and jobs from Americans, lied about how they would create jobs if elected and the desperate American People swallowed that lie whole.
The question is, have they learned, even for at least the time being, that believing in BS from Republicans without putting it in context with their actual actions in the very recent past, is self-destructive?
In the end, I think so. It seems most likely that the characterization of Romney as the quintessential wealthy opportunist and liar will continue to be cemented, especially once the Obama and DNC campaigns start in earnest.
The fears and desires of Americans are preyed upon daily by corporations in their commercials and by politicians in their game playing. The rise of Occupy Wall Street, the broad acknowledgement of economic inequity and the disapproval of politicians in general offers encouragement that the American People are at least taking a sabbatical from being easily manipulated by the wealthy and the powers that be.
2012 would not seem to be The Year of the Liar, it seems more likely to be The Year of The People and yeah, that's the ticket.