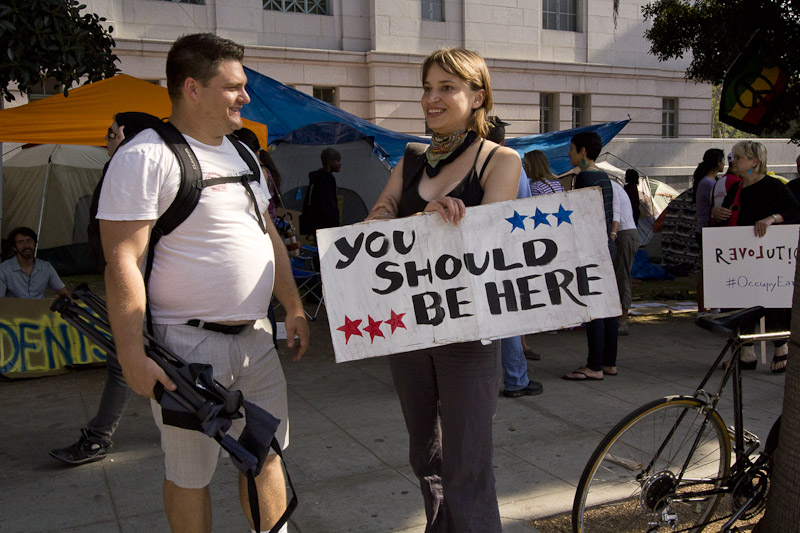 Yes, that is what I said, Occupy is the finest form of patriotism for any citizen in this country. I know we all hear the chants from the right and the wealthy that these people don't know what they want, that they don't have that all important leader, that they need to find a job, that they are a lowlife collection of drug addicts, communists, and militant anarchists.
And because the right can never get it right, they are also socialists and want the rich to just give them their fair share.  I have read a lot on these people and never once saw any one of them asking the rich to give up their wealth to the 99%.  Well I say to them if patriotism is supporting your government's policies without question, supporting all the wealth going to the top 1%, then we are on our way to a totalitarian state of government.  The Robber Barons have returned, if they were ever gone in the first place, and people are fed up.  And yes, you can be fed up and still a Patriot.
If we take our "Declaration of Independence" seriously, patriotism in a democratic society cannot possibly be unquestioning support of our government IF we take seriously the principles of democracy as set forth in that document.  In the Declaration of Independence there is a clear distinction between government and the people.
Governments are artificial creations, the people are not.  The Declaration also says the government is established by the people with the obligation to protect certain ends: the equal rights of all to "Life, Liberty and the Pursuit of Happiness".  When any government becomes destructive of  these ends, it is the right of the people to alter or abolish it.  Surely if it is the right of the people to alter or abolish it, it is also their right to question policies that they see as destructive of the ends for which government has been established.  In fact true patriotism lies in support of the values the country is supposed to cherish: equality, life, liberty and the pursuit of happiness and when our government compromises, undermines or attacks those values it is the government who is unpatriotic.
That characterization of governments expressed in the Declaration  as "deriving their just powers from the consent of the governed" has been understood by generations of social justice warriors.  Mark Twain understood the difference between Country and Government as he explained in the words of the main character in A Connecticut Yankee in King Arthur's Court……
"You see my kind of loyalty was loyalty to one's country, not to its institutions or officeholders.  The country is the real thing, the substantial thing, it is the thing to watch over, and care for, and be loyal to; institutions are extraneous, they are its mere clothing, and clothing can wear out, become raggged, cease to be comfortable, cease to protect the body from winter, disease and death.  To be loyal to rags, to shout for rags, to worship rags-that is a loyalty of unreason, it is pure animal, it belongs to monarchy, was invented by monarchy, let monarchy keep it".
That is what has happened to our government, to our institutions.  They have become worn out and ragged for the 99% and the "monarchy", in our case the plutocracy, want to keep things just as they are, I mean aren't they TBTF?  They will do anything to protect what is theirs, what they most fear taken away from them.  No one is asking for anything to be taken away from them, but yes we are asking them to pay their fair share.  We are asking them to stop shipping jobs overseas in order to obtain cheap labor.  We are asking them to worry more about human life than their bottom line.  We are asking them to honor life, liberty and the pursuit of happiness to all citizens as guaranteed by our Declaration of Independence.
If they and the government cannot see their way to providing that for all citizens, then yes Patriotism will continue to flourish on the streets and in the cities of this country and Occupy will remain.