Sorry to have been gone but I was under the weather. I have lots of items today, as I started compiling them just when I got sick, and I kept them all. You can access all the past editions of The Daily Planet on the green Category bar on the top of each page under the heading PlanetPOV.
________________________________________
BUDGET
Reuters) – Seeking to break a standoff over raising the debt limit, a group of lawmakers led by Vice President Joe Biden meets three times this week as a critical deadline to reach a deal fast approaches.
After six meetings, some progress has been made but there is still deep disagreement on taxes and healthcare and a growing sense of urgency that the group must achieve much more soon if the United States is to avoid the first debt default in its history.
If the Biden group, which includes senior Senate and House of Representatives members, can reach a deal on cutting the deficit, expected to reach $1.4 trillion this year, it could give lawmakers political cover to vote in favor of raising the $14.3 trillion limit on U.S. government borrowing. […]
With little time to craft a deficit-reduction package, the Biden group is trying to identify obvious areas of agreement. Rather than come up with its own plan, the group is looking to "mix and match" from existing proposals.
These include President Barack Obama's revised fiscal 2012 budget proposal, the House Republican budget plan, a House Democratic alternative, a report by Obama's deficit-reduction commission and an array of other governmental and non-governmental reports.
Some likely areas of agreement: reduce farm subsidies, require federal workers to contribute more to their pension plans, cap annual spending, sell excess federal property, reduce Medicare fraud and overpayments, and auction broadcast spectrum licenses.
The group has only agreed on about $150 billion in spending cuts so far, even though Republicans demand "trillions" in cuts before they agree to a deal to raise the debt limit. The debt limit will need to be raised by about $2.4 trillion to meet the government's borrowing requirements through next year's presidential election.
The greatest hope for a deal lies in the fact the White House and Republican and Democratic leaders all agree that the debt limit needs to be raised by the August 2 deadline.
Exactly how the Biden group gets to a deal remains unclear. Biden himself has said he is not sure if the group can get to the "finish line," but members appear to agree there is not enough time before August 2 to come up with a comprehensive deficit-reduction plan.
Eric Cantor, a senior Republican congressman in the talks, now says that while the Biden group is laying groundwork for a possible deal, it will take Obama and Boehner to hammer out the final details. A deal could include a cut in employers' payroll taxes to encourage more hiring, a move that Obama floated last week and one that might sweeten the pot for Republicans.
Analysts say the only realistic overall option is to set a deficit-reduction goal of roughly $4 trillion over 10 years, with automatic spending-cut "triggers" that would kick in if the deficit were not being reduced fast enough.
Obama advocates that approach but Boehner rejects it as "gimmicks." […]
Even if the Biden panel reaches a broad deficit deal that avoids, for now, going into detail on taxes and entitlements, it is almost sure to face opposition from dozens of lawmakers aligned with the fiscally conservative Tea Party movement.
Their opposition is bolstered by opinion polls showing most Americans oppose raising the debt limit. Many conservative Republicans do not believe Geithner's August 2 deadline is valid and say his predictions of catastrophe if the borrowing cap is not lifted by then are unfounded.
Boehner likely will need Democratic help to pass any increase in the debt limit to overcome Tea Party opposition.
WHO HAS MORE AT STAKE IN THE TALKS?
There are considerable risks on all sides. If Boehner fails to get a "yes" vote in the House to raise the debt limit, Republicans likely will be blamed for any fallout in the bond markets, and with it a spike in interest rates.
A financial crisis could plunge the United States back into recession. With many Americans already questioning Obama's stewardship of the economy, another downturn would endanger his efforts to seek re-election next year.


GOP cuts to food aid for seniors and food banks equals one day of Bush tax cuts for millionaires
Michael Stampfler is Pontiac, Michigan's EFM. He has the dubious distinction of being the first Michigan EFM to use new powers granted by Michigan Republicans to cancel a union contract. What went nearly unnoticed was that last week, he dissolved the Pontiac Planning Commission and replaced it with a smaller number of his own hand-picked, unelected members. But he also did another thing. He made a contract for water treatment services with United Water Services permanent, outsourcing the water treatment to them and laying off city water treatment officials.
This is big news. Why? Because United Water was indicted by the U.S. Department of Justice last December for violating the Clean Water Act.
Today, the House started debate on the FY 2012 Agriculture Appropriations bill (H.R. 2112). As House Republicans spend billions to continue the Bush tax cuts for millionaires, tax breaks for oil companies, and tax breaks for corporations shipping jobs overseas, the Republican Agriculture Approps bill makes drastic cuts that will take food out of the mouths of children, increase the risk of food-borne illnesses, hurt the very heart of farm country, undercut common sense financial regulations, and protect Wall Street speculators that are driving up gas prices. In particular, the bill cuts the Special Supplemental Nutrition Program for Women, Infants, and Children–commonly known as WIC–by $650 million (10% from $6.73 billion this year to $6.05 billion in 2012), forcing them to turn away up to 350,000 low-income women and young children next year. […]
It's unthinkable that a family would say we can't afford to feed the children. It's unthinkable that a nation committed to the future would say we can't afford to feed the children. These families need our help. It's a large amount of money $147 million, very small compared to the subsidies to Big Oil and a small price to pay for the health and well being of our children and the strength of our country as we go into the future.
BUSINESS
All those fees airlines slap on to check bags and change flights are adding up to big money. New figures show that U.S. airlines collected almost $5.7 billion in fees last year, a 10% increase from 2009.
The biggest fee hog was Delta Air Lines (DAL), which led the industry in fees for both categories, Reuters reports. In fact, Delta collected more than 20% of the entire industry's total. American Airlines, owned by AMR Corp. (AMR), came in second.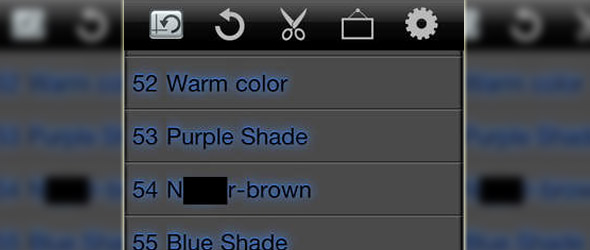 This screen shot of the iPhone app shows the effect named for a racial slur. We edited the photo to block off part of the word.
ECONOMY
"A great deal of the pain of this downturn lies in front of us still," Elmendorf said.
At the beginning of the year, CBO put the U.S. on a five-year path of modest growth, over which time they predicted the unemployment rate would crawl down toward five percent. Elmendorf sees nothing on the horizon to speed that up.
"At this point I don't expect large changes to that forecast," he said.
A number of factors, Elmendorf noted, risk upending the recovery — another oil price spike, say, or a European economic crisis. But he's heartened by the fact that households have deleveraged, businesses are sitting on cash, and anything that increases individual and business confidence could prompt new spending.
The White House recognizes the problem and the risk — though it's unclear if they have a plan in place to inject more demand into the economy. On Monday, President Obama called on bipartisan debt negotiators to include an extension of a recently-enacted payroll tax holiday in any agreement to cut spending and raise the debt limit.
If he agrees to spending cuts in the coming years, it "gives us a little bit of room to continue to do some smart things like the payroll tax cut that we initiated in December while still keeping our eye on the ball in terms of the long term," he said.
Obama's former top economic adviser, Larry Summers, is also pushing to extend the payroll tax cut — but also to broaden and deepen it. Such a pairing, Elmendorf suggested, would be good medicine for the economy in the near and medium term.
"We think that cuts in government spending or increases in taxes in the next few years would reduce economic activity and employment relative to what would otherwise occur," he said. "At the same time we think that reductions in government spending, or increases in taxes later in the decade would hold down interest rates and increase confidence today in a way that would increase output and employment today."
As potential GOP challengers prepare to level attacks on the subject, the president — unable to take more dramatic steps — attempts to demonstrate that he's doing all he can.
The unemployment rate last week ticked up to 9.1%; the housing market has sagged to 2002 levels; and first-quarter economic growth was an anemic 1.8%.
All this has created openings for Republican presidential hopefuls. Mitt Romney, the nominal GOP front-runner, was deadlocked with Obama in one recent poll, having made the economy the central thrust of his campaign.
Administration officials are well aware of what can happen when an incumbent president seems inattentive to the country's economic hardship. In 1992, voters ousted President George H.W. Bush in favor of Bill Clinton and his promise of a laser-like focus on the economy. Several top White House aides were part of that successful Democratic campaign. […]
The traditional means by which a president might try to rev up the economy in the short run — new spending or tax cuts — have little chance of moving forward in a polarized Congress concerned with reducing the federal debt. Federal Reserve officials have used most of the monetary tools they have. All that leaves Obama largely dependent on a slow healing of the economy.
In the meantime, he has been using two approaches, both on display in Monday's North Carolina swing. One is to put forward smaller-scale ideas that may not generate huge numbers of jobs in the short term, but which at least show he is working on the issue.

Obama led a round-table discussion with the high-profile corporate leaders who make up his jobs council. Sitting next to General Electric chief Jeffrey Immelt, Obama kicked around recommendations that his administration can put in place without approval of Congress: a streamlined permitting procedure, quicker visas for tourists visiting from overseas, administrative actions that would allow skilled foreign students to work in the U.S. […]
The other approach is to emphasize how much worse the recession could have been.
Virtually every Obama speech on domestic affairs recaps what he sees as the fundamental victory of his administration: staving off a full-scale economic collapse. But he also includes passages to show he is under no illusion the economy has fully bounced back. […]
The centerpiece of Obama's original economic plan, his $800-billion-plus stimulus package, is precisely the sort of federal spending program that is no longer part of the job-creating arsenal. If anything, Obama will be compelled to go the opposite direction: cut spending as a concession to Republicans for raising the debt ceiling.
Yet even Obama seems to recognize the limits of massive government programs. He made a rueful reference to an early claim about the stimulus — that it would pay for bridge, road and other construction projects that were "shovel-ready."
"Shovel-ready was not as shovel-ready as we expected," Obama told the corporate executives.
Republican lawmakers are "playing with fire" by contemplating even a brief debt default as a means to force deeper government spending cuts, an adviser to China's central bank said on Wednesday.
The idea of a technical default — essentially delaying interest payments for a few days — has gained backing from a growing number of mainstream Republicans who see it as a price worth paying if it forces the White House to slash spending, Reuters reported on Tuesday.
But any form of default could destabilize the global economy and sour already tense relations with big U.S. creditors such as China, government officials and investors warn.
Li Daokui, an adviser to the People's Bank of China, said a default could undermine the U.S. dollar, and Beijing needed to dissuade Washington from pursuing this course of action.
"I think there is a risk that the U.S. debt default may happen," Li told reporters on the sidelines of a forum in Beijing. "The result will be very serious and I really hope that they would stop playing with fire."
China is the largest foreign creditor to the United States, holding more than $1 trillion in Treasury debt as of March, U.S. data shows, so its concerns carry considerable weight in Washington.
"I really worry about the risks of a U.S. debt default, which I think may lead to a decline in the dollar's value," Li said. […]
Marc Ostwald, a strategist with Monument Securities in London, said markets were working on the assumption that the U.S. debt story "will go away." But nervousness would grow if a resolution was not reached in the next five to six weeks.
The Republicans' theory is that bondholders would accept a brief delay in interest payments if it meant Washington finally addressed its long-term fiscal problems, putting the country in a stronger position to meet its debt obligations later on.
But interviews with government officials and investors show they consider a default such a grim — and remote — possibility that it was nearly impossible to imagine.
"How can the U.S. be allowed to default?" said an official at India's central bank. "We don't think this is a possibility because this could then create huge panic globally."
Indian officials say they have little choice but to buy U.S. Treasury debt because it is still among the world's safest and most liquid investments. It held $39.8 billion in U.S. Treasuries as of March, U.S. data shows.
Oman is concerned about the impact of a default on the currency reserves of the sultanate and its Gulf neighbors.
"Our economies are substantially tied up with the U.S. financial developments," said a senior central bank official, who spoke on condition of anonymity.
"It just wouldn't happen," said Barry Evans, who oversees $83 billion in fixed income assets at Manulife Asset Management. "They would pay their Treasury bills first instead of other bills. It's as simple as that."
Jared Bernstein:
Suppose you were a policy maker who wanted to pivot away from emphasizing the need to reduce the budget deficit and towards the need to reduce the jobs deficit.
You'd get out there on TV and stress the 20+ million un- and underemployed, including the 45% of the unemployed who have been jobless for at least half a year (about as high as it's ever been).  You'd stress the recent slowing of any already slow-growth recovery, and you'd stress the low cost of borrowing, which significantly boosts your bang-for-buck in terms of spending on jobs right now.  And you'd remind anyone listening that you haven't forsaken the truly necessary work of getting the budget on a sustainable path.  It's just that with unemployment at 9.1%, deficit reduction simply isn't the country's most important mandate right now.  That would be jobs.
So far, so good.   But what do you say to the follow up question: OK, you want to target jobs—what's your plan?
I'd suggest starting with the Hippocratic Oath: First, do no harm.
Fading stimulus and state fiscal contractions could shave 1-2 percentage points off of GDP growth this year and next.  If we let the payroll tax holiday and extended unemployment insurance benefits expire on schedule at the end of this year, look for the upper end of that range at least.  So we start by avoiding that air pocket.
In the ongoing budget debates, both sides are in the process of agreeing on spending cuts (one side, importantly, is insisting on revenue increases too—very important to seek balance here).  OK, but again, from the "do no harm" part of the agenda: avoid starting those cuts too soon…I don't see what good comes from cuts this year or next.
Next, turn to infrastructure.  Yes, it takes some time to roll out, but unfortunately, we've got time.  It will be years before we see full employment again.
Then, I'd get back to the very tough conditions in some of the states.  They have to balance their budgets, and that's leading to aggressive layoffs.  Check out this slide showing payrolls of state and local government versus all other sectors.  The latter is growing, the former, crashing.  States and cities have laid off about 350,000 workers over the past year and a half.
I'd say, "I know public sector workers are taking it on the chin in cities around the country right now, but does this make sense?  Do we really want fewer teachers in the classroom right now?  Do we really want to have to cut back health coverage for the low income folks in what's still such a tough economy?"  Another round of state fiscal relief is needed.
Finally, I'd close out with a couple of ideas for helping boost our manufactured exports, a key channel of growth at a time like this.  In fact, one corrective mechanism in a weak economy with low interest rates is the weaker value of the dollar in international markets, which makes our exports cheaper and their imports more expensive.  But if other counties, like China, manage their currency (keeping it cheap relative to the dollar) they prevent this important adjustment.
The White House has pushed back pretty hard on this, but I'd go further.  There are a couple of bills in the Congress that ratchet up the pressure on currency managers and they've gotten some bipartisan support.  I'd put them on the agenda.
The other idea is a great manufacturing tax credit—the 48C Advanced Energy Manufacturing Tax Credit (man, we really got work on these names!)—that was really effective during the Recovery Act—and it's green!
So if you want to pivot, that my suggested agenda.  There's more one could think of—nothing on housing here, and that's a clear problem as well (I'll post some ideas on that space in the next few days).
Collectively, these households own $1.37 trillion dollars; a number so high that it's nearly impossible to comprehend. Here are 11 shocking things $1.37 trillion can buy that you can't.
In the U.S., accumulating this kind of wealth is the "American Dream." Getting rich is the result of hard work; padding your bank account is applauded and encouraged. But at what cost? Have we created economic policies that cater to the wealthy, in hopes that we will someday be among them?
Perhaps in today's economy, we have allowed the wealthy are getting too far ahead financially.
Case in point: today, the wealthiest families in the U.S. are sickeningly, obscenely rich, to the tune of $1.37 trillion dollars. And unlike the rest of us, they don't have outstanding medical bills or student loans, trouble paying credit card debt, or live paycheck to paycheck.
So how much is $1.37 trillion dollars? To demonstrate just much money this is, here are 11 things that the richest 400 households in the U.S. can buy with their "hard-earned" cash:
The richest 400 households can pay off every student loan for every single student in the entire United States. No more paying for an education, so that you can get a good job so that you can… well, pay off your education.
The richest 400 can pay off all credit card debt for every single person in the entire United States. Imagine that! No more credit card debt looming over your shoulders!
The richest 400 households can afford to triple the number of teachers in the United States, then give every single one a $30,000 raise. Teachers are being laid off everywhere, their salaries are being cut, and they are suffering. Teacher-to-student ratios in schools are abysmal. But what can we do about it when so much wealth is in the pockets of so few families?
The richest 400 families alone could replace 70% of all money lost in the Great Recession, for everyone! How much money did you, your parents, or grandparents lose in the Great Recession of 2008? 30%, 50% of your portfolio? Not only do the rich still have enough money to fund their wildest dreams, but they can also fund your retirements.
EDUCATION
ENERGY
ENVIRONMENT
Facing heavy criticism for a sluggish economic recovery, U.S. President Barack Obama brought his talk about the importance of growing more green jobs to a thriving LED factory in North Carolina Monday.
This month the Environmental Protection Agency made public the names of 150 chemicals that were investigated in health and safety studies but whose identities were withheld as confidential business information.
The government issued warnings on Friday about two materials used daily by millions of Americans, saying that one [formaldehyde] causes cancer and the other [styrene] might.
Obama administration officials, joined by electric power industry executives and state regulators, will unveil a new campaign [Monday] to push deployment of smart grid and clean energy technologies.
But the costs of that energy use aren't just financial, they are strategic and tactical. All too often those costs can be measured in lives lost moving and guarding fuel on the battlefield. These risks and costs associated with our energy use mean that we must change the way we manage energy on the battlefield, and strive to reduce demand at all levels of our forces.
Addressing this challenge is the objective of the Operational Energy Strategy. The overall goal of the Strategy is to put better energy solutions in the hands of today's and tomorrow's warfighters. The document outlines the three principal ways to a stronger force: changing our demand for energy, our supply of energy, and changing the force itself. We encourage you to read the strategy.
HEALTH
Apples top environmental group's list of pesticide-laden produce. Clergy too. "Kids are eating a lot of pesticides, and parents using the guide can steer away from these foods," Sonya Lunder, senior analyst with the group, told Greenwire, an environmental news wire service. "There is a need to be really careful and cautious when you're pregnant and when you're feeding children. During these times, pesticides can have major health effects."
"Dirty Dozen" and the "Clean 15." [PDF]

In lots of place in the United States, women are living shorter lives than they used to:
In 737 U.S. counties out of more than 3,000, life expectancies for women declined between 1997 and 2007. For life expectancy to decline in a developed nation is rare. Setbacks on this scale have not been seen in the U.S. since the Spanish influenza epidemic of 1918, according to demographers. […]
….A key finding of the data is that "inequality appears to be growing in the U.S.," said Eileen Crimmins, a gerontologist at USC who also co-chaired the 2011 National Academies panel on life expectancies. "We are different than other countries."
HEALTH CARE
The Obama administration injected billions of dollars into Medicaid, the nation's low-income health program, as the recession deepened two years ago. The money runs out at the end of this month, and benefits are being cut for millions of people, even though unemployment has increased. […]
To hold down costs, states are cutting Medicaid payments to doctors and hospitals, limiting benefits for Medicaid recipients, reducing the scope of covered services, requiring beneficiaries to pay larger co-payments and expanding the use of managed care.
As a result, costs can be expected to rise in other parts of the health care system. Cuts in Medicaid payments to doctors, for example, make it less likely that they will accept Medicaid patients and more likely that people will turn to hospital emergency rooms for care. Hospitals and other health care providers often try to make up for the loss of Medicaid revenue by increasing charges to other patients, including those with private insurance, experts say.
Neither the White House nor Congress has tried to extend the extra federal financing for Medicaid, even though the number of beneficiaries is higher now than when Congress approved the aid as part of an economic recovery package in February 2009.
The Congressional Budget Office estimates that federal Medicaid spending will decline in 2012 for only the second time in the 46-year history of the program. But states say they will have to have to spend more on Medicaid as they struggle to make up for the loss of federal money. […]
The additional money pushed the average federal share of Medicaid spending nationwide to 67 percent. It will revert to 57 percent next month. The cutback in federal Medicaid money has put pressure on states to cut the budget for other programs, including education and social services.
Toby J. Douglas, director of the California Department of Health Care Services, said the federal Medicaid cut was causing "very consequential reductions in health care and other public programs."
California is cutting Medicaid payments to doctors and many other providers by 10 percent; has established new co-payments for drugs, doctors' services and hospital care; and will limit beneficiaries to seven doctor's office visits a year unless a doctor certifies a need for more.

Krugman:
The Economist's "Democracy in America" blog has a very good illustration of the reasons our privatized, market-based system is so much more expensive, for no better results, than everyone else's:
A medical technology company is going public to generate the money it needs to advertise its products to hospital directors and insurance-company reimbursement officers. This entails significant extra expenditures for marketing, the new stocks issued to fund the marketing will ultimately have to pay dividends, banks will have to be paid to supervise the IPO that was needed to generate the funds to finance the marketing campaign (presumably charging the industry-cartel standard 7%)…and all this will have to be paid for by driving up the price the company charges to deliver its technologies. But beyond the added expense, why would anyone think that a system in which marketing plays such a large role is likely to be more effective, to lead to better treatment, than the kind of process of expert review that governs grant awards at NIH or publishing decisions at peer-reviewed journals? Why do we think that a system in which ads for Claritin are all over the subways will generate better overall health results than one where a national review board determines whether Claritin delivers treatment outcomes for some populations sufficiently superior to justify its added expense over similar generics? What do we expect from a system in which, as ProPublica reports today, body imaging companies hire telemarketers to sell random people CT scans over the phone?
Furthermore,
The other key thing to pay attention to is who this marketing campaign was targeted at: key decisionmakers at providers and insurance companies. Those are the people who decide whether medical procedures get ordered. It's not patients. Patients aren't going to experience a loss of freedom or satisfaction because an expert reviewer at the Independant Payment Advisory Board makes the call as to whether a procedure is medically beneficial, rather than the corresponding bureaucrat at their insurance provider or at the for-profit clinic they're attending.
None of this is particularly new — but it needs to be repeated, over and over again; maybe some of it will leak through the ideological armor of Very Serious People.
JUSTICE
TIME has obtained a copy of a subpoena signed by Durham that points to his grand jury's broader mandate, which could involve charging additional CIA officers and contract employees in other cases. The subpoena says "the grand jury is conducting an investigation of possible violations of federal criminal laws involving War Crimes (18 USC/2441), Torture (18 USC 243OA) and related federal offenses."
In 2009 — after President Barack Obama replaced President George W. Bush — new U.S. Attorney General Eric Holder tapped Durham to review roughly a dozen cases of alleged abuse against "war on terror" suspects that had gone dormant. Holder's decision to expand the probe occurred shortly before the CIA released a five-year-old IG report detailing a litany of detainee abuse by the agency.
According to news reports., the U.S. Bankruptcy Court for the Central District of California ruled that the Defense of Marriage Act, or DOMA, is  unconstitutional. Twenty out of 25 judges in the Los Angeles-based court signed the ruling written by Judge Thomas B. Donovan.
The ruling came down in the case of Gene Balas and Carlos Morales, a California couple who has been married since 2008. The couple wanted to file jointly for bankruptcy protection after struggling with illnesses and unemployment. But the United States Trustee, federal officials who oversee bankruptcy cases, pushed to dismiss the case because of DOMA.
The couple filed their petition a day after Attorney General Eric Holder's February announcement that the Department of Justice would no longer defend DOMA in court — and the bankruptcy judges turned out to be fiery defenders of same-sex marriage.
Who knew?
The ruling states that "the government's only basis for supporting DOMA comes down to an apparent belief that the moral views of the majority may properly be enacted as the law of the land in regard to state-sanctioned same-sex marriage in disregard of the personal status and living conditions of a significant segment of our pluralistic society."

"Such a view is not consistent with the evidence or the law as embodied in the Fifth Amendment with respect to the thoughts expressed in this decision. The court has no doubt about its conclusion: the Debtors have made their case persuasively that DOMA deprives them of the equal protection of the law to which they are entitled."
Turns out gay spouses can be together in sickness and in health — and in debt.
Jonathan Turley:
Tennessee legislators have passed an extraordinary law that makes it a crime to "transmit or display an image" online that is likely to "frighten, intimidate or cause emotional distress" to someone who sees it. Violations can get you almost a year in jail time or up to $2500 in fines. The law, in my view, is unconstitutional and a direct threat to free speech.
Here is the language of the new law:
(a) A person commits an offense who intentionally:
(4) Communicates with another person or transmits or displays an image in a manner in which there is a reasonable expectation that the image will be viewed by the victim by [by telephone, in writing or by electronic communication] without legitimate purpose:
(A) (i) With the malicious intent to frighten, intimidate or cause emotional distress; or
(ii) In a manner the defendant knows, or reasonably should know, would frighten, intimidate or cause emotional distress to a similarly situated person of reasonable sensibilities; and
(B) As the result of the communication, the person is frightened, intimidated or emotionally distressed.
Gov. Bill Haslam signed the bill into law despite its sweeping, vague assault on free speech.
The standard of what a sender or poster should "reasonably . . . know" would "cause emotional distress" is a standard without content. It would allow prosecutors to pick and choose which posters or senders they want to prosecute for images. The claim of a "legitimate purpose" does little to improve the legal situation. All posters have the purpose of sharing an image, what constitutes a "legitimate purpose" if the prosecutors view the image as disturbing?
Notably, the person bringing the charge need not be the intended recipient. What if the image is disturbing as insulting to religious values or contains elements that are viewed as sexist or racist or otherwise hateful. We have seen a growing assault on free speech in the West in countries like England over such prosecutions. […]
The Tennessee law is truly breathtaking in its unconstitutional sweep. It actually makes the Child Pornography Prevention Act of 1996 look narrowly tailored. Not only have the Tennessee legislators and Governor failed to protect the free speech rights of their constituents but they will now trigger a costly challenge where those same citizens will pay for the defense of this ill-conceived and ill-advised law.
MEDIA
Matt Yglesias, Kevin Drum, Dana Goldstein and otehrs weigh in: Should HuffPo be boycotted?
My take on the proposed boycott of HuffingtonPost: totally unconvinced, though supportive of the newsroom organizing
Regarding today's debate on unpaid writing, this and  this.
Is the HuffingtonPost unfair to labor?
Steve Benen keeps tirelessly pointing out the enormous disparity between media coverage of Anthony Weiner and John Ensign/David Vitter — and makes the crucial point that this is the result of editorial decisions made at major news orgs.
An explosion of online news sources in recent years has not produced a corresponding increase in reporting, particularly quality local reporting, a federal study of the media has found.
Coverage of state governments and municipalities has receded at such an alarming pace that it has left government with more power than ever to set the agenda and have assertions unchallenged, concluded the study, which is to be released on Thursday.
"In many communities, we now face a shortage of local, professional, accountability reporting," said the study, which was ordered by the Federal Communications Commission and written by Steven Waldman, a former journalist for Newsweek and U.S. News and World Report. "The independent watchdog function that the Founding Fathers envisioned for journalism — going so far as to call it crucial to a healthy democracy — is in some cases at risk at the local level."
On Thursday, Mr. Waldman is to issue a number of recommendations, none binding. Those include making actual in-the-field reporting a part of the curriculum at journalism schools, steering more government advertising money toward local instead of national media and changing the tax code to encourage donations to nonprofit media organizations.
The report has relatively modest aims: to assess the health of the media industry in the United States and determine whether government policies that affect the industry are in sync in the digital age. The report's findings, while often self-evident, painted a dim portrait of local media.
"Breathtaking media abundance lives side by side with serious shortages in reporting," it said. "Communities benefit tremendously from many innovations brought by the Internet and simultaneously suffer from the dislocations caused by the seismic changes in media markets."
Because those newspapers serve as tip sheets for local television reporters and for reporters on the national level, the cutbacks have had "ripple effects throughout the whole media system," Mr. Waldman said.
With fewer reporters available to tackle in-depth topics, news releases from politicians and policy makers end up having more influence in some cases, he said, contributing to a kind of power shift toward institutions and away from citizens.
Newspaper staffing is down 25%, TV news staff down by 50%, News magazines staff down by 50%
MILITARY
POLITICS


In the debate over the nation's rising debt, rhetoric trumps reality. In January 2001, the U.S. budget was balanced for the first time in decades and the Congressional Budget Office was forecasting surpluses totaling $5.6 trillion by 2011. A decade later, the national debt is larger, as a percentage of the economy, than at any time in U.S. history except for the period shortly after World War II. […]
"Republicans made the contradictory promises that cutting taxes would lead to higher revenues and would force lower spending," House Minority Leader Steny Hoyer shot back in a speech later the same month. "They did neither."
The reality falls somewhere in between. In fact, 75 percent of the members currently serving in Congress voted for at least one — and in most cases more than one — of three policies that contributed to fully one-third of the $12.7 trillion swing from projected surpluses to real debt: President George W. Bush's 2001 and 2003 tax cuts, funding for the wars in Afghanistan and Iraq and President Obama's 2009 stimulus bill.
See chart of who voted for bad policy.
This Romney video implies that he gives a damn about the "bumps in the road"—meaning typical American workers. His record as a former head of Bain Capital, a private equity firm that bought and sold firms, though, is at odds with this characterization. Here's how the conservative New York Post recently characterized his tenure at Bain:
The former private equity firm chief's fortune—which has funded his political ambitions from the Massachusetts statehouse to his unsuccessful run for the White House in 2008—was made on the backs of companies that ultimately collapsed, putting thousands of ordinary Americans out on the street. That truth if it becomes widely known could become costly to Romney, who, while making the media rounds recently, told CNN's Piers Morgan that "People in America want to know who can get 15 million people back to work," implying he was that person.
Romney's private equity firm, Bain Capital, bought companies and often increased short-term earnings so those businesses could then borrow enormous amounts of money. That borrowed money was used to pay Bain dividends. Then those businesses needed to maintain that high level of earnings to pay their debts.
In 2007, the Los Angeles Times reported:
From 1984 until 1999, Romney led Bain Capital, a Boston-based private equity group that earned jaw-dropping profits through leveraged buyouts, debt hedge funds, offshore tax havens and other financial strategies. In some cases, Romney's team closed U.S. factories, causing hundreds of layoffs, or pocketed huge fees shortly before companies collapsed.
During the 2008 campaign, CNN noted,
Critics note that Romney's tenure as CEO of the leveraged buyout firm Bain Capital resulted in the loss of thousands of jobs through layoffs and bankruptcies. Romney, the wealthiest candidate in the 2008 presidential race, ran Bain Capital from 1984 to 1999, during which time he earned the bulk of his fortune.
Bain Capital specialized in buying companies in distress and revamping them, often by cutting jobs and closing plants. Some of Bain's purchases became more efficient and successful businesses, while others, loaded with debt from Bain's fees, were forced into bankruptcy, costing more jobs.
That same year, the Boston Globe reported on a Bain deal involving a firm named Ampad, noting that Bain Capital
slashed jobs at the office supply manufacturer stands in marked contrast to his recent pledges to beleaguered auto workers in Michigan and textile workers in South Carolina to "fight to save every job."
Throughout his 15-year career at Bain Capital, which bought, sold, and merged dozens of companies, Romney had other chances to fight to save jobs, but didn't. His ultimate responsibility was to make money for Bain's investors, former partners said.
Much as he did when running for Massachusetts governor, Romney is now touting his business credentials as he campaigns for president, asserting that he helped create thousands of jobs as CEO of Bain. But a review of Bain's investments during Romney's tenure indicates that job growth was not a particular priority.
When Romney was in the public sector, as governor of Massachusetts, his record on jobs creation was not much better. After he claimed during a GOP primary debate in 2008 that while he was governor, "we kept adding jobs every single month," Factcheck.org noted "that's just not true." Moreover, the political fact-vetting site reported:
Romney's job record provides little to boast about. By the end of his four years in office, Massachusetts had squeezed out a net gain in payroll jobs of just 1 percent, compared with job growth of 5.3 percent for the nation as a whole.
The chair of the Federal Election Commission said Thursday that the agency could and should be doing a better job of regulating the disclosure of money into federal elections.
"From my personal perspective, I think we can be doing more on disclosure and I think we should be," FEC Commissioner Cynthia Bauerly said at an event hosted by the good government group Public Citizen. "I think the commission should consider after Citizens United whether our disclosure rules need updating."
Bauerly said that she disagreed with the argument that many conservative groups are making that the First Amendment requires anonymous speech.
"Courts have previously held that interest in disclosure is important and essential to our democracy," Bauerly said.
Pointing to a quote from an opinion issued by Supreme Court Justice Antonin Scalia who wrote that "Requiring people to stand up in public for their political acts fosters civic courage, without which democracy is doomed."
"You probably wouldn't find me quoting Justice Scalia that often," Bauerly joked. "But I think he's right, I think civic courage is somewhat of a tradition in this country. When it was the soapbox on the corner, you knew who was speaking. Transparency and disclosure has been an integral part of self-governance and civic courage."
The FEC will be reconsidering whether to look at reforming those rules at their meeting next week. A previous vote to file a notice of proposed rule-making deadlocked in January.
She acknowledged that the FEC was "not doing as much as I might like or some of my colleagues might like," but didn't advocate for a particular solution to the frequent three-to-three deadlocks.
"I think it's partly a challenge of structure," Bauerly said, describing the FEC as a "reactive" agency from an administrative point of view. "I think that it is a challenge of structure, but there are mechanisms to force us to do what we can."
"It is a group of six individuals and all of us are trying to serve the agency in a way what we might see fit," Bauerly said.
They are just zombie-nihilists and Social Security is the brain they are driven to eat. […]
They just keep telling the zombie-lie about the trust fund. Okay, let's do this once more, this time with feeling: There is no Social Security crisis. The trust fund he is pretending to be panicked about was established to deal with the baby boom generation that started retiring and coming into the system this year. It was built up over the last three decades for this very purpose. And Sessions knows this full well. When one tells an untruth that doesn't square with reality and one knows one is telling an untruth, that is a lie and the person doing the lying is what is known, in the common vernacular, as a liar. Pete Sessions is, therefore, a liar. This is now an established fact, verified by empirical evidence. […]
Now let's be realistic. This legislation is not going anywhere so long as Democrats control one chamber of Congress and the Presidency. Privatizing Ryan left Social Security out of his crosshairs because even he knows that Social Security privatization is a non-starter.[…]
But that hasn't stopped the Democrats from making hay out of it anyway.
Democratic Congressional Campaign Committee Chairman Steve Israel (N.Y.) on Tuesday predicted that House Republican plans to let workers opt out of Social Security would fail as voters realize how it will threaten their retirement.
"Seniors who have paid into Social Security through a lifetime of hard work shouldn't end up in a risky privatization scheme to gamble their retirement on Wall Street," Israel said. "The public has rejected this kind of Social Security privatization in the past and will again."
Israel accused Republicans of looking to resolve the government's fiscal crisis by scaling back Medicare and Social Security while ignoring higher corporate taxes.
"Everyone agrees we need to tighten our belt, but why do out-of-touch Republicans insist on tightening it around our retirees without asking Big Oil companies for one dime of sacrifice?" he asked.[…]
Social Security is the single most effective program to keep women out of poverty in their retirement years that the nation has ever created.
Here are some facts about women and Social Security that you may not know, but should.
26% of women aged 65-69 are reliant upon Social Security for virtually all of their income (90% or more) and that number climbs as women age.
Although women are more reliant on Social Security to provide their basic needs in retirement, men receive benefits that are about 25% more than those of women. The average benefit for a woman is around $12,000 per year, while for men it is about $16,000 per year.
This is especially important for women, because far more American women than men — 11% versus 7% — lived in poverty in 2009 (the last year for which complete numbers are available.)
It becomes even more important for people who live alone. When older people live alone, the likelihood that they live in poverty jumps dramatically, to 17% for women and to 12% for men.
Minority women are hit especially hard, with more than 20% of African-American, Hispanic and Native American women 65 and over living in poverty. The poverty rate is 8% for non-Hispanic white females in this age group, and 15% for Asian women.
Without Social Security, one half of all women over 65 and two-thirds of women over 65 who live alone would live in poverty.
3.1. million children received Social Security survivors benefits after losing the support of a parent to death or disability, and those benefits lifted 1.1 million of those children out of poverty.
Yesterday, Jonathan Bernstein coined the idea of the "Paul Revere Strategy." The concept is that it often seems like the 2012 GOP hopefuls are deliberately floating truly insane ideas in order to earn Palin-like credibility with the segment of the GOP base that is willing to embrace those truly insane ideas — and only likes them more when liberals sneer at them. […]
We're in a situation now where media coverage has an outsize impact on who is viewed as acceptable to the Republican base, in part because conservative media outlets like Fox News have an incredible influence on the base in terms of shaping the image of a particular candidate.
The conventional wisdom right now on the left is that due to an irrational hatred of Obama and all things liberal, the only way a Republican can win the nomination is by embracing the most extreme positions possible. Yet Mitt Romney, widely perceived as a weak frontrunner, is still polling well in primary states like South Carolina and New Hampshire (though he seems to have given up on Iowa). That's despite his record on health reform and his refusal to embrace the absurd conservative idea that global warming is a hoax. […]
[John McCain] wasn't Rush Limbaugh's preferred candidate, but when it finally came time to cast a ballot Rush had the same single vote as everyone else.
Maybe Romney is really dead in the water, and maybe Republicans will end up nominating someone based on how well they can echo the more extreme positions of the Republican base. But it may also be that the conservative media — by showering attention on the most outsized conservative figures and the most outlandish statements and positions — has created an exaggerated sense of the GOP base's craziness.
Indeed, Obama's decision to tap Austan Goolsbee to play a big role as an economic spokesman for the reelection campaign is an implicit acknowledgment that the bad economy will define the 2012 campaign more than any other issue.
2012 question of the day: But there's also this, from ABC's The Note: "If Obama is so vulnerable, then why is the GOP field so unsettled?"
Her anti-gay platform has alienated parts of her family. A mentor she described as a "great influence" has a history of addresses to white supremacists. A book she collaborated on advocates theocracy. Rep. Michele Bachmann's impressive performance at Monday's debate has catapulted her near the front of the GOP pack, but the radical roots of her ideology remain poorly understood. The Daily Beast's Michelle Goldberg reports. […]
On Monday, Bachmann didn't talk a lot about her religion. She didn't have to—she knows how to signal it in ways that go right over secular heads. In criticizing Obama's Libya policy, for example, she said, "We are the head and not the tail." The phrase comes from Deuteronomy 28:13: "The Lord will make you the head and not the tail." As Rachel Tabachnick has reported, it's often used in theocratic circles to explain why Christians have an obligation to rule. […]
"Michele Bachmann says certain things that sound crazy to the general public," says Frank Schaeffer. "But to anybody raised in the environment of the evangelical right wing, what she says makes perfect sense."
On the heels of Oklahoma Rep. Dan Boren's decision to forego reelection, Alex Isenstadt and I write for today's newspaper about the great decline of Blue Dog Democrats in Congress.




Democrats are ready to take responsibility for the state of the economy and they deserve credit for putting it on the right track, the party's chairwoman, Rep. Debbie Wasserman Schultz, said on Wednesday.
"We own the economy. We own the beginning of the turnaround and we want to make sure that we continue that pace of recovery, not go back to the policies of the past under the Bush administration that put us in the ditch in the first place," Wasserman Schultz told Mike Allen at POLITICO's 'Playbook Breakfast.' […]
Wasserman Schultz said Democrats aren't in need of a new story to tell about the economy because they've put the right policies in place. "I don't think it's about what we say, it's about what we do."
She said Democrats' actions demonstrate their commitment to the middle class while Republicans' do not. Though she commended several individual Republicans by name — including her home state colleague, Rep. Daniel Webster — Wasserman Schultz said the party's leadership in the house is beholden to an extreme faction.
"Unfortunately, the Republican leadership in the House right now seems to have been strangled by the tea party," she said. "The tail seems to be wagging the dog right now."
Republicans, she said, know better but lack courage. "They know how to do it the right way, they know how to compromise, they just can't seem to break their fear of what the ramifications would be from the tea party right-wing fringe if they listened to what their inner self tells them to do."
As the 2012 presidential race intensifies, Wasserman Schultz took shots at the Republican field, calling it a "collection of deeply flawed candidates."
She singled out former Minnesota Gov. Tim Pawlenty, whose economic plan she criticized; former Utah Gov. Jon Huntsman, who she said will have to explain his past support for an individual health-care mandate and former Massachusetts Gov. Mitt Romney, whom she described as inconsistent.
"Mitt Romney's problem is that Mitt Romney has to have a debate with himself about who he is," she said.
POLLS
In May, 45% of Americans identified as Democrats or said they were independent but leaned Democratic, compared with 39% who identified as Republicans or leaned Republican. The six-percentage-point Democratic advantage represents a slight increase from the four-point advantage Gallup measured in April, which matches the 2011 average to date.
These results are based on more than 30,000 interviews conducted in May as part of Gallup Daily tracking. Though the changes in party affiliation are small on an absolute basis, they are meaningful because of the large number of interviews in each month's sample.
Longer term, the current six-point Democratic edge is the largest measured in Gallup Daily tracking since October 2009, when the gap was seven points. The high point in the more than three-year history of Gallup Daily tracking is 19 points in December 2008. Since President Obama took office, that gap has generally shrunk over time to the point that the parties have been more competitive in recent months, including a tie in August 2010 tracking.
The recent increase in the Democrats' advantage in party affiliation coincides with Americans' more positive evaluations of President Obama, who averaged 50% job approval in May, compared with 44% in April.
Historical Gallup trends indicate party affiliation often shifts when presidents are very popular or unpopular. For example, Republicans gained an advantage in 1991 after George H.W. Bush's approval ratings soared during and after the Persian Gulf War. Democrats expanded their advantage in party affiliation in the late 1990s during the latter part of Bill Clinton's presidency, when the economy was booming and Clinton's approval ratings routinely topped 60%. Between 2005 and 2008, the Democrats built up a large advantage as George W. Bush's approval ratings suffered due to the Iraq war and later to record-high gas prices and a poor economy.
The current data show a similar pattern, with party affiliation moving toward the president's party as he has gained popularity. However, the magnitude of the change reflects the more modest increase in Obama's approval rating. […]
Whether the Democrats are able to maintain their now slightly larger advantage will depend partly on whether Obama's approval rating continues to register at or near the improved 50% level.


PEW: 60% say cost of the wars in Iraq & Afghanistan has contributed a great deal to the size of the debt.
WAPost polling out this morning finds that Obama holds a double digit lead over Republicans on who is most trusted to do a better job "protecting the Medicare system," 49-35.
That's almost as big an advantage that Bill Clinton held on the issue amid the standoff with Republicans in 1995, which Clinton decisively won.
That's not all. The poll also finds that less than a third of Americans, 32 percent, support the GOP Medicare plan, even though the question merely says it would "change" Medicare, not end it, and specifies that the plan would not change the status of those over 55, a key GOP defense of the proposal. Forty-nine percent oppose it.
Still more: A plurality, 49 percent, believe the GOP plan will force future generations of Medicare recipients to pay more for health insurance, while barely more than a fourth, 27 percent, thinks things would stay the same. Though Dems have been widely accused of demagoguing the GOP Medicare plan, it just may be that the public has rejected it on the merits.
The Post poll also finds that barely half of Americans support raising the debt limit even with deep spending cuts, and even though large majorities think failing to do so will harm the economy.
It's a sign public attitudes on the debt ceiling are being shaped by general hostility to government spending. Raising the debt ceiling is not about additional spending, as the White House points out; it's about the U.S. government honoring its obligations. But nonetheless, the political landscape in this fight clearly favors Republicans.
The call isn't coming. That's the clear message in a new CBS News poll of the Republican field. Taken after the Palin bus tour started rolling, it asked Republicans whether Palin should run. By a 20-point margin (54 percent to 34 percent), Republicans said she should not run. Among Tea Party supporters, where Palin has her strongest following, she is also waved off against a run. Half say she should not run; 38 percent say she should. That isn't so much a referendum on her bus tour as it is a sign that the entire months-long Palin flirtation with the presidency is not creating an appetite.
The biggest challenge to a Palin candidacy has always been that her image within her own party has been getting worse. (If she can't improve among her friends, she isn't going to improve in the wider circle of voters). Some 36 percent of Republican voters have an unfavorable view of her, compared with the 37 percent that have a favorable view. Her favorability rating has declined since April.
Why? Some of the reluctance may be that voters don't think Palin is qualified. Almost two of five Republicans say this in a recent Washington Post poll. Interviews suggest some who really like Palin think she'll never get a fair shake from the media, making the presidential race a distracting nightmare. Others cite her poll numbers in the general electorate, where her unfavorable numbers are at toxic heights.
SCIENCE
White House Orders Agencies to Submit Overdue Scientific Integrity Policies
The White House is requiring federal agencies to submit drafts of their scientific integrity policies in August, more than two years after President Obama announced plans to protect scientists' work from political meddling.
SCOTUS
He had inappropriate sexual entanglements with a number of women and lied about it repeatedly to the American people. Yet nobody — save for one Colorado law school prof — seems to be calling for Justice Clarence Thomas' resignation for some reason.
That, even though Thomas, unlike Rep. Anthony Weiner, appears to have actually, and flagrantly, and repeatedly, broken the law.
As we reported in January, Thomas appears to have "knowingly and willfully" filed falsified Financial Disclosure Forms which withheld disclosure of nearly $700,000 his wife received from the rightwing Heritage Foundation for the better part of the last 20 years. Only once it was pointed out publicly this year did Thomas bother to file "self-initiated amendments" to the forms he had signed just above the legal warning in bold and all caps which reads: "NOTE: ANY INDIVIDUAL WHO KNOWINGLY AND WILLFULLY FALSIFIES OR FAILS TO FILE THIS REPORT MAY BE SUBJECT TO CIVIL AND CRIMINAL SANCTIONS (5 U.S.C. App. § 104)" […]
Connecting the dots, it would seem the couple made huge profits from Thomas' participation and insider knowledge of last year's Citizens United ruling at the U.S. Supreme Court, as we'll show you below. […]
Ginni Thomas created one of those 501(c)(4) organizations just after oral arguments were argued before her husband in the Citizens United case, and somehow managed to raise some $550,000 in about two months' time before the end of 2009.
Here, courtesy of Velvet Revolution's ProtectOurElections.org campaign:
Sept 9, 2009: Citizens United argued.
Nov 6, 2009: Virginia Thomas launches her new Liberty Central 501(c)(4) organization, which raises 550K in 2009.
Jan 21, 2010: Citizens United decided.
March 15, 2010: Virginia Thomas announces that Liberty Central would "accept donations from various sources — including corporations — as allowed under campaign finance rules recently loosened by the Supreme Court."
November 14, 2010: Liberty Central announces that Virginia Thomas would be leaving the organization.
November 16, 2010: Liberty Consulting incorporated in the state of Virginia.
February 4, 2011: Politico reports that Virginia Thomas had launched Liberty Consulting.
February 8, 2011: ProtectOurElections.org releases its expose of Liberty Consulting
February 12, 2011: Liberty Consulting website is deleted http://libertyinc.co/
February 23, 2011: ProtectOurElections.org files a formal bar complaint against Clarence Thomas requesting that he be disbarred on various grounds.
Note the date on which Ginni launched her 501(c)(4), Liberty Central, Inc., and note how quickly she was able to raise half a million dollars from it. And that was even before she told the LA Times that the group would "accept donations from various sources — including corporations — as allowed under campaign finance rules recently loosened by the Supreme Court."
UNIONS
WEDGE ISSUES
A federal judge has rejected the argument by supporters of California's gay marriage ban that U.S. District Judge Vaughn Walker — who ruled the ban unconstitutional — was biased because he is gay.
"It is not reasonable to presume that a judge is incapable of making an impartial decision about the constitutionality of a law, solely because, as a citizen, the judge could be affected by the proceedings," U.S. District Judge James Ware wrote in his ruling Tuesday.
Supporters of Proposition 8, California's ballot initiative that banned same-sex marriages, filed a motion in April to vacate Walker's ruling after he confirmed that he is gay and has a same-sex partner.
Walker had ruled Proposition 8 unconstitutional in August of last year because it "fails to advance any rational basis in singling out gay men and lesbians for denial of a marriage license."
AND IN OTHER NEWS…
A guide to the intellectual trends that, for better or worse, are shaping America right now. (Plus a bunch of other ideas, insights, hypotheses, and provocations.)
TAKE ACTION
Last week, about a dozen activists from various liberal groups held a news conference in front of Florida U.S. Senator Marco Rubio's Tampa office, denouncing his vote in support of the Paul Ryan-Republican budget that would end Medicare as we know it.
Three weeks earlier, an estimated crowd of 150-200 gathered in front of Republican Representative Jeff Brandes' office in St. Petersburg just days after the legislative session ended, protesting most of the bills supported by Brandes and his GOP allies.
For longtime observers of Florida progressive politics, it's been an unusual sight — disgruntled Democrats hitting the streets on a regular basis to show their opposition to a governor and a legislature.
It's not as if one-party rule in Tallahassee were something new, as it's been in effect for 13 years now. But the election of Rick Scott, followed by a FL legislative session that some say will set the state back decades, has activated a previously somnolent Democratic base into demonstrating their displeasure with the status quo, a la the Tea Party protests from two years ago.
The origins of this groundswell can be traced to a group of concerned activists, originally working under the moniker of Awake the State, and now joined by another group, Fight For Florida,an uncommon alliance, members say, of different parties and organizations unified for a common purpose. St. Pete resident Kirsten Peck admitted at the anti-Brandes rally what was painfully obvious: that there is a price to pay for voter apathy. "I think that what's happened during the last election was that everybody got a little comfortable and didn't think that their voice or their vote was that important, and that's gotta change."
QUOTE OF THE DAY:
When you feel like giving up, remember why you held on for so long in the first place.

~ Unknown