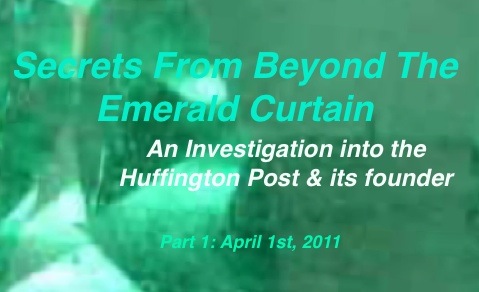 Here's a fresh life sign from
"Secrets From Beyond The Emerald Curtain"
– An investigation into the Huffington Post and its founder –
In the meantime, again excellent people have joined and escribacat has supplied more extremely valuable links. Buddy McCue painted for the title a picture that reminds of "The Wizard of Oz",  depicting Arianna at the controls, not realizing that the real power lies with Dorothy, that is with us. So yes, this is going to be pretty interesting!
Now unfortunately jdmn17, who was supposed to write Part 1, has disappeared weeks ago and simply can't be traced. Since he is such a reliable person I realized too late that for some reason he really couldn't be here and I could also not fill in for him since I had too many other assignments this week. I do hope all is well with him.
However, thus the start of the series is going to be delayed for another 2 weeks and will start on April 1st instead. Moreover it will be published on Fridays, not Saturdays, so people could notice the article while roaming about between the Friday Music Thread and Vox populi.
Evidently, due to the circumstances I urgently need someone who writes Part 1.  There are still other vacancies, which I hope get filled now. In spite of me somehow ending up with the reigns in my hands this project was intended as a collaborative project, and if nobody comes forward to cover them, we may have to drop several chapters.
Probably the restriction to about 950 words may have been somewhat too strict and I guess I didn't point out earlier that in case of much material you could also split your contribution into two chapters. Yet these are just guidelines (in order to prevent all too epic chapters), but if the reality of your article proves to be otherwise, that's fine too.
The chapters below are still subject to change, since we have a lot of new material which I'd like to accommodate (but have no time to do so until earliest next week), and as I've said, since I'm not sure if someone is covering the existing ones, other chapters may be dropped.
Planned contents of each episode (as of now):
Experiences of an average user and how he felt the changes at HP over time (Person sought to cover Part 1)
Zero tolerance policy for critique at AH. Moderation, pending, deletions, censoring, banning. How does HP deal with user complaints about that? How does HP deal with unwanted opinions? (Covered by foxisms)
How Huffington Post manipulates their headlines (Covered by foxisms)
Misleading headlines and their effect on users. (Covered by SueInCA)
Misleading headlines and their impact on President Obama's reputation and the resulting eroding of support from the Left. (Covered by escribacat)
Misleading headlines and their impact on the Democratic Party. Nearly no coverage of protests by the Left (while the place got swamped by tea-party and celebrity coverage) (person sought to research and write this)
Summary of chapters 3 – 5: How progressive is Huffington Post? Who declared AH the "Queen of the progressives?" (person(s) sought to summarize, probably best one or more of those who worked on Nos. 3 – 5)
Vast discrepancy between the headlines and AH's behavior: Are her words and deeds matching? How is the record of her deeds in comparison to those of the President? Can she hold a candle to him? (Covered by Truth)
Introduction of AH's shady cult, main theories, accounts of former members (brainwashing, belittling, life threats etc.) (Covered by Truth)
What is the influence of AH's shady cult on the HP? Is she still a member, is she in contact with the leader of the cult? It seems that her sister is heavily involved and that at least until 2008 HP employees were sent there for "training" (or rather brainwashing.) (Covered by Truth)
AOL: a) short information about their business philosophy, their political affiliation and their business practices b) First hand experiences of former members  (Covered by Pocket Watch)
a) The following, plus exact legal background: "There is one fact about corporations that must be recognized. Corporations have no responsibility to the society they exploit for their revenues, they have only one legal obligation…to make as much money as possible. Shareholders can in fact successfully sue those running a corporation if such decision makers ever chose to be socially responsible at the expense of generating the most profit." (Entire quote from AdLib) b) Is there anything that can be done about that? (This one can't be dropped!!! Who is going to write this???)
Summary of the findings of our investigation, conclusions and introducing further steps that we are going to take (Covered by Truth and contributors, commenter's input is going to be included)
Thus chapters 1, 6, 7 and 12 still need to be covered. Especially No 12 is a very important one, for it makes clear that people who run a corporation can be sued for acting ethically if they do so at the expense of making a win. And blindly holding utter selfishness (or pure material interests) over doing what is right is simply one of the basic problems in any society. I wished someone with knowledge on the legal background of this issue would come forward to cover this!
It is still understood that every episode is sent for review latest one week before the publishing date to 2emeraldcurtain@gmail.com
Now I hope we can pull this project off – together, that is! Best wishes, Truth