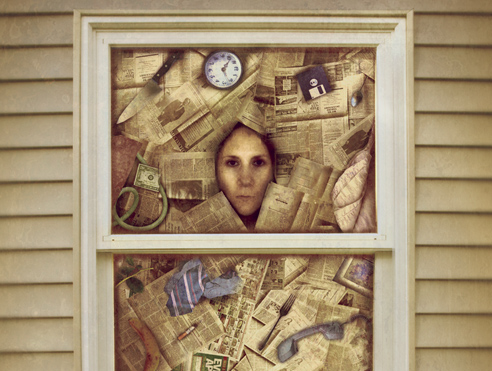 Is housekeeping a pain in the ass? Do you feel guilty when you let it go until tomorrow? Do you keep stuff thinking you might need it tomorrow, or next month? Cheers! I have the the ultimate guideline!!
Hoarders on A&E.
During the time I have been watching the show, I've picked up a few tips.
1. Do not buy two rabbits as pets, keep them indoors and allow them the run of the house. If you do, you will end up with a bunch of bunnies that will eat through walls; eat the wiring in your house, and really, really, really piss off your landlord.
2. Keeping eighty-five cats in your house, will make it difficult to clean.
Also, that many cats in one place will not be easy on your furniture or your floors. You will certainly get the attention of your neighbors, and it will not prompt them to deliver a fresh apple pie.
3. Five cages with twenty chickens in them will not be happy in your bathtub. They also will not clean the tub, or sinks- no matter how hard you try to encourage that behavior. Cleaning That bathroom will require a sledge hammer, a carpenter, and tile guy.
Suffice it to say I have omitted Most of the details. The explanation for this behavior is a mental disorder but the reasons for this disorder remains mostly unexplained- but many cases occur after major trauma.
One of the most memorable episodes for me was 'the trash collector' story. Every day, a middle aged woman would get up early, and cruise neighborhoods before the trash collector came. She would then go through each persons trash, 'rescuing' anything she considered of value. While her son, therapist, and cleaning crew were shoveling out her house, she took off, went a few streets over, and -yep! picked up a van full of trash
My recommendation of this show comes with a Huge Caveat! It is not for the faint of heart, or stomach!! If dysfunctional families upset you, scroll right past this show. You must have a strong constitution, and an Iron stomach to see these homes. However, if your home is similar to one of those on this show, your housekeeping skills are definitely not up to par.