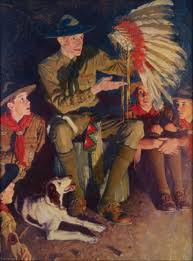 I was the world's worse Boy Scout.  Hands down. No contest.  Was one for four years….I think…long time ago. Give me a break. I may have been the only Boy Scout in America to have not gotten a Tenderfoot merit badge. They gave you one of those for just showing up. I showed up for four years…..I think….and I never earned one. I showed up sober….I was 11 or 12…I think….it was all a blur. Sniffing Sterno addles the memory.
Went on an orienteering competition against other scouts from my area and I left my group to go swimming in the river while they sweated through the manzanita and deer ticks trying to win a new badge and a chance to dance at the nightly campfire. I think they even threw in a sash. Count me out….and they did. My troop leader had to form a orienteering party to track me down at the river. Hey how about a backstroke or sunstroke badge?
I had the plainest uniform in camp. Just like it came from the box when my parents got it hoping with eager anticipation that I would turn out to be John Glenn instead of Sean Penn. Hell at least Sean had a tobacco merit badge. I didn't start smoking until I lost my virginity…..the longest 50 years of my life.
After bed check I would ALWAYS sneak out. Where? Nowhere. Just out….the snoring sucked in the cabins. The bed wetting was worse. Tip….always take the top bunk or get a raincoat. I would try to get some of my friends to go with me but they were afraid they were going to have their badges striped from them like Chuck Connors in "Branded". The only thing they could strip from mine were the buttons….two of which were missing. I always wanted that sewing badge. Nothing says "let's play doctor" to a Girl Scout than a badge with a needle and thread.
I did win the swimming competition at the camp and I was suppose to sing at the communal campfire that night but I was too busy trying to orient myself to the Girl Scout camp several miles away….or that was the legend. In reality it was two counties away but every Boy Scout compound has the Girl Scouts just over the ridge. I took the bait. Missed the campfire. They had to go looking for me again and this time the Troop leader took me home.
When I got out of his truck he said…."Wolf…when are you going to grow up?"
I said…."As soon as I find that Girl Scout camp….I hear they can make a man out of you."
Should have learned how to read a compass….. ; )