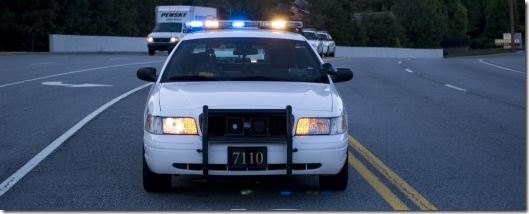 On a Cloudy Day
By James Michael Brodie
One night, years ago, I was driving down a quiet road at night with a couple of friends. Seeing a silver barrel hurling headlong toward our windshield, the driver, as if choreographed, swerved left then right, avoiding the oncoming projectile as if swatting away a fly.
Only later did the near gravity of what we avoided sink in.
I have always somehow managed a sense of innocence about my ability to transcend attitudes, misperceptions, and stereotypes. And that may have saved my life – particularly on Feb. 2, 2011 at 4 p.m. Only later did the gravity of that day sink in.
It was a cloudy day.
I am returning from a car dealership in Glen Burnie, Maryland to the auto dealership where I work in East Baltimore. I wasn't always a car salesman. Until I was laid off in May, 2010, I was a journalist working in Washington. But not unlike many in this down economy, I saw a good position go away. I still had a family to support, still had bills. Still had to survive. And there is no shame in hawking automobiles. It is honest work.
So there I am, heading north on Interstate 95, through Baltimore's Ft. McHenry Tunnel. I come through without incident, pay my toll, and within 10 seconds I am being flagged over by a police squad car, lights ablaze.
I begin running scenarios through my head about why I am being pulled over for a traffic stop on the Interstate. My dealer tag? We have magnetic dealer tags, assigned to each salesperson, that we affix to the back of the cars we use. I am driving a car that my boss had ordered me to pull from our lot to run my errand, and I had not been comfortable with how well my tag stuck to the compact car. Perhaps it fell off.
As I'm sitting, pulling my license from my wallet, I am thinking, "No problem." I have my car dealership dress shirt on; the car has one of those car dealership placards in the tag holder; and the number on my dealer tag – and the word "Dealer" – clearly identifies it as such. I calmly grab my driver's license out of my wallet and roll down the window.
"Stick your hands out of the car and step out of the vehicle!" shouts a voice from behind me. I think this an odd request, as the police usually require you to remain in your car for a normal traffic stop. Clearly, I am a little confused. Ok, he wants me to get out. So I do, and proceed to walk back to the officer brandishing my license in my left hand, smiling.
"Freeze! Turn around and face front!" comes the next command. I stop, still not understanding why I am out of the car in the first place. This is the first time I notice that there are two cars behind me. It is also the first time I notice that the officers are crouched behind their car doors with their guns trained on me.
I turn and face forward as I had been instructed; noticing at that point that there is another squad car in front of me – officers with guns drawn.
I am ordered to walk backward toward the officers to the rear, facing forward the entire time. As I back away from my car I notice that the tag I had feared dropped off was clearly affixed and visible, but I do notice the right rear tire is flat. Perhaps this is why they pulled me over? Perhaps they were trying to warn me about a flat tire?
Then why the guns?
At a certain point I am told to stop. I do. They yell for me to drop to my knees. "Why am I dropping to my knees for a flat tire?" I think but don't utter.
Confused, and not knowing why I am being asked to do this, I comply. Then, for the first time in my entire existence, something happens that confuses me even more. I am placed in handcuffs. Guns are still drawn. Yelling continues. The words run together.
So here I am – in handcuffs, on my knees, on the side of the road of a major Interstate highway, and I still have no clue what I could have done. And what am I doing? Running through scenarios from cop shows, trying to figure out what they are saying to me, trying to match their words to those mouthed my Munch on Law and Order or on of those CSI types. They ask me if anyone else is in the car – I'm trying to sync that question up to some obscure dialogue.
Finally, I am told what I am being held for.
"The car you are driving has been reported stolen."
That's impossible, I tell them, trying to identify myself as a car salesman and that the car I am driving is part of my inventory. I have a brief flash of wondering if this is some sort of practical joke being played by my often-sadistic managers. The thought passes as the officer explains that the tags have been reported stolen.
Light bulb moment.
A few months earlier, I had sold a new car to this elderly man, who had, it turned out, written out a check to pay for the car with a check on a dead account. At that time, clearly none of us knew this, but within a few days – and after one of my coworkers did a quick criminal check – we figured out that the gentleman had just pulled a scam on us, and that we were the fourth victims of such a scam. One dealership actually took him to court.
It took us a week to get the man to return the car. No one ever called the police to let them know the tag I had been using since then for customer demo rides was still considered hot.
And there I kneel on a cold Baltimore highway, attempting to explain this to the officers, who have since put away the hardware.
I am moved inside a squad car, where one officer begins to explain the reasoning behind my detention: the flattening rear tire, the "stolen" tag. He instructs me to have my dealership contact the police to inform them of the disposition of the prodigal tag. I know I will be exonerated once they call the dealership and speak with my boss. Still, the idea that at 53, I am sitting with my hands secured behind my back is troubling. Later, I would be able to synthesize why.
Had I listened, I would have heard the officer tell me that the tags the tire and the driver fit a profile, thus their show of force. At 53, college graduate, husband, stepfather, published author, teacher, and journalist who only a year ago sat in the Press Gallery to cover President Barack Obama giving his first official State of the Union address — all mean nothing.
I am simply a profile.
The "thumbs-up" signal comes from the lead squad car – the one parked in front of mine, and the officers release the cuffs and offer to change my tire. Hands are shaken, Rodney King jokes are exchanged, and laughter can be heard. We joke about a man pulled over in the same spot, who broke free and lunged off the 30-foot-high bridge to the grass below, only to break his ankle and be arrested anyway. A silly thing to do, I think.
One officer jokes that while they have been busy with me, a truck with illegal paperwork of some kind or another has just passed by, and how much in bonuses they could have made had they nabbed the driver.
Within a few minutes, an official-looking truck pulls up and a rather large man whooshes by on the way to replacing my flat tire with the donut I had retrieved from the trunk.
"I know you," I say to the passing man.
"You should," he says. "You tried to sell me a truck once."
"I must have done a bad job," I reply.
"No, it wasn't you," he smiles. "You guys just didn't have what I wanted."
He had bought a Dodge.
Only hours later, after speaking with my aunt, my brother, my wife, and two buddies who grew up in Philly did the near gravity of my situation becomes apparent. So caught up was I in the intellectual aspect of experiencing something new, it never dawned on me that the guns trained on me by Baltimore City Police officers might actually go off had I made one move or another in the wrong direction.
We were only a short time removed from City cops gunning down one of their own, an officer undercover. Mistakes had been made with one of their own. I was no cop.
My brother in Colorado took my story in stride, offering that, as part of the Black History Month activities, I had been honored with an honorary "DWB," a Driving While Black. It is at his insistence that I am penning this narrative.
My aunt took it well at first, satisfied that in the end no harm had come to me. She even joked that she now had two "criminals" in the family – a bank robber and a car thief. We kidded one of my cousins when a photo of a recent Baltimore bank robbery suspect looked a little like her. She clearly was not the culprit, and the real robber was caught.
My wife took it not well at all. Her mind raced to every negative scenario. You do that when you have taught in Baltimore City Schools for more than 30 years, and have seen your fair share of funerals of young people gunned down over misunderstandings with the authorities. To her, it was anything but funny – that if something had gone wrong, she would never have found out the truth, and that her husband would have been reduced to a statistic. It suddenly dawned on me that I had literally dodged a bullet.
One Philly brother, who now lives in D.C., was incensed, and argued that he would have yelled and railed against the offending officers and demanded to know why he was being bothered. We both agreed that in that case the ending might have been quite different than mine. Having worked the reporter beat in the City of Brotherly Shove under Mayor Rizzo, his outrage was understandable. Too often, convictions of Black suspects in that city are subsequently overturned when it is discovered that the evidence that sent those people to prison had been fabricated. Innocent men and women have even been killed and had their names soiled with crimes they never committed.
"I'm sorry, he said, "but after all that I have seen, I simply hate the police."
My other friend, now living in North Carolina, but who grew up in Philly and worked with me in Washington, told me point blank, "If it had been me, I might be dead now." A man with two bad knees from reconstructive surgery, he likely would have refused to bow, and like my other chum, would have demanded answers much sooner than I had in my innocence.
He also had seen detention up close and personal, having been forced out of his car, onto a street corner and shackled by D.C. police for charges that turned out to be little more than the punch line to an old Franklin Ajaye joke about being and pulled over by Los Angeles cops and charged with being a "Nigger on a Sunny Day" before his punch line jokingly plea bargained down to a "Cloudy Day."
On Feb. 4, I was welcomed to a club that all Black men know about and that precious few go without entering. Looking back now, I wonder how many Black men wandered unknowingly into the business end of a police officer's gun – never knowing what they did, guilty only of fitting the profile.
He buddy in North Carolina reminded me of a night in the early 1990s when we were pulled over late at night in Bucks Country, Pennsylvania, by police officers who claimed we were speeding. We were surrounded by six squad cars, lights also ablaze.
A white woman walked by our car with her child and looked to one of the officers for an explanation.
"Don't worry, ma'am," he told her. "We've got this under control. You got to show them who is boss."
In that instant, our degrees, professional accomplishments and good standing in our communities meant nothing. We were just three niggers on a moonlit night.
One false move and Feb. 4 could have been my last day.
James Michael Brodie is an author and writer living in Baltimore.