11:11 am:
Hey, waiting for the panel to begin. Bob Reich is ill and won't be attending.
Had a pre-panel meet with bloggers from a variety of sites and Van Jones, Bob Edgar of Common Cause and Lee Feng of ThinkProgress.
The thrust of the meeting and today is about first bringing together our Progressive community then coalescing around actions we can all power and support.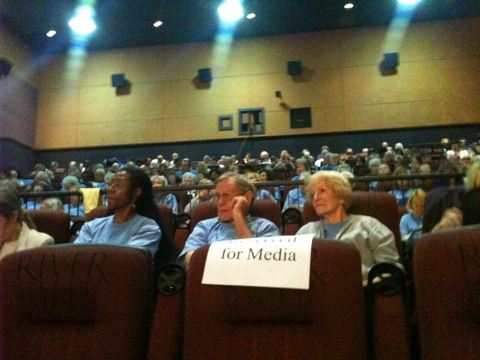 The sentiment is that this is a deceptively vital defining moment in American History and democracy.
11:29 am
Lee Feng: Fred Koch started this movement stealthily with other industrialists, founded the Birch Society and backed Goldwater to run in 1960. Handed the business to his sons, Charles and David, aka The Koch Bros.
The groups that filed briefs with SCOTUS are nearly all funded by or aligned directly with The Kochs, including Justice Thomas and Scalia.
Example of how the Kochs work in secret, only donated $5,000 against a Dem Congresswoman, Betsy Markey, but financed Tea Partiers to yell at her in townhalls and dishonest tv ads, actually and secretly spending nearly $1 million that was hidden from view and presented as "grass roots" democracy.
11:35 am
Erwin Chemerinsky – The Citizens United ruling only became legit because Justice O'Connor, who didn't agree was relaxed by Alito.
States can adopt laws that corporations can't spend money in campaigns without approval of shareholders.
11:44 am
Van Jones – After suffering assassinations, the deaths of hundreds of thousands in Vietnam, 40 years later, we finally came back. But now it's at risk.
50% of Chicago unemployed. Why are we more focused on unemployment instead of employment, in terms of concrete action.
Applauds TP for raising the issue of liberty, we can't live on a national plantation run by the Koch Bros.
America had aparthied before people stood up in and fought for equality.
The only thing that can defeat organized money power is organized people power.
If you're not sure which side will win, look at Egypt. When a tyranny fails, it's a failure of control. When a democracy fails, it's a failure of imagination.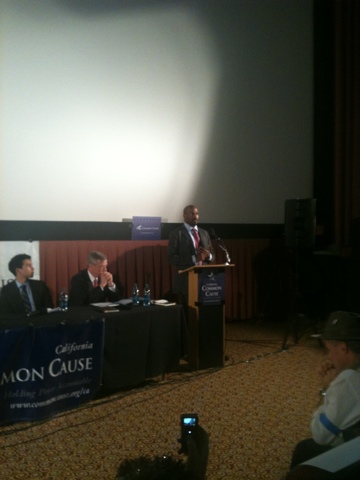 12:02 pm
Question Time
Q: It's easy to talk about hope but what action are we taking to get something done?
Van Jones:
There is a growing amount of people out there who are ready to tale action.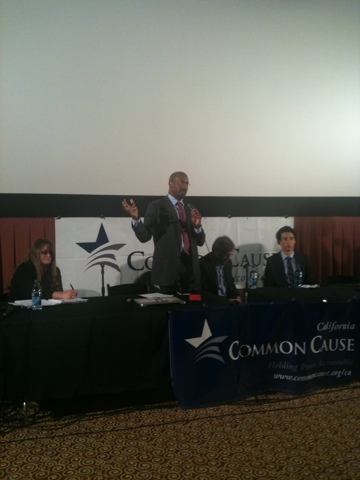 Bob Edgar:
Common Cause is on a national campaign, going around America to let them know what is going on and that there are things they can do.
Erwin Chemerinsky:
One big unaddressed issue is ignorance, who knows who the Kochs are outside this room?
Q: Environmental activism takes funds, what can be done to help continue the fight?
Van Jones – There is a proposal for a Green Bank, to invest in green efforts.
Q: Limiting corps that get fed funding just as fed workers are prohibited?
Bob Edgar – Common Cause does support this and will presenting specific opportunities for citizens.
Example, CC helped bring election reform to several state elections, specifically in CT, over 80% of candidates took no outside financing from lobbyists.
Edgar Chemerinsky:
Remedy CItizens United, federal, state and local legislation.
2:11 pm
Some photos – video later