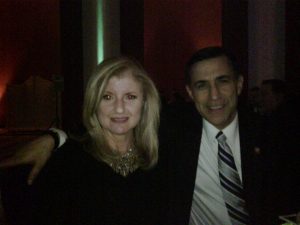 For everyone who watched Keith Olbermann's show last night and saw his and Arianna Huffington's wanton and deliberate misrepresentation of President Obama's opinion piece in the Wall Street Journal, then you need to know that this is exactly the abject s-h-i-t-e, about which I ranted in my last blog: the willful propagation of emotionally-charged key-words, designed to make the blood boil of various people who are ripe for and rife with manipulation. Call it Firebaggery, if you will, but I prefer to call it good, old-fashioned ratfucking. The GOP and the Koch-inspired and paid operatives thereof do it brilliantly with the Teabaggers. And now, Madame, is employing it with the Murrow-wannabe Keith, amongst others.
By the way, she, who cares so passionately about the Middle Class, was proven really not to give the proverbial rat's ass about them nor the rules they are wont to follow in certain situations, when she found her ass unceremoniously hauled off a DC-to-New York shuttle on the night of November 9th, for willfully disregarding the cabin crew's instructions to turn off all electronic equipment for the duration of the flight. Huffington continuously kept her Blackberry going non-stop, until one formidable member of the middle class vociferously complained, until the crew arranged for a couple of New York's finest to escort Arianna from the plane when it landed. Mr Middle Class was heard during the flight to shout at her, "Hey, Rich Lady, don't you understand English?"
The night before, which was the day of the Tucson shooting, she was found partying the night away in Vegas, in the company of a dubious character. Check out the body language of these two, and check out the identity of her male companion, and you'll see why it's mete she'd getting out the negative spin on Obama's WSJ op-ed and who's set to suffer from a positive view of the President in the business world.
All I can say is if Huffington's soul sister, Ms Thrilla from Wasilla, reckons the President is palling around with terrorists, well, how about the voice of the Progressive Left partying and palling around with a powerful Republican Congressman (with a criminal record), who holds the power of impeachment over the Presidetn? (It might be good to remember that Huffington fronted the civilian front to impeach Bill Clinton with a website devoted to this subject.)
Please draw your own conclusions about what's behind the picture below.