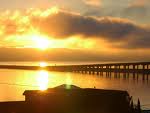 Good morning everyone!
I hope that when and if you have the time, MB will be the place for you to catch up with friends before you leave for work or start your new day. A place to relax and take a break from serious topics and discussions during your day.
You are free to talk about anything here. Introduce your favourite news stories, videos, photos, funny stories or recipes. Think of it as your space, whether you wake up with the birds or chose to have a lay in, MB is open 24/7, from 5 am EST-2 am PST.
Please feel free to drop in anytime, you are always welcome here.