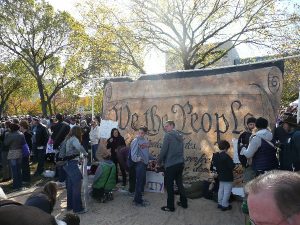 We as a nation suffer from Attention Deficit Disorder.  We have become a people of instant gratification and soundbite debate.  Our failing economy and government institutions suffer form long-term problems that simply cannot be explained or resolved using tag-lines or talking points and yet we fail to engage in deeper discussion.  All the while those who profit off of our misfortune are using it as a distraction to hide their machinations from us.  
Our society makes constant demands on our time and has made politics into a game of outrageous soundbites and talking points.  A race to the bottom more fitting for Jerry Springer than the august bodies of Congress.  If we manage pin someone down for a detailed discussion it seems the best we can hope for is an exchange of one-liners that may, often as not, result in personal attacks and insults.  An attempt to dig below the surface will find that there is no substance behind them.  People no longer know how our government functions and know nothing about the economy and how it works.
All of the shiny objects we work to obtain serve to distract us from the real world deeds of people who are taking the time to shape our country.  It is morphing more and more rapidly into something that benefits them and not the American citizenry as a whole.  The Corporate American and its' wholy owned subsidiary, the US Congress, have been able to erode our national consciousness to the point that the it is now calling all of the shots.  There is evidence of this all around us as poverty rates are growing, the wage gap between the top earners and the middle class are the highest they have been in nearly 80 years and unemployment is at a high level. 
A look at our newly elected officials continues to bear this out as some of them have been able to win office after committing  most egregious moral and illegal acts: the new governor of Florida has stolen over a billion dollars from Medicare, a newly released convict ran for a house seat in Ohio as representative of a major party and a senator with a known history of perverted acts with prostitutes won re-election handily in Louisianna.
As if we don't already have enough distractions the Corporate American has assimilated the media into itself and it is being used to divide, misinform and disenfranchise us with bogus arguments over death panels and Marxist government plots.  It has pitted us against one another to the point that winning is everything even though we all end up losing in the end.  Elections are now scorecards like it is some game taking place every couple of years and so many of us don't seem to realize the consequences riding on the outcome. 
So what is the answer?  Education.  We have lost ourselves in the race to the bottom and we must stop for a look around at what is happening.  Our political discourse must be pulled out of the muck and mire and into the homes and public forums where it belongs.  This is the path to saving our country from our negligence.  We must learn, we must help to educate others and we must help one another.  Most of all we must talk to one another, make those connections we have lost and work together to find a long-term solution.
Add-on Note
If you are interested in getting involved in this effort there are a number of groups working to build broad coalitions of people from diverse background and political ideologies to work toward that end.  For more details please post a comment and I will reach out to you when details are firmed up for an official kick-off.