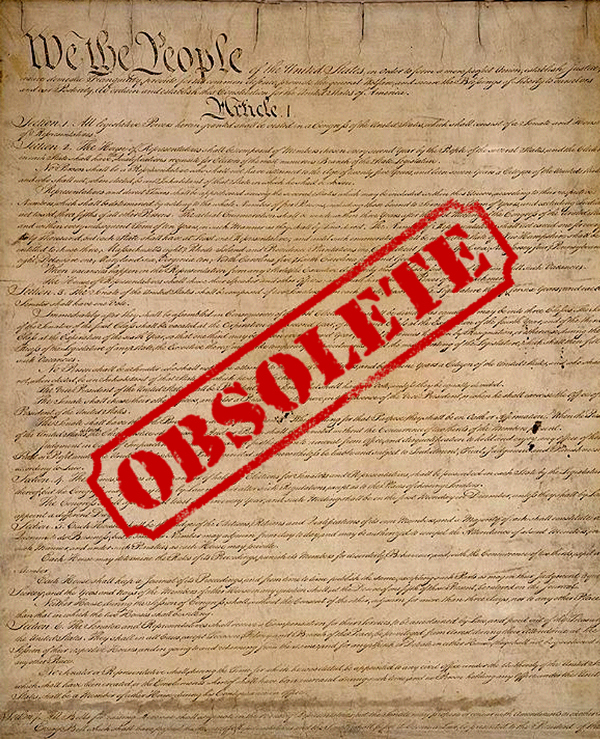 Kesmarn's brilliant article, Please, tear that price tag off!, impresses the powerful image of our democracy and citizenry as a 500 pound patient, too bloated to help itself or accomplish even the most minor tasks required for its subsistence and survival.
Citizens United may have been the last straw in our Democracy becoming too overloaded to effectively be able to function on its own. In light of the abuse of filibusters, the propaganda machines now established in our society, the laziness, ignorance and easy manipulation of voters, one wonders if Democracy is just lying helplessly like a beached whale in a hospital bed waiting for a sponge bath and a bowl of ice cream.
This reminded me of a little known movie from The Depression era, a fantasy that is quite a bit twisted. It is an oddity. When I first saw it years ago, I was fascinated that anyone would truly think of this as a fantasy instead of a nightmare. Today, I see it in a different light, I still reject it as a desirable fantasy but I better understand why many people back then would have been receptive to it.
The name of the film is, "Gabriel Over The White House". It was made and takes place in the midst of The Depression and fantasizes about a weak president who radically changes and becomes dictatorial…to the benefit of Americans! Here's a synopsis:
Newly elected president Judson Hammond is shown to be a lackey of his party, willing to follow the party line even if it's not in the best interest of the people. Showing off by driving his own car to a political meeting, he crashes at high speed. Comatose, he is not expected to recover. But on regaining consciousness, he is a changed man. Dismissing his cabinet and defying Congress, he assumes near-dictatorial powers in order to cut through red tape and institute sweeping measures to reduce unemployment. He even goes so far as to gently threaten nations owing the United States money from World War I to find a way to repay their debts by reducing their arms races. Having brokered this important safeguard for the world's peace, Hammond is stricken down, his work done.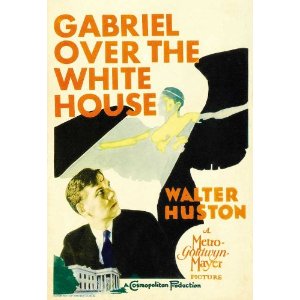 During The Depression, as now, people were so desperate and frustrated with the need for big things to get done and changes to be made quickly. The process of our Democracy simply isn't structured to work that quickly so the concept of a President assuming dictatorial powers to get everything done swiftly, no doubt appealed to some then.
Of course, such naive Americans needed only to look to Germany to see the nightmare that their fantasy would become when brought to fruition in real life.
As Santayana said, "Those who cannot learn from history are doomed to repeat it." And we know far too well that Swing Voters can't even remember history from two years ago ("Hey, maybe Republicans will make our economy better if they're in control!"), so the ones who decide elections in this country surely won't know what happened 80 years ago and are fully available to repeating it.
Of course, only as a fantasy, how cool would it be for Obama to be able to institute all the policies we support without having Repubs in Congress thwarting him? The flip side is, then a President Palin would have the same power. So, dictatorships are far too dangerous to allow, for any reason. Yet, as we saw after 9/11, the American public can be driven to support a dictatorial and oppressive U.S. government.
All of this opens a Pandora's Box of ideas and propositions in today's America.
1. "Would Americans willingly elect another dictatorial president to go even farther in trampling democracy and civil rights if it meant he could get a lot done?"
2. "Has our democracy become too corrupt to function properly and do what's necessary?"
3. "How can the damage to our democracy be reversed if Congress and the election process is dominated by those who corrupt them?"
Starting with the first question, sadly, I think the answer is "yes", Americans would be willing to elect a dictator-type president. I remember a poll of high school students in Bush's last years that asked if the press should be allowed to publicly criticize the president…the majority said "no".
Americans want what they want more than they want principles adhered to. If someone like Mike Huckabee became President and declared that God had told him to ignore Congress and the Constitution and do what God told him would be best for Americans…certainly the Tea Party crowd would applaud his diss of government and some of these mindless Swing Voters would cheer his being a man of action.
"Who needs democracy, we want jobs and Social Security and Medicare and we don't want to pay taxes! Pres. Huckabee says that we can have it all if he doesn't have his hands tied by Congress! We're with ya!"
Kind of scary but not so far-fetched. Bush essentially did this with his record number of signing statements in which he declared whether he would or wouldn't follow laws passed by Congress and how he would change the way they were applied and enforced. And then he just did things under the cover of "wartime" that he had no Constitutional right to do.
As to the last two questions, though it is politically correct to exclaim that our democracy is the greatest in the world…how many Americans actually sit down and study other countries to come to that conclusion?
What other industrialized nations have democracies where corporations can pour in unlimited amounts of money to influence elections? Or require candidates to publicly attest that they are religious and their faith is Christian-based? Or have campaigns that last years and require hundreds of millions of dollars, squeezing out from participation most of those who aren't wealthy or already in office?
And what about how our Congress works? Where states with less than one million people have the same power in the Senate as states that have 40 million people? Where the tyranny of the minority continues to reign and simple majority votes are insufficient to pass legislation?
Then there are all the special interests and corporations that are free to lobby with mountains of cash to stop what they don't like and ram through what they do want.
Moving to a slightly different allegory, our democracy now seems like a car that is in disrepair. The hydraulics of the steering are messed up and it is hard to steer, the blinker only signals right, the tires are all low and the engine is clogged with muck so the car moves slow and sluggish, covered with mud that is constantly slung at it from all directions.
The real question is, is it throwing good money after bad to try and fix it? Do we need to buy a new car?
As unlikely as it is to ever happen, for America to return to a democracy from the plutocracy it has become, perhaps what's really required is a new Constitutional Convention that incorporates all of the developments in our society and democracy that The Founders simply couldn't and didn't foresee.
Some proposals that I would like to see contained in a New Constitution:
The Senate would be more representational of the nation, still 100 Senators but one Senator from each state and then additional Senators based upon population.
Elections would be publicly financed and on an alternating basis, broadcast and cable networks would be required to provide free airtime to candidates.
Any Congressperson could be recalled and replaced by their state's voters.
The Senate and House would conduct votes on bills, decided by simple majorities.
Lobbyists would be allowed but prevented from providing any financing to politicians (since elections would be publicly financed).
Corporations are not people and may not participate in any way in elections.
Truth In Advertising laws for political advertising that allow ads to be pulled and advertisers/politicians to be fined for false claims. In egregious cases, election results could be nullified and after falsehoods had been publicly exposed, a new election would occur.
Justices on The Supreme Court would not receive a lifetime appointment. Instead, they would receive a term of ten years which would need to be renewed by the current President and Congress or else a replacement would be made.
An explicit and concrete separation between church and state. Any church would be permitted to promote political agendas, candidates or participate in the electoral process but would not have tax-free status once they do so.
A Fairness Doctrine that requires news networks to provide legitimate and accurate counterpoints to whatever they present.
Voting would be one week long, encompassing weekends to provide for the most participation.
Retirement pay and health insurance are rights of all Americans and may never be privatized. The U.S. will provide single-payer health insurance to all Americans.
Military spending capped to a maximum percentage of GDP except in case of an emergency. In such cases, authorization for such an emergency will expire in no more than 2 years and may not be renewed or refinanced in any way in a new request.
Torture and the death penalty would be outlawed in all cases as cruel and unusual punishment.
Taxes on those making $10 million or more may not be reduced below 50% of income. Only deductions that were applicable and useful to most Americans could be made available to wealthy tax payers (all businesses would still be able to write off expenses, of course).
Fines and jail time for white collar crime would be as punitive as street crime. Top executives are personally liable for all crimes committed by their corporations.
That's a number that come to mind. If we could have a new constitution, what would you want added into it?