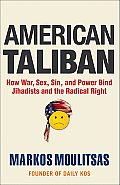 I recently read the new book by DailyKos founder Markos Moulitsas and I found it more than slightly disturbing. Not because the content was shocking, but because his analysis was spot on. In the book, American Taliban, Markos confirms my belief that religious fanaticism is universal regardless of which religion the fanatics claim to represent. From the first page Markos slaps you in the face with concrete examples of how there is no difference between an Islamic fundamentalist blowing themselves up in a car bomb and a Christian zealot shooting a doctor in a church. Atrocities against innocents in the name of any God are and should be unacceptable. And yet we accept them. We may shake our heads in disbelief and condemn them but we certainly don't do enough to stop the practice. The right-wing talk show hosts who encourage those types of actions simply turn a blind eye and do their best to distance themselves while pointing the finger of blame elsewhere.
I've seen the worst atrocities committed in the name of patriotism and/or religion and this book covers both. Have you had more than one sleepless night worrying that there is no more separation between church and state? You were right. Back in 2001 after George W. Bush was installed into the White House his first official act as President was to give tax breaks to faith based non-profit organizations. And it's been downhill since then. If knowledge is power than this book should raise the awareness flag so we can begin the counter strategy. So why are some progressives attacking the author for even suggesting there is a correlation between the two groups?
As intelligent adults, we should be able to look at ourselves realistically and not be offended when someone calls a spade a spade. Are we so afraid of our own shadow that we tremble at the sight of it? Are we arrogant enough to think that we are infallible? By insinuating that there is such a thing as an American Taliban we are acknowledging that all Americans are not like us and maybe that's too difficult a concept. Maybe we sleep better at night being able to point our terrorist radar the world rather than across the street. As they say in 12 step programs, the first step toward recovery is acknowledging you have a problem. We have a problem. Instead of sticking our head in the sand we need to get our heads out of our asses and realize that we have a real problem in this country and it's getting worse. We need to rail against the perpetrators of the dangerous behavior not the person who forces you to see it. In other words, give Markos a break, he's just the messenger. Personally I think it's a good thing to remove those rose colored glasses every once and a while.