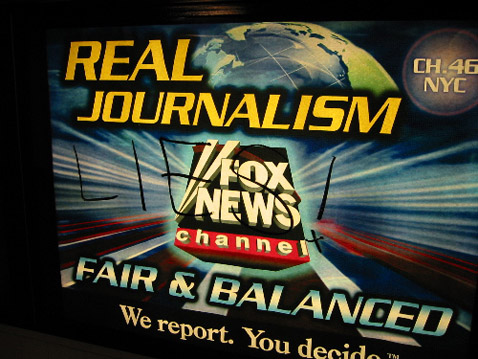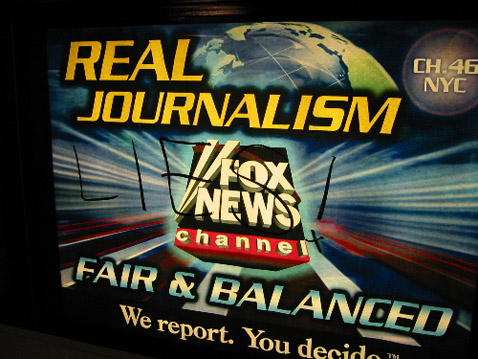 When you stay at hotels around the country, visit a bar or restaurant, find yourself in some public place where there's a tv, you're more than likely to see on that tv either a commercial for Dulcolax or Fox News.
The way you tell the difference is that one of these promotes the expelling of human waste and the other…hmm…let me get back to you on that.
Why is the exhibition of Fox News in public places so ubiquitous? Less than 30% of the country would describe themselves as Republicans, are there really millions more who think that the way to deal with the Republican party being repugnant is to just hide one's membership?
Or, should one instead look to the corporations and business owners of the hotels, bars, etc. as the public purveyors of this News porn?
If one is interested in politics, it is wise to stay informed on what one's adversaries are saying or screaming hysterically as they lean desperately on their chalkboards with tears stream down their faces. Since Fox and the Right Wing have successfully constructed a talking points pipeline, it's actually hard to escape the piles of dead grannies, Marxist-Socialist-Muslim-Kenyan-Hitler presidents and racist black people oppressing white people.
Still, even though prolonged exposure to Fox News may be hazardous to your healthy gray cells…especially if you do as I do and keep a large wooden mallet next to your couch for smacking yourself in the head each time something especially asinine is said and agreed to by a collection of RW talking heads….it can be educational.
Today on Fox and Friends, it was once again a bone of contention and a big cause of dissatisfaction that Obama has not given every American a unicorn or at least a pretty pony. The criticisms came from every direction, Obama promised there would be no more flatulence in the world, that we'd all get super powers, he hasn't once turned time back to get there before Lois 's car fell in the earthquake-caused crevice nor has he french kissed a single oil company CEO. The guy is a total failure!
I also learned that prior to January 2009, we have no idea who was president or what they did. Apparently, Al Qaeda used some kind of a Men In Black memory-wiping thingy on us, we probably had a president before Obama but in the midst of all the disasters we've been going through in this nation and the world, it's probably not worth the energy to try remembering anyway. Then again, I do subscribe to the Lindsey Lohan School of Strategic Planning.
In a PPP poll in January 2010, Fox News was rated as the most trusted news network. Unfortunately, the results of an OMG poll out the following month showed that a majority found that PPP poll the least trusted results of polls that month. The following month, a BS poll showed that a majority of people don't believe in polls and would never participate in one. The following month a FUBAR poll found that 200% of poll results are unreliable.
There's an old saying, "History is written by the winners." Fox News would add, "…but history is re-written by the losers."