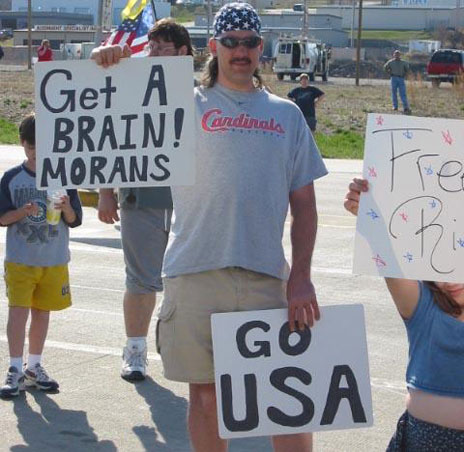 The Boston Globe just reported today on a study at the University of Michigan that examined how people, especially those who are wrong about what they believe to be true, respond to being presented with the facts:
Facts don't necessarily have the power to change our minds. In fact, quite the opposite. In a series of studies in 2005 and 2006, researchers at the University of Michigan found that when misinformed people, particularly political partisans, were exposed to corrected facts in news stories, they rarely changed their minds. In fact, they often became even more strongly set in their beliefs.

Facts, they found, were not curing misinformation. Like an underpowered antibiotic, facts could actually make misinformation even stronger.
http://www.boston.com/bostonglobe/ideas/articles/2010/07/11/how_facts_backfire/
Now, I don't think this comes as any great surprise to anyone who has a Republican for a relative, it is nice to confirm clinically what we've learned from our Thanksgiving Day experiences. At first, others may discount it as partisan to assert that those on the right are far more frequently and substantially guilty of such willful ignorance. Considering there's a popular news channel devoted to fortifying and implanting ignorance, that alone would be a strong argument but here is another telling section of the article:
On its own, this might not be a problem: People ignorant of the facts could simply choose not to vote. But instead, it appears that misinformed people often have some of the strongest political opinions. A striking recent example was a study done in the year 2000, led by James Kuklinski of the University of Illinois at Urbana-Champaign.

He led an influential experiment in which more than 1,000 Illinois residents were asked questions about welfare — the percentage of the federal budget spent on welfare, the number of people enrolled in the program, the percentage of enrollees who are black, and the average payout.

More than half indicated that they were confident that their answers were correct — but in fact only 3 percent of the people got more than half of the questions right. Perhaps more disturbingly, the ones who were the most confident they were right were by and large the ones who knew the least about the topic. (Most of these participants expressed views that suggested a strong antiwelfare bias.)
So,  like a mobius strip of idiocy, the more ignorant one is, the more convicted they are of the things that make them ignorant. The more combatively partisan people are, the more their existing untrue views are supported by "news" sources and the ramblings of politicians, the less likely it is that the ignorant will accept truths that don't confirm their existing beliefs, in fact, they'll just dig their heels into their ignorance deeper.
The insecurity that accompanies ignorance is powerful, I think that such people have an inkling they may not be as well informed on things but for the sake of their ego (over their self-interest and what's best for their family),  they don't want to feel like they're stupid so they will clutch onto the falsehoods they believe more desperately when challenged. This is very childish behavior but there are many emotionally immature Americans out there who NEED to be right more than they need to know the truth.
So, it becomes a conundrum, the more you try to correct an untruth someone believes, the harder that person embraces the untruth. I've tried an approach that has only worked marginally but better than just presenting facts to such folks. When there is a legit opportunity for me to say, "maybe I'm wrong" or "I was wrong about that", the example is set that one can be confident and unashamed of seeking truth over "being right". One can then say, "Come on, I admitted when I was mistaken and I didn't have a heart attack, you can do the same if the truth matters to you more than feeling right."
I do think that humor also emerges as a better tool for trying to get the truth across to people who are so vested in untruths.
It is a bit troubling that the insecurity of Americans keeps them ignorant by choice and that ignorance is giving aid and comfort to those who are the biggest enemies of our democracy and wreaking havoc on the lives of these very same ignorant people, namely the wealthy and corporations. I have no doubt their market research studies have taught them the same thing. Reducing education, increasing the dissemination of propaganda and distracting people into having fun instead of learning and reading would all be beneficial policies for corporations to press forward.
The dumbing down of America is also the undemocratizing of it.
The mind of a voter is a terrible thing to waste.