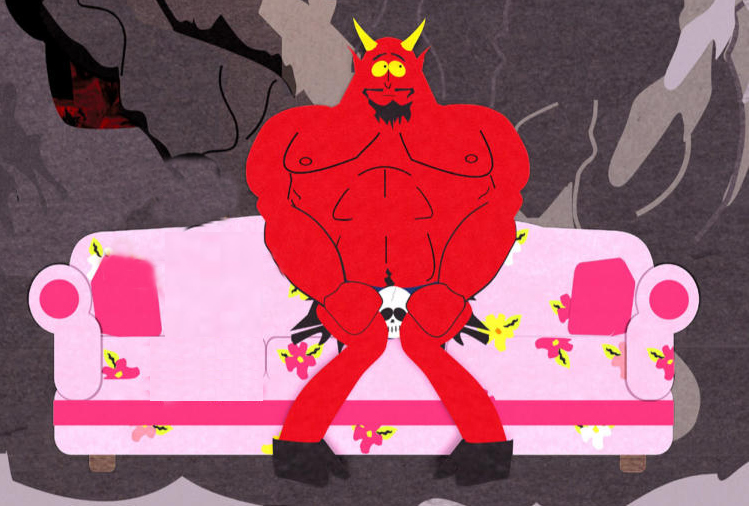 As an intrepid blogger, I try to seek the truth wherever it is. Using a valuable contact of mine (a deity who shall remain unnamed at this time but has been known to share his blog here occasionally), I sought to arrange an interview with the very personification of all that is evil but unfortunately, Rupert Murdoch wouldn't return my calls.
So, I had to settle for Satan.
Satan and I met at a Starbucks in Venice, California, he had an iced mocha frappacino which unfortunately evaporated as he carried it to the table, I had an iced black tea which Satan kept "mistakenly" sipping and singing the lip of the cup.
Here is an excerpt from our conversation:
ADLIB: Satan, thanks so much for taking the time to do this interview, I know you've got a lot going on right now.

SATAN: Actually, it's kind of a slow season for me so I've been catching up on all of the episodes of Lost that I missed. Who woulda thought they were dead? Duh?

ADLIB: Hmm…we've got this ongoing economic crisis, the BP Oil spill destroying the gulf, Israel's attack on the floatilla, North Korea threatening war, Iran pursuing nuclear weapons, climate-change-caused severe weather killing more people each year and I don't know where to begin with Lindsey Lohan and it's a slow season for you?

SATAN: Actually it's been slow since George W. Bush was elected, I mean, what do I have left to do? Personally, I enjoy driving countries into unnecessary wars, destroying the rights of free people, undermining the pillars of the world economy and causing disasters that devastate the ocean, land and air…but I don't want to look like a copycat. Good thing I'm not in a union or there would be serious trouble, seriously, you guys have totally infringed on my job description.

ADLIB: So you're saying that The Prince of Darkness has basically lost his job too and has joined the ranks of the unemployed?

SATAN: The down side is that it never felt like work to me, you know? The up side is, I forgot how much I enjoy Oprah.

ADLIB: What this means then is that human beings are now fully responsible for the worst evils that they face.

SATAN: Well, no one forces you to eat at Applebee's, right? Heh! Though…that's not a bad idea to explore…

ADLIB: Just to be clear then, you had nothing to do with the BP oil spill?

SATAN: That all depends on what the definition of "having nothing to do with something" means. I will say that indirectly I have made my contributions, instilling greed in the corporate world and apathy in the public when it comes to fossil fuels. I didn't cause the spill, I just freed people at oil companies from conscience, they did all the rest…as I knew they would. Actually, if you don't mind, I'd like to sing a little song about all of this.

ADLIB: I'd rather you didn't, could we just continue our discussion?

SATAN: Right, that's why I'm Satan, I like doing what other people want…

(At this point, there was a bright flash and when I could focus, I saw Satan was now standing in the middle of the Starbucks wearing a traditional Swiss dress with his horns in a Swiss braid. He smiled sarcastically, music swelled up from nowhere and he began to sing and prance around the Starbucks)

SATAN: (sings) Oil drops on wetlands and tarballs on beaches!
Bright shiny oil plumes and lame Hayward speeches!
Brown oily pelicans can't use their wings,
these are a few of my favorite things!

Cream colored oceans and crisp jelly fishes!
Top Hats and and Top Kills and stunts that are wishes!
Wild geese can't fly with the gunk on their wings,
these are a few of my favorite things!

Folks in white space suits with oil spots and splashes!
Thick tar that stays on my nose and eyelashes.
All the destruction that oil drilling brings,
these are a few of my favorite things!

When the well blows
When the Feds sting
When I'm feeling sad
I simply remember my favorite things
And then I just feel…so bad!!!

(I can't recount all that accompanied this musical number but there was a chorus of dancing gay Republicans, oil company executives in a Rockette's style kick line and mock broken oil wells spewing rhythmically like dancing fountains. A bright flash and suddenly Satan was back at our table, sipping the last of my black iced tea.)

SATAN: You should see the whole show, I get to play a Nazi too, it's a funny in-joke, you know?

ADLIB: I…I'm naturally surprised, I didn't know you liked to sing and dance. I always thought of Satan as, well, angry.

SATAN: You haven't seen me before my first cup of coffee in the morning! (laughter) Seriously, ask anyone in the entertainment business, they'll tell you who's running things.

ADLIB: I was wondering–

(Satan's cell phone beeps)

SATAN: Hold on…damn, I've got to get going now, I'm late for a FreedomWorks teleconference with Tea Party candidates. Sorry! Thanks for the iced tea! And remember, it's always darkest before the dispersant! Hah!
A bright flash and a puff of smoke and he was gone. Then the Starbucks cashier came over and said Satan took a scone on his way out and said I'd pay. And folks wonder where corporate culture comes from.