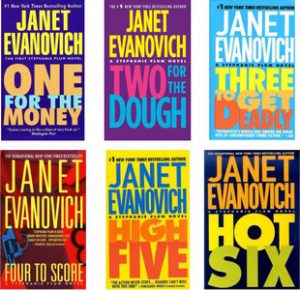 Janet Evanovich is a writer of women's fiction, aka romance novels, except for her 'By the Numbers Series', which also appeals to men, teens, adults, and the elderly.
The series is also known as the tales of Stephanie Plum, and the books' titles are based on numbers such as: "One For the Money", "Two For The Dough", "Three to Get Deadly", etc.
The 16th book of the series is slated for release June 22nd, 2010.
Janet Evanovich's Stephanie Plum series is one of the most popular works of fiction in recent memory that has crossed the barrier of women's fiction to a large, loyal male readership.
http://www.evanovich.com/
Ms. Evanovich has also accomplished a most treasured feat of having her Stephanie Plum come to life on the big screen next year.
In Movie Theaters: TBA, 2011 (Development)
Directed by: Julie Anne Robinson
Starring:
Katherine Heigl as Stephanie Plum
Jason O'Mara as Joe Morelli
Daniel Sunjata as Ranger
Distributed by: Lionsgate Films
Genres: Drama Crime Mystery
http://www.themovieinsider.com/m1037/one-for-the-money/
Those of us who are rabid fans of Stephanie Plum have speculated for years on the casting should it ever be made into a movie and the actors chosen are not exactly the people her fans would have chosen, but we're willing to wait and see.
Other books made into movies, such as "An Interview With A Vampire" suffered similar complaints with the casting of Tom Cruise as Lestat, but that worked out nicely and fans of the books were appeased.
Stephanie Plum is a comical character whose life is filled with crazy mishaps and humorous catastrophes once she begins the life working for her cousin Vinny as a bounty hunter.
She has a pet hamster named Rex that lives in a soup can within an aquarium, and she keeps an unloaded gun in the cookie jar on her kitchen counter.
Joe Morelli is the roguish Italian cop that she's known all of her life and eventually becomes her on-again, off-again boyfriend.
Ranger is the dark man of mystery, always dressed in black with a sketchy background and sketchy heritage, who owns a security company Rangeman Inc. and he saves Stephanie from several hilarious and not so hilarious adventures.
Stephanie is from the 'burgs' of Trenton and the book is filled with a zany cast of characters, plus a dog named Bob.
There's Grandma Morelli with her 'evil-eye' and Grandma Mazur who always carries a loaded gun in her pocketbook and has been known to shoot the chicken on the platter during family meals.
There's Stephanie's nemesis Joyce Barnhardt that boinked Stephanie's husband on her dining room table, leading to a very short marriage and quicker divorce.
Eventually Stephanie meets and saves a prostitute Lula, who is one of the most beloved characters in the series.
I've always thought that Sandra Bullock would make an exceptional Stephanie Plum and Dwayne Johnson aka The Rock should be Ranger.
Alas, that is not to be, but I'm willing to keep an open mind.
I am hoping that Cloris Leachman will be cast as Grandma Morelli and Betty White as Grandma Mazur.
As for Lula, I think that one of my favorite actresses – Queen Latifah – would be prefect for the comedic part.
I started reading the Stephanie Plum books several years ago and my husband would always hear me laugh out loud. By the time I was on book 4 of the series, he had to read them to find out what was so funny and he's been a fan ever since.
And he laughs out loud, too.
So, if you've never read them, I would suggest that you give them a try, and see if they'll make you laugh out loud, too.