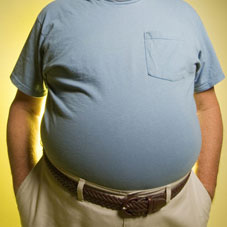 If you don't know what Spanx is and are just bursting at the seams to find out, much as I'd like to stretch the truth on this, I can't hold it in any longer.
Spanx is essentially the modern girdle, strong elastic-wear for women and now for men. Thankfully, the scientific braintrust of our nation, instead if wasting too much of their alternative energies on developing alternative energies (or how to, say, close off out of control oil wells),  have tamed botulism into a cosmetic "top kill" for wrinkles , have developed pills to give erections to older men so they have at least one dependable extremity to angrily wag at kids who play on their lawn and designed a coronary-lover's dream sandwich with two pieces of fried chicken as "buns".
Ah, the miracles of modern science…for consumers…never ends!
Now, as a society, we are not blind to our most urgent problems, we see them, we just prefer to deal with the symptoms first and if we have time after our Twittering and prolonged sessions of Super Mario Kart, we'll get around to the causes. Honest!
For example, yes, we know that obesity is an epidemic, you don't have to rub it in our faces or either of our chins, thank you very much. Do you want to hurt our feelings of self-worth and force us to console ourselves by eating a quart of Chubby Hubby tonight?    How is that helping anything?
Instead, we can address the symptom without having to reduce our cheese-stuffed crusts. We can wear girdles and look just as healthy as if we didn't order an extra side of alfredo sauce with our Fettucini Alfredo.
And thank goodness, Spanx came out with their 21st century girdles for men now! Just because we are men, it doesn't mean we don't have self-image issues too. If you prick us, do we not show high cholesterol counts? If you tickle us, do we not laugh in the merry way chubby people do? If you poison us, do we not say, "Mmm…diet soda!"? And if you wrong us, shall we not overeat comfort food?
The solution to obesity is right in front of us…if only we could see over our bellies we'd be staring right at it. We don't need to change our diets, fuck the recession, we're still "A-mur-a-kins", we still can have it all! All we need to do is wear Spanx and we can have it all. Women can stop asking if they look fat in this dress and men can see their own penises again, it's a win-win! And we can all eat whatever we want because we deserve it…as Americans however, what we don't deserve is the consequences of our actions!
Let's keep Big Waistline out of our lives! Ending obesity is as easy as 1-2-3-pull down-harder-that's it-no-harder- just pull the damn thing down over my belly-almost-let me breathe in-is that helping-hurry up-I can't hold my stomach in much longer-that's it-stop-stop-okay-it's on-kinda feels too tight-losing consciousness-look out…
It is only by our habitually wearing clothes that are restraining, oppressive and restricting blood flow throughout our bodies that we can ever truly be free.