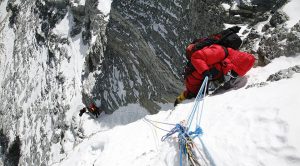 I don't know how to feel about this story — or about the 16-year-old girl sailing solo around the world.
Actually, what this 13-year-old did was quite amazing. He not only climbed Everest — a mountain that kills nearly 10 percent of the people who attempt to summit it — he climbed it up the Northeast Ridge through Tibet, which is considerably more difficult than the classic Southeast Ridge route through Nepal. The Northeast Ridge is incredibly dangerous.
Why did he climb the Northeast Ridge? Because Nepal refuses to give climbing permits to anyone under the age of 16. So, they went up a much more treacherous and dangerous route through Tibet, the route that killed George Mallory and Sandy Irvine in 1924. This is a route that has the terrifying "Second Step," a 50-foot 90-degree vertical wall of rock and ice at 28,000 feet.
That a 13-year-old kid managed that? Amazing. Simply amazing. Unbelievable.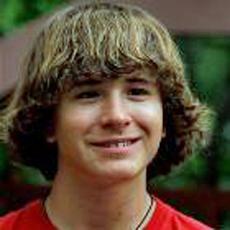 Unfortunately, it also doesn't quite feel right …
A 13-year-old doing something that dangerous …. Or a 16-year-old girl sailing solo around the world.
Look, I'm the first to admit I have absolutely no idea of the dynamics of this kid's family, but something gives me a bad vibe about the whole situation. I'm trying to be fair. I could be wrong, but my skunk sense is tingling pretty loudly on this one. I mean there is a reason Nepal refuses to give out permits to climbers under the age of 16. Were these parents just looking to live off the fame of their kid? How about the parents of the 16-year-old Aussie girl? Are these just out-of-control stage parents? Who knows?
At least one mountaineering medical specialist said this borders on child abuse. I don't know if I would go that far, but it certainly smacks of child exploitation. Look at these paragraphs from an article published in Australia:
Next on Romero's agenda are publicity stops in Hong Kong, London and New York. He says he has lots of meetings planned for potential business deals.
"I think Jordan's very marketable," says Drew Simmons, owner of Pale Morning Media, a public relations agency that advises outdoor recreation businesses. Romero, he says, is an attractive, popular teenager with a huge potential to cash in on his adventures. He's young. He's fresh. As far as the outdoor industry's concerned, he's really hit the nail on the head with this active youth message that his ostensible goal is to convince other kids to get off the couch and set their own goals."
Boy, does that quote ever leave a bad taste…
Marketing. Talk shows. Endorsements. A book deal.
Next, an 11-year-old making the attempt on Everest. Then a 10-year-old perhaps. Will a 13-year-old now be sailing around the world? We got marketing deals in the works. Phil Knight is on the line. There's money to be made.
I talked to a mountaineer who insisted — he was adamant — that this kid had to have literally been carried up and down the mountain by Sherpas. I mean we are talking the Northeast Ridge, which wasn't climbed until 1960. I agree. I wasn't there of course, but this is an extremely technical route that bests the greatest mountaineers in the world. This kid had to be literally dragged up and down by the Sherpas. I admire his courage, if nothing else.
The dad, who is a professional adventurer, said his kid wanted to climb Everest. I couldn't help but agree with one commentator who responded, "well, a lot of 13-year-olds would like to drive the family car and hang out in a bar, would you let them do it?" I don't think that's an unfair analogy. My bad feeling is that the dad wanted the kid to climb Everest as much if not more than the kid.
Here's the problem I have. I know a fair amount about mountain-climbing and I know how incredibly dangerous Everest is, especially that treacherous Northeast Ridge. There is so much you CANNOT control in a place like Everest, which is why it is such a dangerous place, why nearly 10 percent of the people who attempt it die. You cannot control the weather, you cannot control avalanches, you cannot control altitude sickness, and you cannot control HAPE or HACE. Remember, falls aren't what kills most people on Everest — it's avalanches, weather and HACE. Before I come off like a total prick, think about the world reaction if that kid succumbed to HACE or an avalanche at 28,000 feet. It would have been shock and horror, and "oh, how could those parents do such a thing." To a certain degree, there is some dumb luck in that kind of extreme mountaineering. It was an accomplishment, an amazing accomplishment. But an accomplishment that carried incredible risk.
There's a legitimate question of whether family people should even be climbing Everest or worse mountains (And yes, there are a LOT of mountains in the Himalayas and elsewhere that are worse than Everest — K2, Annapurna, Nanga Parbat, etc.). I don't know if I would do it. I've turned back on some hairy ridges where I felt I had passed my experience level, thinking about my family. But, a lot of experienced climbers feel that climbing is all about risk management, and that if they are in control of the risk, it is something they can live with, even if they are family people. Personally, I wouldn't do it, but I can dig their point of view. When I feel like I reach a point where I am no longer in control of the risk, I turn back. I've done it three times in the last two years.
I don't know if I could apply that same risk management philosophy to a 13-year-old, however.
I have a Kiddo who likes to come with me. She has gone up to the top of a 9,500-foot mountain with me, a mountain that essentially has a trail to the top. (Still, two people mysteriously died on that mountain two years ago, and I did get caught in a vicious blizzard on that same mountain that same year. Every mountain has a certain level of risk.).
I'm climbing a pair of 10,000-footers this summer. One I think I will take her on. It's a trail to a saddle a few hundred feet below the summit, then a walk up a manageable slope. I tried to climb it last summer, but the summit was encased in fog and I finally realized I could neither see the summit nor the trail below and that was a bad, spooky feeling, so I turned back, probably 300 or 400 feet from the top. In good weather, I think it's manageable for a kid, however. The other 10,000-footer is too hairy for her, as much as she says she wants to do it with me, but it's too many unstable boulders and a Class 3-4 scramble up a 45-degree boulder pile at the summit.
Someone vanished on this mountain last year. For me, it's a manageable risk. It's not worth risking her.
I honestly cannot fathom how any parent would make that choice; to force the issue with that risk. I simply can't.