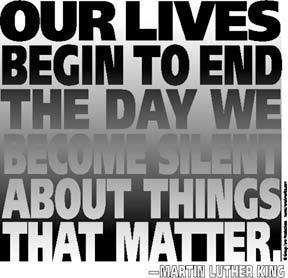 We now have a name and a Mission Statement for GROW, just 3 steps away from launching this pro-citizen, anti-corporate-control group.
Here is the Mission Statement:
"We are a group of American citizens, united to ensure the continuation of our democracy, which is now imperiled by corporate influence and interference in our government.

We stand against the corrupting power of corporate money — money that mutes our voices. We insist that the voices of grass roots America be heard.

Our mission is to unite our country against corporate abuse of our democracy and to make sure that our government is responsive to us — our families, our neighbors, our fellow citizens.

We urge all Americans — of any political party — to join us in this one goal: "A government of the people, by the people, and for the people."
There are only 3 basic steps remaining until GROW is truly operating as an activist group:
Step 1: Discuss and agree on a specific agenda
Step 2: Discuss and agree on what the first protest will be.
Step 3. Set a date and launch the first protest.
This post is dedicated to Step 1, discussing and agreeing upon an agenda. There have been some discussions on this already so to kick this off, here are some sentiments that have already been expressed:
a. The focus of GROW should be on fighting and reversing the SCOTUS ruling.
b.  Corporate control of the MSM and election finance reform may be additional and/or secondary focuses.
c. Protests could be visual and humorous/satirical to be more attractive to the media for broadcasting and to encourage people to share with others in hopes of bringing more attention to the issue and the group. They could be designed for both groups and individuals to perform simultaneously, wherever they are in the country, to give the appearance and impact of a national protest.
d. Press releases would be sent out to local and national media, notices could be handed out and posted on walls, telephone poles, etc. at the location where the protest is to occur before the protest.
e. A YouTube channel would be set up for GROW to display videos of it protests and for videos created by members.
f. GROW would network with other pro-citizen/anti-corporate-power websites and groups, to support their efforts and sites in turn seek their support on GROW's protests and growth.
g. "Corporations Are People Too! "and additional Dr. Suits parodies could be created and shared "liberally" to help promote the sentiment and the group.
Again, these are just some of the propositions that have been suggested (all that I can remember right now!), nothing has been decided upon yet. All ideas and suggestions are sought, don't worry about proposing something that would replace or conflict with any of the above, let's get all the ideas out there to have the best selection to choose from. Once we've discussed this, we can vote to determine what a majority supports and this step will be completed.
Looking forward to all of your thoughts, ideas and suggestions on this!