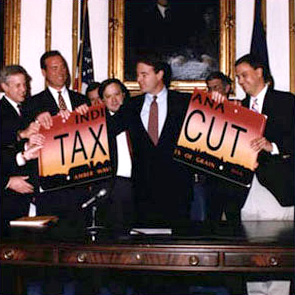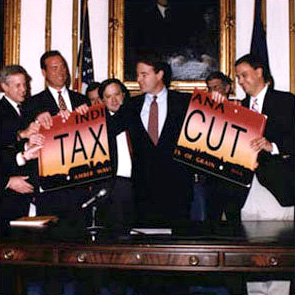 This morning the office of Senator Evan Bayh, D-IN, announced that he will not run for re-election this November. There's more than one way to react to this news. Since Bayh is a Democrat, the gut reaction might be to fear that we're going to lose another seat — like we did in Massachusetts. Bayh is, after all, a conservative Dem in a conservative state.
But what about looking at this resignation as an opportunity? Bayh's father, Birch Bayh, was a true Liberal Dem, a champion of Liberal causes, and a hero. He proved that a strong Liberal can win in Indiana.
Birch Bayh was defeated in 1980 by Dan Quayle during the successful demonization of the term "liberal" by the GOP. It was just another war of words — a PR campaign that had nothing to do with governance or responding to what the people need. It was the empty and shallow game that the GOP plays so well and that Democrats play so badly.
As a result, when Evan Bayh decided to follow in his father's footsteps, he did so as a conservative. But who can say whether Evan's politics could ever have gotten him into the governor's mansion or to the senate without his father's Liberal legacy.
Now that Bayh is resigning, will Democrats have the organization and skill to put forth a Liberal Dem as a candidate and defend the Liberal label? This is a true opportunity to talk about serving the people — bringing jobs back home, getting health care coverage to people who need it, starting a green energy economy, making peace.
These are the Liberal ideals that most Americans support. But they have poor advocates in the democratic pundits and spokespeople. Liberal ideals have no advocacy at all in the media.
Progressives should decide right now — not waste a moment in this critical election year — how they feel about this open seat, and what we're going to do about it.
UPDATE (15 Feb, 8:45 pm)
Candidates — Republicans and Democrats — only have until Tuesday, February 16, 2010, to gather 4,500 signatures and file for inclusion on the Democratic primary ballot. The Democratic Party, however, has plenty of time to nominate its own candidate — until June. The timing of this decision couldn't have been worse for independent- and progressive-minded candidates who want to push back against the status quo of the Democratic Party.
Bayh cites the partisanship in congress as reason for his departure. But how will walking away — or potentially reducing the number of Democrats in the Senate — improve that situation?
UPDATE (16 Feb, 12:10 pm)
Evan Bayh made a phone call last night to the Indiana Democratic Committee to say it's good that Indiana won't have a primary.
Bayh Calls Lack Of Primary To Replace Him A Good Thing On Call With Dems
Because, you know, you can't trust those damn voters anyway (my words, not his).
And another interesting wrinkle: FEC Rules Give Bayh Room To Decide What To Do With His $13 Million War Chest