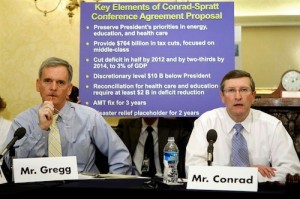 Here is an interesting letter I received from AARP this morning:
If you and I don't act now – the future of Social Security and Medicare could be decided for us without a public debate.
As soon as today your senators will decide whether to give a special commission the power to propose drastic cuts to the programs that millions of seniors depend on: Medicare, Medicaid, and Social Security.
The proposals could be voted on immediately, without full transparency and accountability – and without our voices being heard. We can't let that happen.
Make no mistake – AARP and most Americans are deeply concerned about increasing debt, health care costs and the long-term solvency of Social Security.
But as some of the most fundamental challenges we face as a nation, surely these issues deserve full and open debate by all members of Congress.
You elected your members of Congress to make the tough decisions, not to punt them to a special "commission."
Tell your senators to vote "NO" on the Conrad-Gregg amendment.
Thank you for your help on this urgent matter.
Sincerely,
Barry Jackson
Senior Manager, Grassroots
Here is another link
The U.S. Senate is scheduled to vote next week on an amendment offered by Senators Conrad and Gregg to create a "fiscal task force" that would make it easier to make cuts to Social Security, Medicare and Medicaid.

Under the Conrad-Gregg amendment, major decisions on long-term changes to programs including Social Security, Medicare, and Medicaid would be turned over to a task force that would focus, behind closed doors, solely on debt reduction.  Their recommendations would then be fast-tracked through Congress with a simple up or down vote, leaving no room for debate, constituent input or amendments.
Talking Points
Forcing changes to Social Security, Medicare, and Medicaid by fast-tracking changes and eliminating room for debate or amendments is an undemocratic way to address the future of such programs.
Vote against the Conrad-Gregg Amendment!</blockquote>