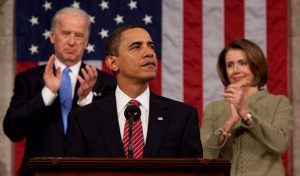 I thought it might be fun to talk about our wish list for Mr. Obama's State of the Union Address tomorrow.
(1) What would you Mr. Obama to talk about?
(2) What's your dream phrase you'd like to hear the president say?
(3) What do you EXPECT to hear?
(4) Do you think you'll be encouraged or disappointed?
---
For me:
I want to hear him talk about jobs, gay rights, health care, energy
My dream phrase — "We're going to do away with the filibuster and overturn the recent Supreme Court decision in congress."
I expect a lot of talk about the economy and some encouraging words about health care.
I'm expecting to feel, overall, disappointed — but I'm hopeful!