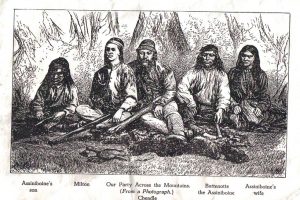 This image is my great-great-great-(great)?grandfather Louis Battenotte.
[Warning, this post contains rough language, but I believe it's important]
I was once called a "Nigger."
It was when I was walking down a street in Saskatoon, Sask., when I was a kid. A cousin and I were walking down to the DQ from my grandmother's house, and some teenage kids threw rocks at us and chased us down the street, calling us "prairie niggers" and telling us to get off their sidewalk.
You can guess that "prairie nigger" is a slur for an Indian. And I wasn't even an Indian, really. My mom is Metis — a French-Indian mix, dating back 200 years. My dad, I thought, was pure French (We found out after he died he also had Metis heritage, as do maybe 50 percent of Canadians born west of Thunder Bay), so I'm anywhere between 50 and 75 percent Indian. We're not entirely sure. Such is Western Canada.
But, I had a somewhat dark complexion and black hair. My cousin was dark like me, but with blondish hair. I told my parents about it. My mom was visibly bothered by it. My dad thought it was funny.
(As an aside, years later, my brother, sister and I made the mistake of wandering into an all-white redneck bar in Saskatoon, and boy, you could have cut diamond on all the laser-hot glares shot in our direction. We slammed one drink each and scurried out of there. I'm not picking on Saskatoon. It's gotten much, much better since then, but like everywhere, there is racism there.)
Here's where it gets really *really* complicated and hard to explain. My dad put up with an incredible amount of shit, apparently, from his racist parents when he married my mom, whose mother (my grandmother) was Cree and Assiniboine. At that time, there was a lot of racism still toward Indians in Saskatchewan. They did not approve of his marriage to this Indian woman. They made my mum's life so miserable that mum and dad eventually moved to Ottawa to get away from it.
According to mum, dad's parents were terrible to her kids. Treated them like they weren't their "real" grandkids. Three of us were born with dark complexion and black hair (In fact, my brother's nickname in high school was "Mexican-Canadian," a nickname he still laughs at.). They doted on their "white" grandkids, and they all got money from their inheritance. The Indian grandkids? Not a nickel.
We moved to California when I was a baby, mostly because my dad was offered a job at Rand-McNally in Santa Clara, and when that didn't work out, he bought a restaurant in Fresno. I never got shit in California about my ethnicity (other than my weird name) … but at my grandparents….
I remember as a kid when we visited my grandparents, they would take me down to the basement. They had games and books down there, but I was told to stay in the basement. When I was little, it didn't hit me.
But now, it hurts. They didn't want me playing outside. Outside their house. A little wild Indian boy … in THEIR yard. It killed my mum.
Dad? I don't know what he thought. It's complicated. Really complicated.
Dad, unfortunately, was a RAGING racist. He hated blacks. He hated Jews. He hated Mexicans. Honestly, I grew up believing that the word for a black person was "Nigger," the word for a Jew was "Kike," and the word for a Mexican was "Wetback." Because I heard these words — every night — at the dinner table for the first 15 years of my life. It wasn't until I was 10 or 11 until I figured out just how awful those words really were. To me, they were just words.
Dad would rail about the Niggers all living on Welfare and sponging off his taxes and popping out babies so they could get more Welfare. He would rail about how they should all be rounded up and shipped back to Africa where they belonged, except for the really fast ones, who could stay and play football for USC – as long as they knew their place. He really believed whites were quite simply racially superior to blacks, more evolved. He told me so.
He would rail about how the Kikes got what was coming to them in World War II because the Kike bankers screwed the hard-working Germans, and they all should've left Germany if they didn't like it there. They asked for it, and then they exaggerated what happened to them during the Holocaust because the Germans killed a lot more Gypsies and Russians than Kikes, but the Jews owned the media so they twisted what really happened. He actually said once Hitler "only" killed about a million Jews, not 6 million. He would rail about Wetbacks and Illegals taking jobs from Americans (This was a Canadian immigrant, remember). He also liked to tell jokes about Dagos and Wops and Polacks, and would belly laugh at his own jokes.
My dad was a John Bircher. To this day, I'm not 100 percent clear on what exactly a John Bircher is, but I do know we would receive literature in the mail from Aryan Nations and the KKK, asking for donations. He got on their mailing lists. We kept get literature from them years after he died. He thought these pamphlets and newsletters were hilarious.
Dad was so full of rage and hate. He hated liberals, gays, environmentalists, hippies, Democrats and the Kennedys, too, but he especially lashed out at minorities. I didn't understand it. When I was about 12, I started figuring out how wrong it all was, how wrong HE was, and my dad's response to it was to rail about how the liberal schools were brainwashing kids to accept blacks and Mexicans as their equals.
He railed that Martin Luther King was a communist. I am old enough to remember him cheering at the dinner table when Dr. King got gunned down in Memphis. I remember he cheered when Bobby Kennedy got shot and killed, and when the four kids at Kent State were gunned down. My older brother and sister got sick of him and left home when they were 16 and 17. My sister I think came to terms with him later. My brother not so much.
Dad was obsessed with Adolph Hitler. He had dozens and dozens of books about Hitler. After he died, we gave away a lot of his books, but we didn't know what to do with his 40 or 50 books about Hitler. Ironically, we put them in a couple of Hefty bags and took them to the dump. We didn't know what else to do with them. We were ashamed of those books.
Remember, this was someone who was chased out of Saskatchewan by his parents' hatred toward Indians and his Indian wife. He *never* made that leap, that leap of logic that seems so easy to me — that the same racism that made him and his loved ones so miserable was no different than the racism he spewed at the dinner table every night. Indians were OK, because he grew up with them. Niggers, Kikes and Wetbacks, not so much. I doubt very much he ever shook a black's man hand once in his entire life.
Dad never got it. It was an absolute mystery to me when I was a kid. It's a mystery to me today. I had this epiphany about him long after he died — I was beyond embarrassed by him. I was quite literally ashamed of him. I wouldn't have friends come over to my house because I was so ashamed of him …. and his hate. My sister and brother both told me the same thing long after he died.
I've struggled with it for 30 years what I'm supposed to think — and feel — about this deeply complicated man. He was a workaholic — he literally put in 18 hours a day, 7 days a week because he wanted to provide for his kids, but he was an alcoholic … and consumed with a mystifying fury.
He died when I was 16 from his 4-pack-a-day smoking habit. I have often — *often* — wondered how he would have turned out in his old age. Would he have gotten worse — like Richard Butler — and gone further off the deep end? Or would he have had some epiphany at some point where he would have said to himself, "My God, what have I become?"
I'll never know. He never reached that crossroad. He never got the chance to make that choice.
My mum to this day is still kind of racist, in a much more subtle way. She, for some unfathomable reason, hates Asians. When I was a kid, she hated all the Southeast Asian refugees moving in to California. Now, living in Western Canada, she hates all the Koreans and Chinese who have moved there the last 10 years. Again. I don't get it. She is nowhere remotely near as virulent as my dad, but the racism isn't hard to see, when she complains about how some grocery in her town has been "taken over" by Koreans. Another time watching her favourite show, Oprah Winfrey, she actually piped up, "Oh, I like that Oprah. She seems so nice for a coloured gal." My head just about exploded when mum said that. After talking to her about her statement, I saw that she really just didn't understand why it was racist.
I guess because of my background, my racism radar is pretty sensitive. I know racism when I hear it; when I hear people not-so-innocently say "some of their best friends" are black or Indian, my racism Klaxons ring full-bore.
I had rocks thrown at me one time. I never had a fire hose turned on me. I never had a German shepherd turned on me. I never had to put up with the humiliation of sitting in the back of the bus. The worst it got for me was having to play in my grandparents' basement because they were ashamed of me. I can't completely relate to what Dr. King and the others involved in the Civil Rights Movement went through.
But, I heard, in the worst language possible, the dark underbelly of racism for the first 5,000 days of my life, at the dinner table. I know what it is, the damage it does, the corrosion it causes. And I do have a genuine appreciation for what Dr. King accomplished, and a genuine appreciation that much more needs to be done.