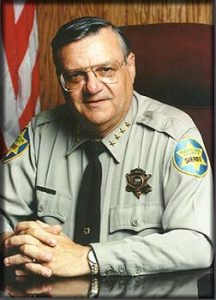 PHOENIX, AZ — Maricopa County officials have confirmed that they have been subpoenaed and will testify before a federal grand jury next week in regards to an Arizona sheriff.
Maricopa County Manager David Smith and Deputy County Manager Sandi Wilson have met with a federal prosecutor and are ready to testify on Wednesday. Wilson further clarified that the trial is indeed related to the current investigation of Sheriff Joseph M. Arpaio. Both Smith and Wilson are among the many who have had conflicts with Sheriff Arpaio since he was elected to office in 1993.
The inquiry into Arpaio was originally in regards to charges that the sheriff has continually violated civil-rights laws and is guilty of using racial profiling, but now the the investigation has expanded to include accusations that Arpaio has abused his power as sheriff by settling political scores against rivals and those with whom he has clashed over the years.
Sheriff Arpaio has been criticized for many years regarding his methods and treatment of prisoners. He is passionately outspoken about immigration and is known for his controversial comments and love of the spotlight.