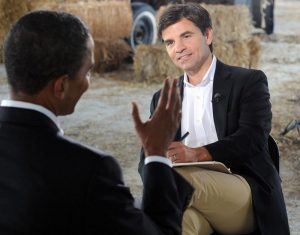 Former New York City mayor Rudy Giuliani has been the talk of the politicos all day after his appearance on ABC's Good Morning America. The man who Joe Biden famously said is known for "a noun, a verb and 9/11" seems to have forgotten about 9/11.
Giuliani made the same mistake Dana Perino made, but this time the mistake wasn't made on FOX News. This morning, while talking to Giuliani, George Stephanopoulos failed to correct him after making the following comment:
What [Obama] should be doing is following the right things Bush did. One of the right things he did was treat this as a war on terror. We had no domestic attacks under Bush. We've had one under Obama.
This little moment of selective forgetfulness about 9/11 has been reported by countless blogs throughout the day. It was even remarked upon by Press Secretary Robert Gibbs who said, "I think he mentioned that there weren't any domestic terror attacks in the previous administration, and sort of interesting that the mayor of New York had forgotten that."
Recently Giuliani even claimed that the infamous "shoe bomber" attempt occurred "six days was before the September 11th attack."
In light of this recent error of statement, one would think that a veteran like Stephanopoulos would have called Giuliani on his fib when he claimed that no attacks occurred on President Bush's watch, but no such correction was made by Stephanopoulos was made.
Given the attention Rudy Giuliani's words received, it should come as no surprise that a spokesperson tried to clarify those comments later in the day. Giuliani himself later clarified those words when CNN's Wolf Blitzer asked him about his erroneous claim saying, "I usually say, 'We had no major domestic attacks under President Bush since September 11.'"
So what does Stephanopoulos have to say about this whole fiasco? He made this response to criticism on his blog:
Through his spokesman, Rudy Giuliani has clarified the remarks he made this morning on GMA regarding terrorist attacks on the United States under Presidents Bush and Obama.

The Mayor's spokesman says that the remark "didn't come across as it was intended" and that Giuliani was "clearly talking post-9/11 with regards to Islamic terrorist attacks on our soil."

Whatever the Mayor meant, it's not what he said.  All of you who have pointed out that I should have pressed him on that misstatement in the moment are right.  My mistake, my responsibility.
However, as Brian Stelter put it "[Stephanopoulos] did not say whether he would address the misstatement in a future television program." Moreover, he made no claim that he would work to avoid making people make such fallacious remarks in the future. Rudy Giuliani did indeed make a mistake, but isn't George Stephanopoulos equally at fault for letting lies told on his program?