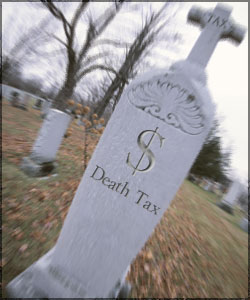 Thanks to a discussion on NPR yesterday, I became aware of a little provision in tax law that in the age of the wealthy consolidating greater wealth, is an abomination.
Due to the Bush changes to the Estate Tax(or as the Repub propagandists call it, the "Death" Tax) and because The Senate has failed to act (The House has done their part), in 2010, the Estate Tax is fully repealed then comes back into existence in 2011.
"Huh?", you might respond in a far more eloquently way than that.
Allow me to describe this…how do they say…"bull shite"? The changes to the Estate tax can be simply summed up by the simplest newspaper, USAToday:
At the time (just before the bill was passed in 2001), estates valued at $675,000 or higher were subject to the tax. And they were taxed at a rate of 55%. This year's exemption threshold is $3.5 million, and the tax rate is 45%. The levy brought in an estimated $26.5 billion in gross collections in 2008, according to the IRS.

The levy is set to disappear for 2010. Barring any agreement to extend or change the 2001 law, the tax is scheduled to resurface in 2011 at a rate of 55% on estates valued at $1 million or higher.
http://www.usatoday.com/money/perfi/taxes/2009-12-28-estate-tax-expire_N.htm
There are conflicting accounts as to why this was structured the way it was. To force Congress to act on making the reduction to 45% permanent (looking far better than 0%)? To make the financial impact of the bill look different by backloading the biggest benefit which would instead allow the wealthy to manipulate the situation legally and escape taxes on a far more massive level than imagined? To get the public acclimated to the wealthy paying zero in estate tax?
The arguments against the Estate tax were and are mostly all bogus. The big canard was how family farmers lost their farms and will lose their farms because of it. Unfortunately for those propagandists, that claim spurred people on to study this and discovered that no family farm has ever been lost due to Estate tax. Whoops! Back to the Lying Board!
The concept of an Estate Tax used to be universally appreciated by Dems and Repubs, the idea seemed reasonable that those who benefited most from a society, at a time when they were no longer around to buy private jets or gold-plated toilets, would be required to give back substantially to the stability and growth of that society.
It was only realatively recently, when the GOP and many Dems were literally bought and kept in their protective wrappers by the wealthy and their corporations, that the POV of that sociopathic person named "corporation" became enshrined.
"Why should the wealthy have to share their money with anyone? Hey, you rednecks and overly-religious loons…it's The Government trying to take away YOUR future money! Yep, one day you will of course be a multimillionaire and then when you die in your gold-plated La-Z-Boy, it will be too late for you to stop this theft of your money! You need to be able to protect more than a lousy $1.35 million! I mean, that's chickenfeed!"
The thing is, by upping the income tax and the Estate tax on the wealthy, we could have a backdoor way of recouping a lot of taxpayer money that has been stolen and manipulated out of our pockets. Somewhere between 95% and 97% of this nation do not and will not have estates that are worth more than the previous threshold of $1.35 million going to a couple ($675k to an individual). And even if one did, the tax was only on the amount above that.
Now, here's the screwjob on how things will work in 2010 if there is no Estate tax. Capital gains taxes would apply. These are down to 15% (these should be raised hugely too!) and there is NO exemption. So, if you are a farmer who dies and leaves a family farm worth 200k, though that would've been exempt under Estate tax laws, in 2010 you would owe the government $30k. Even on an estate worth $1,000, you'd have to pay the government $150. However, if you're wealthy, instead of paying $45 million on $100 million inheritance, you only have to pay $15 million, a $30 million tax cut for you!
There are those in the Senate who say that they will pass a bill in 2010 that is retroactive and continues The Estate tax in that year. We'll see. However, I strongly doubt that they will raise it back up to 55% and will instead allow the Bush giveaway to the wealthy of that 10% to stay…awaiting the day when a Repub Congress and Pres can knock it down another 10% and another 10% until it is negligible.
The bottom line on this is USAToday simple: The less the wealthy pay, the more the non-wealthy will pay. Or our infrastructure will go unfinanced and will crumble. Or the U.S. will be forced into a death spiral of deficit spending.
It comes down to the wealthy forking over their fair share or further oppression of taxpayers and the decimation of our society and economic strength as a nation. And in light of what they did to our economy, this lobbying of theirs underway to block paying ANY Estate taxes in 2010 is their way of saying, "Let them eat cake…and send them the bill for ours!".