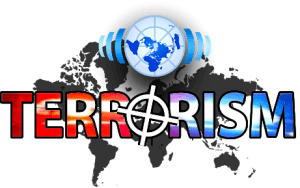 Most, if not all, of us here are familiar with the argument some terrorists give in defence of their attacks upon the West. It's our foreign policy. And you can't deny that our foreign policy, especially of the last 8 years, has been a disaster. ('Disaster' is a strong word, but when you think about GWB's foreign policy, even a word like 'disaster' underdescribes it.) By 'our' I refer to the foreign policy of both America and the UK.
That said, I believe that some, even many, terrorists leap on that as an excuse to blow things and people to smithereens. I believe that even if our foreign policy had been different, some of them would still be planning and plotting (and mixing lethal chemicals), because of something they don't have, that they want.  The question is: what is it?
Here is one possible answer. Over here in the UK and about 3 years ago, the Muslim Council of Britain convinced Tony Blair that if he would just change his foreign policy, he would not have to worry anymore about big bombings in London. They worked on him for a long time, and the early withdrawal from Basra is thought by many to be an example of Tony Blair heeding that advice and modifying his foreign policy. Not as much as the MCB would have liked, but it was a start.
But lo and behold, he had no sooner satisfied the Muslim Council of Britain on that, than they suddenly decided that our domestic policy needed a do-over. Yes indeed. And the upshot of that , is this: we now have 85 Shariah law courts in the UK and just over 2000 Madrassas. (You can find more on this by simply Googling things like 'Shariah law in the UK' and 'Madrassas in the UK', etc. You will find many articles, most of them alarming.)
You can imagine what it's like trying to have two conflicting systems of justice, in one country.
Not to put too fine a point on it: it just doesn't work.
The Madrassas do work, unfortunately: little children are taught that jihad is a good thing and killing Jews is an even better thing. Not in all of them, mind you, but in some. About a month ago the Prime Minister, Gordon Brown, was taken to task in the House of Commons for providing funding (out of British taxpayer money) to a certain Madrassa, without so much as investigating what was being taught there. At the same time, he was taken to task for not putting an extremist Islamic group, called Islam4UK, on the ban list. It is true that the person taking him to task was the leader of the opposition, David Cameron; but it is equally true that neither Gordon Brown nor any of his cabinet ministers ( a few appeared on the BBC and Sky that very night), denied it. They could not, because it was true.
My point, in giving a possible answer as to what they want, is that some of these terrorists and those radicals that support them, want to subsume our culture under theirs. (Holland is another example of this kind of thing.) They are not interested in living side by side with another, differing culture. They want power. The more they get, the more they want….and, sadly, with both Tony Blair and Gordon Brown, it would seem that the more they want, the more they get.
It's called appeasement. Anything, anything at all, to prevent another big terror attack…or another 'spectacular' as some say these terrorists like to call them.
I am sorry about the foreign policy that may have exacerbated the situation, but I am just as sorry that political cowardice, on the part of the New Labour, has led to the UK becoming, in some areas, anyway, almost unrecognizable as it continuously gives in, and gives ground, to the demands of over-enthusiastic Muslims. (I think I put that last rather kindly. I'd have preferred a different adjective, but never mind.)
Negotiation is one thing, but 'peace at any price', appeasement, is not the answer. I am hoping that President Obama does not go down this road, no matter what may happen. It's not a road you can easily turn around on.