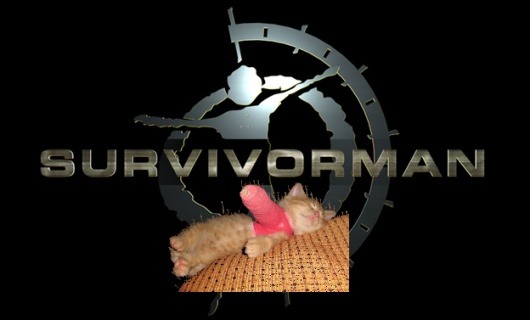 I do not usually do how to pieces because I find them presumptuous but in this case since I am going on two weeks in hospital this time and have spent months in hospital in the past I actually do feel like an authority on the subject.
Hospital Stay Survivor's Guide
Do not ever go into hospital if you do not absolutely need to is the number one priority.  Unfortunately like most uninsured Americans I have less choice when choosing my entrance into the medical system.  Outpatient and home care are becoming a bigger and bigger part of the care provided by the healthcare industry and in many cases you will not have to go to hospital.
You are your own healthcare manager (if you are healthy enough).  Use the hospital staff and especially doctors as your consulting team rather than let them dictate everything to you.  If you are lucky enough and have a more chronic disease you will find a partner in the medical profession.  In my case a great cardiologist.
Make sure you know exactly what they are going to do to your body whether it's a new drug for you, test or procedure by asking questions, lots of questions until you are satisfied with the answers.  Most doctors have good analogies they can offer to help you understand in lay terms what they are doing.  After all it's not their bloody body on the line it's yours.
Always try to get the earliest time possible for any procedures you need.  Otherwise you will wait sometimes hours and hours in cue which will only make you and your loved ones more nervous.  Doctors notoriously underestimate how long one procedure will take and "overbook" their surgical schedules all the time because they usually only want to perform procedures a couple times a week.  Also the longer you go without food or water before the surgery the longer you will be lucky to suck on some ice cubes after surgery.
Don't bother being shy.  Everyone has seen it before and being shy just gets in the way of some treatments.
Keep as clean as you can.   It will make you feel much better during your stay.
Once you have accepted a treatment from you doctor go with it but report all side effects.   Most times people with chronic illnesses like myself end up staying in hospital for so long is because of an rare complication or three.
Exercise as early and as often as you can without overdoing it.  Not only will it usually make you feel better during your stay but it should facilitate your discharge.
Even when you are feeling terrible try to be nice to the nurses and staff because they usually do an amazing job.  There are always nurse Ratchet types but most of the time they are grouchy because they are overworked and underpaid.  I've seen my share of nurses turn from nurse Ratchets to Florence Nightingales just by telling them how you appreciated what they do.
Try to find you happy place or what I call my moments of zen.  It fucking sucks getting stuck several times a day especially if they draw blood over and over again.  Relax, never look at what they are doing and think happy thoughts.  It really does help.  If you are going to be in hospital for a week or so where you will be giving blood multiple times a day, ask them if you need a PICC line because it will save you tons of needless sticks.
Try to make the doctors from different specialties talk to each other which is difficult at times.  You will usually have specialists from multiple disciplines working on your case and multiple doctors from each practice on your case.  The better they communicate not only the better treatment you will receive but the faster you will get out or sometimes the opposite.  The hardest part is to have all the specialists agree on your discharge, I am living that problem now because one medical group is not communicating to the rest.  When you are discharged it literally is a matter of life and death and during my first long hospital stay I had an overzealous lung doctor discharge me too soon.   Even though this doctor was not treating my most serious ailment which was a cardiology problem because the first cardiologist I had literally died during my stay there was no one in his practice to picked up my case properly.  I ended up in hospital a little over a week later where I finally had a cardiologist champion my case and did literally save my life.
This brings me onto the next thing.  Whatever your most serious illness is try to find a champion for your cause in that specialty.  I literally received life saving treatment because my cardiologist fought the other specialists including some in his group.  If you have any choice at all pick a doctor that will fight for your case.
Get in tight with the dietary people especially in extended stays they will be your savior.  Never take the first thing they offer you.  Have them run down a list of the options because many times you could find yourself nauseous and even this big dog was anorexic (nutritionally speaking) because I just refused to eat the food they gave me because I did not know they had many alternatives.  Even if they run through their list and there is not something you like they are unintentionally holding out on you mostly due to habit so probe them to see if they have more things to your liking.
Ask for fresh fruit for every meal, cold serials, bagels, OJ for breakfast.  Lunch is usually the worst meal of the day so for the most part I would recommend the different sandwiches they usually provide, yogurt, bread, raw veggies, salads etc.  Just try to survive through dinner and try to down their hot meal because it might be the only one you get all day.
Now at least in this hospital the cafeteria food is not that bad.  Hell this cafeteria has Chik Fillet brought in especially.  Regardless of what the doctors say a little cheating will not kill you.  If you want a bagel, some better fruit, a better salad and even a couple chicken nuggets it will help you recover faster.  Moderation is the key in this case.  Very small portions of something you actually like goes a long way into making you feel better.
It's not a bad thing necessarily but don't expect the foods you once liked to taste the same.  I guaranty you one of your favorite foods will taste too salty, too greasy or too sweet for quite a while.   When I got out of hospital the first time I had an extended stay I just wanted a bite of my favorite pizza when I got out and it just tasted like it was encrusted with salt.  It may sound like I'm obsessing about food but it is so important for your recovery and state of mind.
Try to keep you mind occupied with a book, music, computer, Sudoku, crosswords, whatever you enjoy.  The TV stations you get usually suck.  Hell I get CNN and Faux News here with no freakin' MSNBC or ESPN for that matter.
If you are in for an extended stay pace yourself meaning you are going to be stuck their so make the best of it.  The first time I stayed in hospital for an extended period of time I went completely batshit crazy.  I was literally crawling out of my skin and even stopped eating.  All this did was make me more miserable and heal slower.  Thank the gods for Xanax.
During you discharge get a clear list of what you can and cannot do so you don't end up back in hospital.
NEVER TURN DOWN PAIN MEDS OR SLEEP MEDS.  Your body is going through some deep shit in a hospital and once the pain gets in front of you instead preempting it the lousier you will feel unnecessarily and it will just take that much longer to be pain neutral.  Back in the old days you had to almost beg for pain meds but some positive things have really changed since I had been treated for cancer almost 15 years ago now.  Hospitals, doctors and nurses are much more cognizant of your pain and how it delays recovery.  It finally got through our healthcare system's thick skull that how a patient feels goes a long way toward a faster recovery.
If you are lucky enough keep your significant other or friends closer.  Being sick sucks and you are going to feel the blues especially if you are in hospital a while.  Talk to people you trust about how you feel, especially if you are feeling mortal for the very first time because you are facing a scary procedure or are fighting a serious illness.  But try what you can not to feel sorry for yourself.  Someone always has it worse than you.  One reason I fought cancer successfully was because of the stories I heard about a little girl I never knew.  See she was a pre-teen.  I'm not even sure how old she was anymore and she went through all the barbaric staging procedures and treatments I did.  So a little voice in my head every time I felt sorry about myself or just felt rotten went back to what that little girl must have been feeling.  I have to admit the one question I never asked myself was, why me?  Because I asked why her?
Be mindful of what your main caregiver is going through whether it's a spouse, partner, family member or friend.  I know in my case my wife has gone through as much if not more than me psychologically.  Hell she found out I had cancer just a few months after her mother died of cancer.  Caregivers can feel helpless because there is little they can do to fight the worst parts of your treatment or pain.  Caregivers can be overwrought by not only dealing with their emotional attachment to you but also taking on all the stresses that comes from maintaining the home front in many cases with less time, less money and even dealing with cumbersome family members of the patient.
My wife refused to leave my bedside the first time I had an extended stay in hospital.  Your caregiver needs a break so make them go home for their own good.
Listen to your doctors but only if you are comfortable with the treatment they are offering.  Again I cannot emphasize enough how it's your health on the line not theirs.
Moderation is another key when it comes to diet and exercise.  Now some things you might have to just give up like smoking, alcohol or in my case work but unless you have certain types of diabetes or there is a specific adverse reaction you have like a food allergy or drug interaction with food you can still have what you like in MODERATION.   What you do in moderation cannot kill you.
Staying in hospital obviously sucks and is not easy but I hope this guide makes it easier for you because I know it has made my subsequent stays more tolerable.