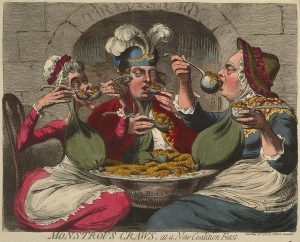 It would seem that while railing about "Socialism", "Marxism", or just plain old "Obamanism", some of our hypocritical Senators and Representatives have themselves been feeding from the trough of national welfare.  Blanche Lincoln D(AR), Max Baucas D(MT), Chuck Grassely R(IA) and wouldn't you just know it, Michelle Bachman R(MN) have all been collecting farming subsidies for their family farms.  And while Stephanie Sandlin R(SD) did not collect for herself, her father, Les Herseth collected $844,725 from 1995 to 2006.  It seems they have a "fierce belief in God, the free market and a two-year limit on all welfare benefits—unless it's welfare to rich Republicans who don't need it"
Michelle Bachman has, through her family farm, collected over $250,000.  Chuck Grassley has seen his family collect $1 million in federal handouts over an 11-year period, with Grassley's son receiving $699,248 and the senator himself pocketing $238,974.  Even Grassley's grandson snagged $5,964 in 2005 and $2,363 in 2006.  Max Baucas has collected $250,000.  Sam Brownback has collected $500,000  over the past 11 years.  Blanche Lincoln D(AR) and her family have collected over $750,000 and she admitted to pocketing $10,000 for petty cash in 2007.
So, while all of these people would deny basic human rights such as a decent health care plan for "the regular" American, they have been dipping in to the welfare trough to line theirs and their family's pockets.  You will remember Bachman and Brownback were participants in Tony Perkins and The Family Council prayerfest to stop the healthcare bill from passing this week.
I believe that the God they are praying to will have a nice surprise for them someday, but it will not be exactly what they hope they will get.  I wonder if God has sent them an email yet?  Adlib?
You can read the full story here:
http://www.truthdig.com/report/item/michelle_bachman_welfare_queen_20091221/