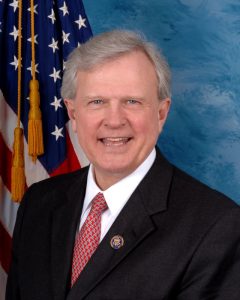 Blue Dog Democrat Parker Griffith, M.D. of Alabama's 5th congressional district plans to announce that he will leave the Democrats to become a Republican on Tuesday according to a congressional aide. The announcement will be made later today during a press conference.
His name no longer appears on the Democratic Congressional Campaign Committee website.
The first term Congressman previously served in the Alabama Senate. He represented the 7th District from 2006 to 2008. In the 2008 election the medical doctor and Alabama state senator won his Congressional Seal with 51% of the vote. He succeeded Congressman Robert Cramer (D) who announced in 2008 he would not seek a tenth term in the House.
In November Congressman Parker voted against the Affordable Health Care for America Act.
Currently the Democrats control the House 258-177 but will now be 257-178. It is common to see the House change hands in the first election following a new president in the White House. Parker's defection may be in anticipation of the 2010 midterm election.
***Update (1:15pm CST 12-22-2009)***
Talking Points Memo has announced that there is "[c]onservative [b]acklash [a]gainst Griffith['s] [p]arty [s]witch."
Two prominent names in the conservative movement — Erick Erickson at RedState and The Club For Growth — have promised Griffith will have a tough time convincing Republicans to vote for him, despite the fact that he's now one of their own. Griffith, a self-professed Blue Dog Democrat, has been far to the right of House Democrats this year, even promising to vote against another term as Speaker for Nancy Pelosi.

But those stances aren't enough for Erickson and the Club, both of which say the GOP primary will be a tough one for the Democrat-turned-Republican.

From Erickson's post:

Being a Republican should be about more than just the letter next to a person's name. We can improve that seat.
Here are Griffith's earmark requests. He voted for Pelosi for Speaker. He's actually been more regularly with Pelosi than Jim Marshall (D-GA). We can pick this guy off and get a real Republican in that seat.

Again, changing the letter next to your name does not magically make you one of us.

At the Club For Growth's website, Andrew Roth breaks down the conservative group's take on the Griffith switch. Though, like Erickson, the conservative group sees the switch as bad news for President Obama, the Club says Griffith doesn't make the conservative grade:

Alabama is a run-off state, so Griffith will have to go head-to-head against a seasoned Republican if he wants to stay in office (assuming he doesn't get 50% of the vote right off the bat).
Story continued at Talking Points Memo.
***Update (1:33pm CST 12-22-2009)***
According to Think Progress, ABC News Senior White House Correspondent Jake Tapper just tweeted about the removal of a National Republican Congressional Committee video that called him a "shameful" doctor for "warehousing cancer patients" to "make more profits."
***Update (1:44pm CST 12-22-2009)***
MSNBC's First Read reports the following:
[…]

Democrats say they aren't surprised by Griffith's switch, particularly given that opposition to Pelosi.

"He went off the reservation a long time ago," a Democratic aide tells First Read, adding, "This just confirms what we already knew for a long time. This is not based on his voting record. It's the way in which he's conducted himself."

The aide also said that Griffith hadn't told leadership or his staff before the news broke.

"He apparently gave it to Politico before he told his own staff," the aide said.

[…]
Read the full story here.
***Update (1:51pm CST 12-22-2009)***
From Politico:
Exclusive: Rep. Parker Griffith switches to GOP

POLITICO has learned that Rep. Parker Griffith, a freshman Democrat from Alabama, will announce today that he's switching parties to become aRepublican.

According to two senior GOP aides familiar with the decision, the announcement will take place this afternoon in Griffith's district in northern Alabama.

Griffith's party switch comes on the eve of a pivotal congressional health care vote and will send a jolt through a Democratic House Caucus that has already been unnerved by the recent retirements of a handful of members who, like Griffith, hail from districts that offer prime pickup opportunities for the GOP in 2010.

The switch represents a coup for the House Republican leadership, which had been courting Griffith since he publicly criticized the Democratic leadership in the wake of raucous town halls during the summer.

In the immediate aftermath of Parker's switch, his entire consulting team quit, according to a well-placed source. And Democrats immediately began floating two names as potential Griffith challengers: former state Auditor Susan Parker who lost a bid for U.S. Senate in 2002 andDeborah Bell Paseur who ran and lost for a state Supreme Court opening last November.

[…]
…continued at Politico.
Note: the Politico article has been updated since this posting.
***Update (2:12pm CST 12-22-2009)***
From Talking Points Memo:
Flashback: GOP Accused Griffith Of Abusing Cancer Patients, Cheering For Radical Islam

The Republican Party is taking a great moral leap in welcoming Rep. Parker Griffith to the caucus — accepting someone who they believe deliberately gave poor care to cancer patients in order to make money off of them, and who hates America and sympathizes with radical Muslims on top of that. At least, that's what their ads against him in 2008 said!

[…]

[…]
Full story at Talking Points Memo.
***Update (2:51pm CST 12-22-2009)***
From the Washington Post's The Fix:
[…]

"Democrats of every stripe and philosophy sweated and bled for this man," said Alabama Democratic Party Chairman Joe Turnham of Griffith. "He narrowly became a Congressman through the hard work, votes and financial contributions of thousands of Democrats. Today, they feel betrayed."

DCCC Chairman Chris Van Hollen (Md.) took it a step further, citing Griffith's "duty and responsibility" to return all contributions made to him by Democratic Members of Congress.

Griffith had voiced his frustration with party leaders several times and had made clear he wouldn't back House Speaker Nancy Pelosi (Calif.). "I would not vote for her," Griffith told a constituent at a town hall meeting in August. "Someone that divisive and that polarizing cannot bring us together."

But, he had voted with the Democratic majority 84.5 percent of time, according to the Washington Post votes database. Parker did, however, vote against President Obama's health care proposal.

[…]
Read the rest of Chris Cillizza's article here.
***Update (3:12pm CST 12-22-2009)***
From MSNBC:
House Democrat announces switch to GOP

Alabama Rep. Parker Griffith opposed Democrats' health care, stimulus bills

A Democratic House member who has opposed several of President Barack Obama's top domestic agenda items is switching to the Republican Party.

Rep. Parker Griffith of Alabama, who hails from a heavily conservative congressional district, announced Tuesday that he will join the GOP.

"I have become increasingly concerned that the bills and policies pushed by the current Democratic leadership are not good for north Alabama or our nation," he said during a press conference to announce the switch.  "More importantly, they do not represent my values and convictions."

After being narrowly elected in 2008, Griffith voted against the Obama-backed economic stimulus package in February, and he opposed the House version of health care reform legislation.

He was one of only four Democrats who voted against each of three of Obama's top legislative priorities in 2009: health reform, the stimulus, and cap-and-trade energy legislation.

"I can no longer align myself with a party that continues to pursue legislation that is bad for our country, hurts our economy, and drives us further and futher into debt," Griffith said.

Before Parker's defection, Democrats held a 258-177 majority in the House. Griffith's move would reduce that advantage by one seat.

The lawmaker's intention to switch parties was first reported by POLITICO.

Earlier this year, Griffith announced that he would vote for the challenger, whomever that may be, against Nancy Pelosi, D-Calif., in her re-election bid for House Speaker in the next Congress if Democrats maintain their majority.

National Republican Conference Committee Chairman Pete Sessions, R-Texas, praised Griffith in a statement, saying that the Alabama lawmaker's decision is "emblematic" of Americans' uneasiness with the Democratic Party's agenda.

Democrats said Tuesday that they are not surprised by the switch, given Griffith's opposition to his now-former party's legislative priorities.

"He went off the reservation a long time ago," a Democratic aide told NBC News. "This just confirms what we already knew for a long time. This is not based on [Griffith's] voting record. It's the way in which he's conducted himself."

The Democratic Congressional Campaign Committee, the political arm of House Democrats, spent more than $1.2 million on Griffith's run in 2008, for his first term in office.

Despite his voting against major Democratic initiatives, the Democratic aide said Griffith will likely have to face a tough GOP primary because of other instances in which he voted in line with Democrats — particularly to approve the Troubled Asset Relief Program and several spending bills.