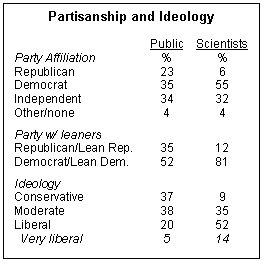 When a poll came out that said only 6% of scientists were Republicans I was very proud of my scientific community but I was not surprised with the findings for one attosecond.  Republicans despise science and do everything they can to manipulate science to fit their ideology.
One of the greatest failures of the Bush administrations was it's disdain for proper science. Time after time Bush put ideology over good scientific inquiry and results to develop wrongheaded policies. From restricting states rights to enforce their own air quality and emission standards to never really accepting climate change the Bush administration acted like the three monkeys , see no evil, hear no evil and speak no evil when it came to scientific understanding. Scientific results should drive pubic policy. Public policy should not influence scientific results. In no small way Bush set back science at least a decade and worse set a mindset where fewer people accept scientific theories like evolution and climate change than they did a just a little while ago.
Of course because Bush never valued science he never funded worthwhile scientific research or education for that matter. Any government official will tell you, ask me where you put your funding and I will tell you what you really value. We all know Bush talked allot about how he valued education but he never properly funded his own pet education project. The truth is Laura Bush valued education and Bush's education legislation was something he did to just placate her.
The heart of anti-science movements are always rooted in people putting their religious beliefs before science. Limiting funding for stem cell research is just one way beliefs have hindered scientific progress for the betterment of our species. A favorite graphic that I came across the web is a visual depiction of how overly conservative religious thought during the Dark Ages hindered scientific progress. The results expressed in the image are probably not totally accurate but I think it does make a good point. During the Bush years I think we have had a mini-Dark Age where scientific understanding has been hindered at the very least.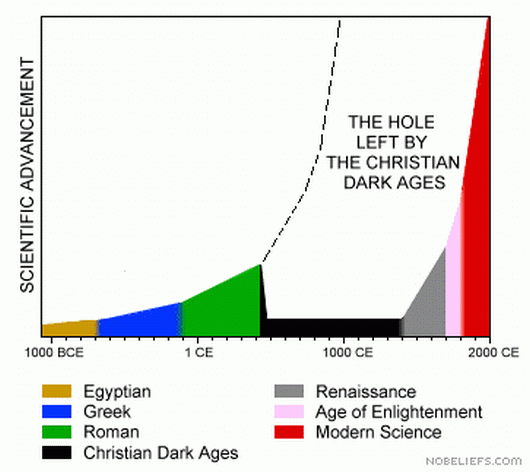 Moving towards a science based society not only has huge technological implications but also social implications. It's not a coincidence that the Age of Enlightenment's secular humanism rekindled the Scientific Age. The more society embraced science in the past the more open it was to concurrent social change. In effect human secularism and scientific discovery are synergistic components where the product is far greater than the sum of the two factors. The drastic slope in the previous graph shows how scientific and social improvements accelerate overall progress exponentially. There is a relatively simple reason for this. Logical arguments ultimately lead people to more progressive positions. For example if you discard the religious arguments and just use basic logic policies like DADT and the DOMA make no logical sense. There are few logical arguments why openly gay people cannot serve in our military. Forcing gay service people out of the military is downright illogical because many of the service members outcast in the past provided highly skilled services the military needs like Arabic languages interpreters. I am positive DADT will be repealed before long.
The Obama administration has already changed the way this country is governed regarding incorporating proper science into policy making.  From lifting the ban on stem cell research, hugely expanding investments in green energies, pushing for a real energy and climate change policy, setting real emission and fuel mileage standards for automobiles, embracing science based informatics to improving the educational system, properly funding the NIH to actually cure disease not just have us live with them, funding a new energy grid, funding rural broadband, funding high speed rail projects, funding electronic medical records keeping, letting states freely legislate and practice their own medial marijuana policies etc. etc.  

In terms of advancing science and putting the money needed into those scientific investments I cannot be more pleased with what the president is doing. He has greatly exceeded even my high expectations. I would love to hear your thoughts on the sciences and what progress you would like to see being made. I will probably do periodic scientific articles related to one of my real life passions.