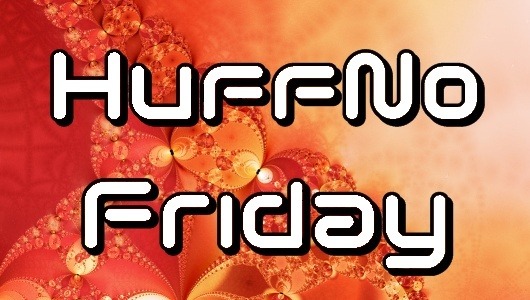 Arrianics!   Today is Thursday!   (I know because my wife kicked me out of bed to drag the trash to the kerb)
Tomorrow is HuffNo Friday.    It is our hope here that you will refrain from visiting Huff tomorrow.   Unless perhaps it is to urge others to come here.   But the idea is to cause a perceptible drop in page clicks.    This exercise was run for several weeks running many months ago, and was quite effective in impacting their numbers.
So we are asking you to spend some time at Huff today promoting HuffNo Friday.   Go to all the posters with whom you have a relationship, and just ask them to visit the planet today.
Be aware that you can get burned.    Huff could ban you, if they get wind of you promoting a protest.   Trust me, I know.
But the goal is to cause Huff some economic pain.    Nothing but money matters to them, so let's make a point of denying them traffic on Fridays.    Let's make the planet the destination of hundreds of Arrianiacs on Fridays especially.
AdLib adds:
UPDATE:
I have set up a WordPress site to refer people here and you CAN post that link at HuffPo (email me immediately if you think that link has become blacklisted too and I'll set up another one).
That WordPress site simply tells people to click on the link that's there so they can come here (you can click below to check it out). So, use this address as a link at HuffPo:
http://planetpov.wordpress.com/
You said it, Kev! Let me add a few suggestions.
As you say, best to create an extra account at HuffPo to use for inviting folks here for HuffNo Friday, very quick and easy to do and who cares if HuffPo bans it.
I do suggest being tactful about inviting people so as to make it less likely that Moderators give it too much attention. BTW, don't worry about trolls reading your posts and coming here, there's a zero tolerance here for hateful troll behavior and the site is set up so they can be shut down and out quickly.
To be clear, all points of view are welcome here, Progressive, conservative, Dem, Repub, Blue Dog, Independents, etc., as long as they join in as a good citizen of The Planet with respect for all other members.
Lastly, HuffPo has added the link to PlanetPov to their "no-no" list of words (heh, we're up there with "9/11?, "gay" and "Ted Kennedy") so an easy way to provide a link to here is to put a space between "planet" and "pov" like this: "http://planet pov.com" and mention that they should remove the space or just tell them to google "Planetpov".
Should be a bit of fun here on Friday Night!
(Edited in order that AdLib's addition does not slip to the bottom of the page.)