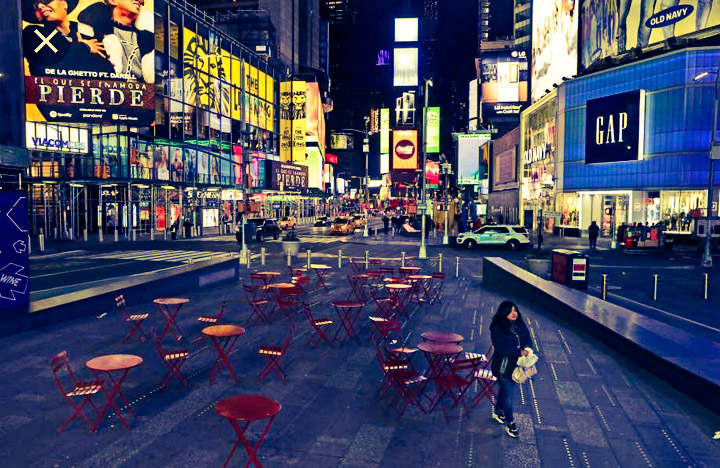 Two Enemies, Can We Beat Them Both?
Yesterday we talked about how, if Trump is going to such tremendous lengths to "own" the Response, then what would he not do to own the cure, when it comes. The "cure" may be a much bigger pot than you know. There are reasons to believe that this epidemic will persist, and stay aggressive, for a long time, possibly a very long time.
Keeping that in mind, consider this:
There never was a "curve." We have seen a million pictures and descriptions of this symmetrical function, a bell curve, that resolves back to zero over time, regularly and predictably, with exactly matching slopes. But, this is a "novel" virus, so he can't be drawing on data from previous pandemics. This virus has never caused one before. And isn't the Fauci Curve actually saying that the infection rate, and the cure rate, are exactly the same when there appears to be no correlation? And we are led to believe that the time from start to peak is exactly the same as from peak to finish. How could anyone make such a rookie mistake as to assume that this ridiculously oversimplified graphic (function) can be depended on to predict the spread, and especially the decline, of many, many epidemics cross-pollinating in such a myriad way across the planet. This kind of scientific graphic is supposed to be based on volumes of data. BUT NO SUCH DATA COULD HAVE EXISTED! It doesn't exist now. This is a radically new challenge that we are only just beginning to understand even now.
There is a chance that the human race may be destroyed, and it will be because of an inconceivable act of global stupidity. When Medicine married Politics, we may have doomed ourselves, and the future of the human race.
A cure may not be imminent at all, but quite the opposite may be much more likely. We have known from the beginning that coronaviruses evolve to resist the best efforts of our immune systems, and our best (to date) mental achievements. Initial results have not been great, but may eventually be helpful. That's a slow start, and may mean that it could be two years or more, or never, before there is a vaccine or serology testing. Remember, the influenza virus that killed millions in 1918 has never been "killed," "stomped flat," or anything else; it just stopped being so deadly, or we developed partial immunity along with our partially-protective vaccines. IT'S STILL HERE! Coronavirus could follow a similar trajectory, and come back every year, like the flu, continually and progressively weakening our immune systems. Until what? This age of man falls? Or we are reduced to barbarism? We should never have allowed politicians and religionists into medicine. We may not live to regret it.
Fauci has been involved in the politics of medicine since, "the Reagan Administration." He symbolizes that same marriage of politics and medicine that has so disastrously failed.
Fauci knew that the CURVE IS A HOAX. Trump knew because he was told. And, by the way: the word "aspire" means to set a lofty and noble goal, and make it your own goal, and often your life's work. Trump knows nothing about epidemiology and hasn't any goals or plans to go to medical school. His posturing and preening, and plagiarizing the conclusions of actual scientists, is not aspiration, but delusion and lies. Physicians, including Dr. Fauci, should stay in their field. Don't they know that there are experts in the field of communications? People who have worked their whole lives to… (ha, ha, gotcha).
As I suggested the other day, the likelihood is that new cases and deaths will hold high, with peaks and valleys as less mobile populations come online, and re-seeding causes vulnerable areas to light up again. Eventually, though, the line will start to drop regularly and steadily. Don't you understand why? It's too horrible to think about. Or October comes, and a new flu season.
Has it occurred to anyone that the first cases outside China, a hive, were the most mobile people, in cruise ships and jets; and the last groups to come online are the poorest, with the least medical care – who are the most numerous; and the least mobile.
Even if a trillion lies are told, it will still be true that Trump fired the pandemic response team two years ago. It is not relevant that some of those who were fired managed to find jobs in their field.
Democratic politicians are giving Trump all the rope he wants – to hang himself. But that is murder. Think about it! My God.
I'm sure that there are those who will say that I'm quibbling about anomalies in the data, but that is nonsense: this is the most important thing about this representation of the data, it shows infections come crashing back down, just as it exploded up. That doesn't happen to be the case.
Can we beat two enemies? Not a chance. It may take the best efforts of the human race, working together, to stop the coronaviruses (that is plural). If we're lucky. We will lose with Trump and his Contrarian Army fighting against us. We're fighting for our lives, fighting for every breath, and this inhuman excuse for a man is against us.
Trump must be relieved of duty. He is incompetent. Except at suppression of information, like the death toll, and test results. Such a thoroughly evil monster!
*** Food for thought: They're gonna make a vaccine, almost certainly within two years. Right! Spend tens or hundreds of billions? It's been 45 years since AIDS, a virus, came on the scene. Still no vaccine. So, check this out: Either it's true that sometimes it's impossible to make a vaccine, ever; or, with AIDS, they just never wanted to bother. Hey, Big Daddy Fauci! What's up with that?