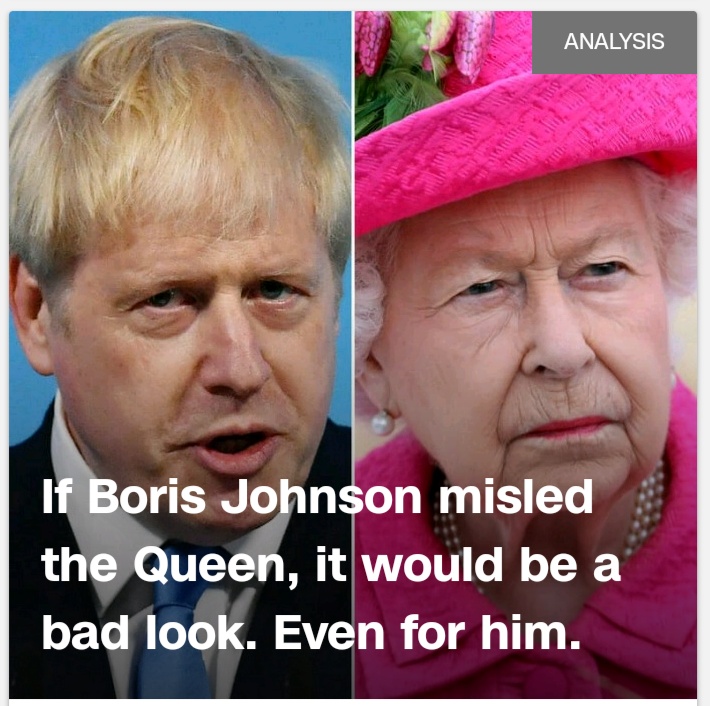 Boris Johnson would essentially close the border with the E.U. for weeks or months. He says that he is planning now, and will act then, to mitigate the effects. But, thousands of businesses will be unable to honor agreements, unable to fulfill contracts. England deserves better.
All any of them care about is that his or her "plan," divised in isolation, is the one followed. They want to be the "clever fellow" who figured it all out.
But now, they have insulted Her Majesty, and shamed Great Britain, by their open threats to allow the economy to fail, repudiating her word.
Just days before the "Report" by Parliament detailing the financial damage off "No-deal," Johnson gave the Queen a disingenuous report of his own. He did not give an honest, fair assessment. HE JUST ADMITTED IT, by saying that it is up to the Supreme Court to decide what is, and is not, a lie. He admitted that his assessment had been only talking-points,intentionally skewed.
They have insulted Her Majesty: the crude, scuffling, dullards and louts. Browbeaters, who, at the of the day, shed crocodile tears that they have been wronged.
Brexiters have their own MAGA. They want the "Five Hundred Year Myth," of England; harking back to an entirely self-sufficient England that ruled the world – which never existed.
Influence:
In Red States in the '16 elections I saw middle-aged adults abuse their own elderly mothers and fathers to unduly influence their vote. For what, power? Not really; just stinking, "influence!" In England I saw bullying, threat and vile lying elevated to objects of worship. For undue influence. Unreal influence.
Ultimately, we each have about the same power; but the wicked want influence: they want to be bigger than they are!
Anyone caught attempting to exert undue influence should be horse-whipped. These perverted loudmouths on TV should be considered the lowest scum of the Earth. "One person, one vote?" How about one person, one mouth."
They look so infinitely stupid, trying to influence votes, lifestyles and fundamental beliefs. It's stupid because it's completely futile. Nobody ever influenced another person's vote. They just think that they have. They delude themselves.
Brexit and our elections were both tainted by bullies, by influence hustlers – the same loudmouths who always poison the dialog, but never bring anything of value to the table. They were corrupted and perverted. They were frauds perpetrated by thugs.
"Corrupted and Perverted." These words run through everything that we read and think. Every mistake that we have made in two hundred years is reflected in them. Every lie told.
Brexit, Trump, and the terror we all live under, as though an iron-fisted dictator already has us by the thoats, are all parts of a malignant bloom. It could never be avoided.
We have already lost our souls, our honour, and many of our cherished traditions. What will be the true cost?