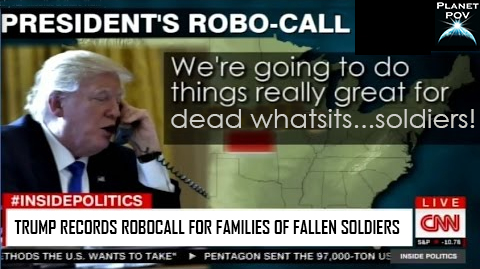 Responding to the outrage at his ignoring the soldiers killed in Niger and their grieving families for a week and a half and his unsympathetic call following that, Donald Trump announced his solution to this issue.
Trump has ordered his Communications Director, Hope Hicks, to set up a robocall system that will automatically dial the families of soldiers who have been killed within hours of the confirmation of their deaths.
"I have a lot of love for our military and their families," Trump explained. "No president has ever cared more about them than me. All I can say is that families should count their lucky stars that their loved ones died in the military while I was president. So what I'm gonna do, to make sure that every family gets a caring, compassionate call from me when a soldier dies, is set up a robocall system that calls them up and lets them know how much I really care about their loss."
Hicks released the script that Trump has already recorded for the robocalls:
TRUMP: Hello, this is President Donald Trump, president of the United States and the Virgin Islands I'm told. I'm calling because even though they knew what they signed up for, your son, daughter, husband, wife, father, mother, boyfriend or girlfriend was killed while serving in our military. I'm personally very upset about this. It's really, really, really sad. Really sad. Sorry about that. Oh well. What ya gonna do?

At least, I hope some of your sadness will go away because I robocalled you with my sincere  feelings about the death of whatever your son's, daughter's, husband's, wife's or etcetera's name was. If so, it would be nice if you'd post on Facebook or Twitter or tell anyone in the media how great I've been about this. Also, there will be a survey after this call is over, I'd really appreciate your staying on the line and giving me a ten out of ten.

After all, making this robocall to you is one of the most difficult things I have to do as president. No one appreciates how hard this is on me, no one suffers as much as I do in a situation like this. I mean, at least your relative or whatever died but I don't even know who they are and I'm having to be put through this. And you're not the first or the last robocall like this I have to make, you're one of many calls so it's over for you when I hang up but then I have to robocall someone else and if I don't make sure that happens, of course I'll be unfairly attacked again by the Fake News. And who's gonna call me to comfort me? You? I don't think so.

Sometimes it makes me so mad I just want to take health insurance away from millions of people. Or nuke North Korea. But John Kelly would get mad at me. He can be such a dick sometimes, you know? Anyway, you have a good time! Buh-bye!"
Trump boasted that with his new robocall system, he will be the most caring and responsive president in American history when it comes to consoling Gold Star families. "This system will be just beautiful. Everyone who has a family member killed, gets a call automatically from the president. It's so great, I think more families will feel better about their kid getting killed, maybe even look forward to it knowing they're guaranteed a call from me, the Comforter in Chief," Trump beamed.