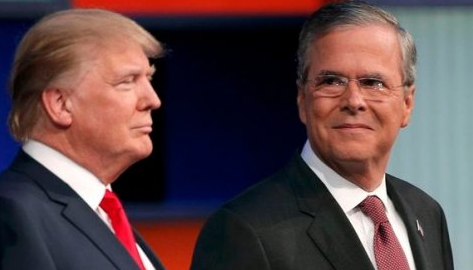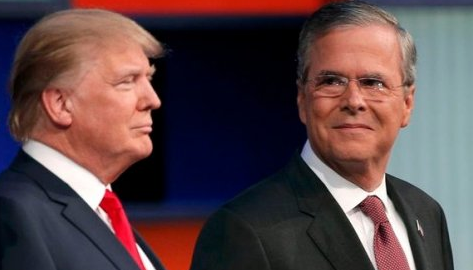 In the debut of his new show, The Late Show with Stephen Colbert, Colbert used the allegory of not being able to refuse himself eating one after another Oreo cookie to the addiction of the media to covering one after another story about Donald Trump. It was an apt metaphor but one that may not go far enough. At this point in time, Donald Trump seems to be more like a political heroin addiction for both the media and his followers.
They need frequent "hits" of Trump, mainstreamed intravenously right into their bloodstreams. The rush and euphoria they feel when finally hearing the latest insult and egotistical bravado is something they crave.
Though there have been many in the GOP Elite and MSM who keep claiming that Trump is just a passing phenomena that will burn out soon, perhaps the more relevant question isn't about Trump but about the MSM and Trump supporters, are they too hooked on him now to be able to give him up?
It is hard to imagine these Trump junkies going cold turkey after the GOP primary and instead getting a rush from scoring some "low energy" Jeb!.
Polls this early are not reliable but it is interesting that right now, Jeb! is polling in the single digits, closer to the bottom of the pack than the top of it.
Jeb Bush has proven to be a poor and incompetent candidate, he has been indecisive (took many days and various positions before being able to answer a question about whether invading Iraq was a good idea), is a boring speaker, spineless, racist and is a clumsy and obvious panderer to Latinos and others.
Can Jeb Bush or any other Republican candidate be the political methadone to replace the heroin-like addiction GOP voters have for Trump?
It is possible that Trump will indeed be the best campaign tool for a Democratic victory in 2016. If he does win the GOP Primary, his schtick will have become so tired and predictable after a year that it will hardly be effective outside of his core supporters. If Trump loses, whoever becomes the GOP nominee will pale in comparison to Trump's outsized image and how intensely he excites the Republican base. And with Trump pulling most of the candidates over to the anti-Latino, anti-woman, pro-Iran war side, whoever ultimately wins their nomination will be unpalatable to the majority of Americans.
As it stands now, Donald Trump couldn't have been designed as a better Frankenstein by the GOP. He is a monster that their hateful and intolerant rhetoric has sewn together, their anti-government hysteria and paranoia has electrified and they have finally been forced to admit, "It's alive!" He can't be stopped by ordinary means because his "heart" was transplanted from the heart of the GOP, to stop his heart would mean stopping the heart of the GOP.
It is an open question whether the GOP Elite can once again rig the primaries to force their candidate on their core voters without alienating them. Tea Partiers have had to swallow the candidacies of establishment choices, John McCain and Mitt Romney, having to be content in hating that a black man would be President to turn out the vote instead of having a candidate they really wanted. Will they roll over again, content to hate a Clinton as the motivation for turning out to vote for a Jeb! or Kasich! or Rubio? If they don't get "their" candidate this time, Trump or Cruz, will they be discouraged and not vote in protest?
At this point, one can hardly believe a hard core Trump supporter will become a hard core Jeb! supporter next year. After seeing their candidate buried by the Koch brothers and establishment money, will Trump supporters really be enthusiastic about supporting their candidate's "enemy" and the enemy of their anti-government views? Or, if Trump won the nomination, would establishment Republicans really jump onto his racist and anti-woman bandwagon?
Poor Republicans, they should have heeded the famous words of their favorite president's wife about drugs when Trump first announced his candidacy for President, "Just say no!"