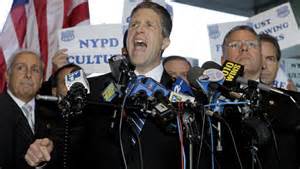 The racism of some police, police unions and Republicans has never been more virulent and disgusting.
This past week, a desperate gang member who had just killed his girlfriend and was on a self-destructive spiral towards death, tried to build a facade of righteousness and meaning by assassinating two unsuspecting and innocent policemen who were just sitting in their car.
This deranged murderer claimed on social media that it was retribution for the recent killings of black men by police. That BS is easily disproved by asking the simple question, "Then why did you kill your girlfriend just before this assassination? Was she a cop? I didn't think so!"
Instead of seeing this psychotic murderer for exactly what he was, some NYPD officers, their police union and prominent Republicans are exploiting this tragedy to validate the righteousness of their racism and renewing it against black people and those protesting the against the unwarranted attacks on them by police.
These unprincipled racists blame President Obama, New York Mayor Bill De Blasio and those who have protested against police brutality and killings of unarmed black men and children, blaming them for the heinous acts of one deranged, violent gang member.
Would these same haters blame all white people for the acts of Timothy McVeigh or the Columbine killers, let alone the white cop-hating couple in Nevada that earlier this year identically ambushed and assassinated innocent policemen who were simply eating their lunch at a diner? Were all white people group-blamed by police for the actions of these murderous lunatics? Were white politicians who previously railed against police brutality or the White Power groups defending Cliven Bundy and aiming rifles at and demonizing law enforcement blamed for inciting that killing (that cop-killing couple had even been part of the Cliven Bundy militia crowd)?
The racist double standard exhibited by some police, their unions and some Republicans is appalling to witness. It can be summarized as this, "When white people murder cops or innocent people, they are crazed loners. When black people murder cops or innocent people, all black people and all who stand up against racist treatment of them have blood on their hands."
The very people who supported bad cops killing an unarmed innocent man in New York and an innocent black child and a young black man in Ohio, each for innocently holding air guns, were apoplectic about claiming that entire police forces can't be blamed for the actions of one "mistaken" cop. But when it comes to black people, a murder by any black person, no matter how deranged he was as an individual, is a murder by all black people and their supporters.
Let's be crystal clear about who created the environment this is all happening in. White politicians, white District Attorneys and prosecutors and  white policemen. The nation's predominantly white police forces have become militarized, overly aggressive, isolated from their communities and are killing citizens in record numbers ("The number of felony suspects fatally shot by police last year — 461— was the most in two decades, according to a new FBI report." – USA Today ). District attorneys\prosecutors have been manipulating the justice system to prevent cops who wrongly murder from being held responsible for their actions and the demonization of black people and black communities (as we have seen in Ferguson) is cynically used to justify past and future murders and violence against innocent black people.
Then comes an incident of a lunatic who happens to be black, horribly murdering innocent police officers and that wipes clean the slate of responsibility for white racist abuse and killings of innocent black people that has gone on for decades…in fact, in the minds of these hateful people, it justifies it.
We should be mindful of not playing by the rules of these racists, though they are cops, union spokespeople and Republicans, it would be hypocritical to blame all cops and all Republicans for the actions of others. On the other hand, when they stay silent and don't condemn the heinous actions of those who are their fellow officers and fellow Republicans, they do become complicit in the continuance of such racist acts.
To display that this is not a double standard, the families of victims of police murders and black community activists came out immediately to condemn this cop-killer. They made clear that unlike some cops and Republicans, they don't defend the heinous acts of an individual because they belong to the same race or group. Police and Republicans stand alone in defending the violence of individuals against innocent people simply because they belong to the same group and if they have any hope of regaining any moral authority, they need to rediscover the principles of personal responsibility, honesty and justice.
Social conflicts are never resolved through hatred and violence, they are only exacerbated. Resolutions come from peaceful protests, legislative action and moral leadership.
The more hatred these racists whip up, the more they should be shunned and isolated. Politicians and police who support all citizens should be acknowledged and supported and those who attack a segment of their society because of their skin color and political views should be removed from positions of power through our social and political systems.
The focus right now of those with a conscience, both police and citizenry, should be to prevent further injustices and bring together people and their police forces. Equality and justice for all should be the primary goal.
Any who espouse hatred and division at this point, whether police, politicians or citizens, those who seek to enshrine a social civil war in pursuit of self-righteousness and justifying their partisanship and racism, should be seen as they really are, as adversaries of the majority of Americans and core American values, especially those of equality and justice.