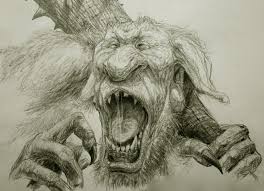 "Familiarity breeds contempt." Well, maybe not in every case, but in the case of trolls – – can we estimate > 99.999% of the time?
These online termites have been around as long as the internet has, but have you noticed that they seldom adapt and evolve as time passes?
They're still using some of the shady debating techniques that probably annoyed Plato to the "pull-out-my-own beard" point. After all, resisting change is the hallmark of their minds. So, let's take a look at the Obama-era approaches that they're using. After all — to know them is not necessarily to love them. But knowing them can definitely help us all to save a bunch of time that we can spend doing more fun things.
For starters — who has not read or heard the threadbare troll claim: "I voted for Obama. Twice! But now I'm sadly disillusioned. I've learned that he's no different than the rest of 'them'"?  Then follows the list of bitter complaints against the President — followed by the pitch for the Libertarian or far right GOP  chump (or position) they're pushing. Do these folks seriously believe we're buying that? No wonder they're so easily won over by the climate change deniers. They'll believe literally anything.
Then we have their standard debating "techniques" — which haven't changed since Karl Rove had hair (and yet still deeply resented John Kerry's success with girls).
Let's take them, one by one:
1.  The Strawman. In my experience, it's their all-time favorite. Since they don't actually want to have a debate with you, they'll create a false "you" (strawman) and debate with it. (Kind of like their approach to dating. Partners may or may not be real.) You'll find yourself being "quoted" by them as having said all sorts of stuff that you never did — or would, even under the influence of the most powerful drugs. Make sure you don't get sucked into defending comments that were never yours in the first place — but rather came from some inflatable doppelganger they've created!
2. Tu quoque. This translates from Latin as "you too!" "You Dems do it, too!" If you happen to take note of the fact that Dubya bombed the wrong country and crashed our whole economy, they'll counter that Obama smoked weed in high school. So there. Even. I also think of this as the "two wrongs make a right" argument. And for them, there is no such thing as a scale of "wrongness." Driving two miles per hour over the speed limit equals serial ax murdering. Period. (Depending which side of that lop-sided equation their guy is on.) Gray areas are not their strong suit. It's all black and white. Or, in their case, it's all white.
3. Ad hominem. Here we go again with the Latin. This time it means "to the person." Meaning, if they can't rebut the argument, they attack the person who made it. This is where things can get really ugly. Trolls will imply (or straight up say) that you are crazy, stupid, depraved….Preferably all of the above. And thus your argument is invalid. This is usually a last refuge when they really are out of ammo. The other goal of this technique is to make you lose your temper and say something foolish — or better yet, threatening! That just makes their day. Do not play along.
4.Personal incredulity. Because they can't or won't understand the argument, it's invalid. "I refuse to believe that!" "What you've said is incomprehensible!" Don't get tricked into doing their googling for them. They're already lazy enough.
5.False choice dilemma. Again — the black and white thing. (They do seem fixated on that, don't they?) They try to force a choice between two diametrically opposed alternatives — ignoring any middle ground between them. E.g.,The President either has to go into full-on war mode in Iraq, committing tens of thousands of ground troops again, or he has to stay out entirely. The middle ground of advisers and air support is just not on for them. This applies to all sorts of other issues as well.
6. Middle Ground. This is the flip side of the False Choice, in which the claim is made that the middle is ALWAYS the correct place to be. For example, since getting rid of the SNAP program for food stamps would be bad, and the GOP doesn't like the current level of the SNAP program, cutting the program in half would be the right choice. In the Bible, Solomon proposed the middle ground when he announced he would split that disputed baby right down the middle. But he was kidding. They're not.
7. Circular argument. We've all seen this one. In computer parlance, it's the "endless loop." Or it's the practice of repeating a lie often enough and hoping it will eventually register as truth. This one is a real energy saver for them because they don't even have to bother listening to what you say. (During those breaks, they can just stick their fingers in their ears and hum "Dixie" to themselves.) Then as soon as you stop, they can repeat the thing they just said, ad nauseum. Rinse and repeat.
I know I've only scratched the surface here. I'm sure we all can come up with lots more examples.
But the thing we really need to remember is that trolls are never interested in dialogue. At heart, they're saboteurs. As we all know, that term comes from the old practice that rebellious Frenchmen had of tossing their "sabots" (wooden shoes) into the gears of machinery to grind it to a halt. The only difference in the internet era is that trolls — lacking wooden shoes — have to toss their heads into the gears. Needless to say, the gears don't know the difference.