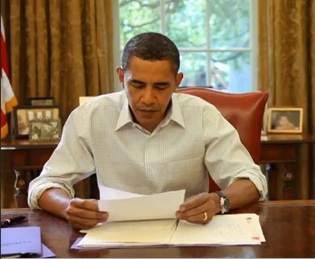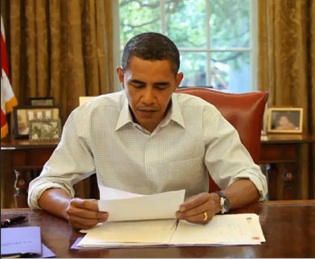 Mr. President,
How's it going? Oh, right, not so great after Tuesday. Well, you've still got your health and a valid birth certificate so there's that. And you've got two more years as President so…there's a lot of natural disasters, epidemic diseases and religiously and ethnically driven conflicts around the world to be blamed for. Sorry, that's not good either, right?
Well…could be worse. Just watch the next two years, you'll see I was right.
Now, let's talk about this Republican takeover of Congress and what you should do. First of all, when the new Senate session starts next year, I'd tell Joe Biden to sneak into Jodi Ernst's desk and take away any sharp items he finds there. And just for fun, send the FBI to The House to introduce themselves to Michael Grimm…wait, they already know each other, don't they?
All that aside, what are you going to do now that The Republicans won a wave election? I think the best thing to do is deal with it as fairly and respectfully as the Republicans did when you and Democrats won wave elections in 2008 and 2012. That is, start off saying that you have to do better with voters in getting your message out to them then become intransigent and refuse to work with the Republicans because America made it clear they want a President who's a Democrat who will be a check on Republicans and represent their values.
I know it doesn't make a lot of sense to argue that but it worked for Repubs in 2008 and 2012, don't mess with success.
So, with the election just over, first you gotta shovel out the standard bullshit, talk a lot about wanting to find compromise and ways to work with the other party on issues that are important to all Americans, blah, blah, blah. Mitch and The Boehner will be doing the same and when the cameras are off, you can all have a good laugh about it all and who was more convincing (Boehner will win that one, he can cry on command, especially when he thinks about having to deal with the Tea Party).
When we get into January though, it's all about keeping up the "Let's find ways to work together," crap while the new Republican Congress describes their version of compromise, which usually involves you on all fours with Lindsay Graham spanking you with a frat paddle. Listen to me, you don't want to go through that because they'll never let you join their frat anyway. First, you're the wrong color. Second, you're the wrong party. Third, their application only has two numerical spaces for "IQ".
It's just not going to work out, you should know this from the beginning of the first term and how sore you were from being paddled back then when trying to compromise with Republicans.
As Repubs often say about terrorists, they are now emboldened. Didn't you hear the first things they said after the election? They vowed to kill your health care law, force the Keystone Pipeline down your throat and Boehner threatened to impeach you if you try to use the same Executive Order powers that Bush and many Presidents before him used freely. You really think these guys will split the dinner check with you at Buca di Beppo? Soon as the check comes, they're gonna say they need to take a tinkle, head out the back exit and tell the manager that you're paying the whole thing.
You gotta make them pay for their own orders. They want the pipeline put through, if it happens and contaminates the water supply for many states, you don't want that showing up on your credit card statement.
And if they want to cut taxes on the wealthy without cutting loopholes so it's not revenue neutral? You don't want to get stuck with that bill.
And if they want to let corporations bring money in from overseas without paying tax as any American would, if they want bigger wars in Iraq and Syria, if they want to privatize Social Security and Medicare, if they want to destroy Dodd-Frank and the Consumer Financial Protection Bureau…don't agree to split the check.
Just ask yourself, what would your hero Lincoln do? Would he have said to The South, "Well, okay, if you're going to insist, you can keep some slaves as long as you agree to reducing student loan interest rates."
You don't compromise with wrong and this Repub Congress is all about serving the Kochs and corporations, not the majority of Americans and that's a big bowl of wrong.
The Repubs have spent your entire six years in office, trying to stop anything good from getting done in this country. Let everyone see them doing that for another two years when they have full control of Congress while you keep proposing and Executive Ordering things that are good.
It's actually a great opportunity for you to show what you're made of and what your values are…and as leader of the Democratic Party, what makes Democrats different from Republicans. If you stand up as a principled guardian of American and Progressive values against a powerful Republican Party that controls the entire Congress, you get to be the hero that America needs and you'll energize Dems and Indies to enthusiastically follow the path you're leading them on in 2016.
If you instead walk hand and hand with a McConnell in one hand and a Boehner in the other, you'll find yourself and the Democratic Party stranded in the middle of nowhere as Boehner and McConnell jump in their OldWhiteMalesmobile and drive off together laughing at what a sap you were for trusting them.
Look, the next two years are really just about one thing for the Repubs, what the last six years and most of the years before that were about, winning the next election and having all the power they can have over the country to make themselves and their billionaire buddies wealthier. They have no interest in making the lives of Americans better, just the opposite.
The Republicans who were just elected want to kill the minimum wage, kill the ACA and strip away health insurance from 10 million people, kill regulations on oil companies and banks so they can be free to pollute our environment and strip mine our economy. The list goes on and on and what they want to do would only accelerate the demise of the middle class and a diminish the standard of living for most Americans.
Bottom line Mr. President, I know you think we all want to see you be bipartisan. To a point, yeah, we do but we hate Congress the most and we want them to be bipartisan and compromise. If they don't, and I'll take a $3 bet that they won't, you can't be a sap and do 100% of the compromising (that's actually not a valid definition of compromise, it's defined as surrender).
So, you give them a shot, you try to compromise at first in a way where each side gets something important and of equal value, without giving away a vital organ or anything. And if they won't compromise or want way too much in return, I'm trying to be as diplomatic as I can about this, especially since they've begun by threatening impeachment, but there's only one thing left to do…
…fuck 'em.
Position yourself and Democrats to fight for the majority of Americans and to retake the Presidency and Senate in 2016. What's another two more years of no progress on major issues? It won't be a shock to Americans and it could only help if they want "change" again in Congress.  You can be sure if Dems win in 2016, Republicans won't compromise, they'll double down on being The Party of No.
So yeah, my advice when dealing with the Repubs if they refuse to be bipartisan and compromise is "Fuck 'em". If they try blackmailing you and the country again and shove a repeal of the ACA in a budget bill or deficit ceiling bill, tell the nation how they're trying to make you and the nation eat a crap sandwich and you won't do that. Let them have their shutdown over trying to harm Americans, maybe this time it will finally stick in the teflon brains of those who voted for Republicans on Tuesday.
You're going to have a lot of showdowns over the next two years so keep your pistols loaded, your aim sharp and hold out because as long as you do, the cavalry will come to the rescue in 2016.