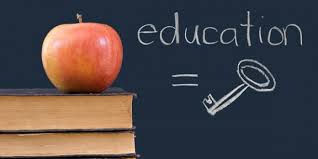 How can individuals/citizens begin the arduous task of better educating our children in our homes and schools, better educating our young people in our colleges and universities and do a better job of educating our citizens who are literally on a tread mill juggling the affairs of daily life? Most people these days are between a rock and a hard place when it comes to what used to be called doing their Civic Duty and their need to utilize what used to be free hours for extra work in order to maintain themselves and their families. What can individuals who are concerned and would like to see change begin doing during our daily routine that would have an impact upon our communities, our nation, and the world?
Education is a strange thing. It is not just putting together a few facts, learning the principles of mathematics equations or just simple math, stringing together a bit of his story and our story, something that often can't be verified or understood but just taken for granted, dabbling in the sciences etc. The job of education takes the whole of an individual that is the purveyor of that education. It takes passion, compassion, empathy, sympathy, strong will, courage, and a complete selfless desire to become a catalyst for change. It takes removing oneself from the equation while at the same time being very much present at all times. It is as much about delivery as it is about actual content. It is being willing to be challenged, to remain vulnerable to criticism without taking offense, it is admitting when you are wrong and learning to be able to utilize the aforementioned emotions to prove your case when you believe you are right.
So how do we begin this effort? How do we educate our children using the lesson plan we have been given, a lesson plan that is biased in many ways, outright dishonest in many others, without measuring the content of that lesson plan? How do we avoid the obvious differences in the life experiences of  children? How do we educate adults using a formula that has worked for one group but obviously will not work for every group? Where do we educate these adults? When do we find an opportunity to educate these adults since most claim to and do have busy schedules? How do we remain honest during the dissemination of materials? How do we remove our prejudices from the equation?
Being a purveyor of education is not for the faint of heart. Every person that wishes to become an educator has to give more than they will ever receive from the person(s) they are trying to educate. Every parent is an educator, even parents who do not share the same domicile as that of their children. Every parent is the first educator of every child that has ever been born to that parent unless that child is taken from the parent or the parent is taken from the child during birth. We generally don't think of this, or at least many people I know don't think of themselves as educators. Parents lay the foundation for what is soon to become the support the child needs to build his/her formal education upon. So with that said, wouldn't it be wise to educate the parents before during and after the formal public or private school education of their children? One of my goals in life has been to try to do this on a small scale volunteering with parents and children through the various school systems in my community, now that I am retired from actually doing this full time as a profession. My feeling is that a child is forever the child of his/her parents, no matter how old he/she gets, and that the job of a parent as educator is never done. We as parents go from educating our children to the job of helping to educate our grandchildren or at least that is in my opinion the way it should be. We should all be lifelong learners, so education is a give and take process. As we grow older and hopefully wiser, we become the educator and the student. We not only teach our children and grandchildren, we also learn from them.
Having said all of the aforementioned, I believe we begin to get some idea as to what an arduous task we have before us. How can we begin to educate each other beginning here on this site? How can we begin taking up the challenge of letting our defenses down? How can we begin letting go of some of the bad education we have received first from our parents and later through public or private school education and interaction with other individuals and groups. How can we sift through the information we have stored somewhere in the back of our brains, that information that only comes forward from time to time when we need to draw from past experience…  What if that information is incorrect? What if the information we have been utilizing, keeping safe for one occasion or another is in reality incorrect information? How do we correct information we have relied upon our entire lives? How do we learn to let go of this bad information and begin to replace it with better information? This is what we are going to have to do in order to be able to make a difference in this world. We, I believe, have to begin with ourselves.
How do we do this? We have to get to know each other; we have to begin discussing the experiences that lead us to believe the way we do. Sooner rather than later we will begin to notice when someone is operating from a knee jerk reaction utilizing some of the less than accurate education that remains somewhere in the back of their mind, maybe even in their subconscious. We will be able to confront that person with fact regarding the issue. Changing/replacing bad information with accurate scientifically proven information is the key to education. In this world, on this planet, at this time, we have a huge job before us, a challenge we must undertake if we ever intend to begin to bring change.
This is an arduous task we have before us if we plan to try to come up with solutions to the problem of so much misinformation that has been disseminated by those who would control the populace in order to increase his/her wealth, those that would divide and conquer etc. The problem of greed and division caused by some in order to maintain their position in life is one of the major problems societies throughout the world will have to recognize and deal with before we can make this world a better place. It has to start somewhere, let it be here, let it be now, let it be us, the members of PlanetPOV, let's take up the challenge.