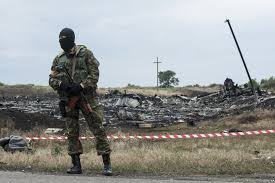 In 1915, while World War I was under way, a German U-Boat torpedoed the British passenger ship, The Lusitania, just 11 miles off the southern coast of Ireland. Nearly 1,200 of the approximately 2,000 passengers were killed due to this attack, among them, 128 Americans. This was a major influence on the U.S. declaring war on Germany in 1917.
Has Russia just repeated history by shooting down Malaysian Flight 17 and killing all 298 innocent people aboard? Will a World Economic War be declared against Russia by the European nations who have so far accommodated the weakly camouflaged Russian invasion of Ukraine?
In the case of the Lusitania, the Germans felt justified in destroying it because in addition to being a passenger ship (the largest and most deluxe Cunard ship at the time of its sinking), it also transported military cargo such as munitions. As unacceptable as such self-justification was for the Germans, the Russians apparently shot down Malaysian Flight 17 just because they were trigger happy.
It is important to keep in mind that the Ukraine military transport planes that Russia has shot down recently have all been flying within their own borders, none of them posed any threat to Russia since the soldiers on board were flying to Ukrainian regions to defend their own country from this invasion. Even the fog of war excuse can't be legitimately used as an excuse since this is a one-sided war posing no threat to Russia…only a threat to its continued occupation and annexation of a sovereign country.
Was such a horrendous act that could galvanize The West against Russia inevitable? Was it only a matter of time until a brutal, militaristic dictatorship such as Russia would go too far to get what it wants that it shocks the rest of the world into turning against it in unity?
Probably so.
Vladimir Putin's pursuit of returning Russia to world domination status is the kind of madness that has no boundaries and thus would eventually cross the boundaries of conscience, even for the European nations like Germany that have put more importance on getting low cost fuel from Russia than standing up as a moral world citizen, against the murder of innocent people in Ukraine and the stealing of its land and sovereignty.
Sometimes it is very difficult for decent people to understand how those who act in evil ways think. How could a fellow human being show such disregard for the lives of other human beings? How can they create a situation where a mistake means blowing up a jet carrying 298 innocent people (and devastating the thousands of friends, children, family members and colleagues of those murdered), some of whom were top researchers on AIDS, devoting their lives to helping their fellow human beings? And to add more to this outrage, Russia's attempt to cover up their murderous attack, stealing away some of the dead bodies and body parts while leaving others to rot as they prevented others from coming to the site, stealing evidence and the black boxes from the scene and accusing Ukraine of committing this heinous act that Russia did.
The unrestrained and inhuman violence of Putin's Russia has been laid bare to the world through this horrible act. Nations that have been more worried about their economies to decisively push back against Russia should now see that their economies won't fare too well if the world is destabilized by a militaristic, war mongering nation (though they shouldn't need to come to a correct moral position solely because it's more financially beneficial).
Could this be Russia's Lusitania which brings together the rest of the world to step up united and against them? As the often coined quote attributed to Edmund Burke goes, "All that is necessary for the triumph of evil is that good men do nothing."
And it is hard to see how this affront to our civilization and society, the callous murder of nearly 300 people flying tens of thousands of feet above an invaded nation can be met by the most powerful and influential nations in this world, with nothing.