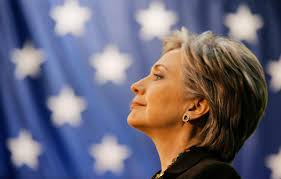 For those who harbor concerns about Hillary Clinton becoming the triangulating, Republican agenda empowering candidate that Bill was as President, looks like those concerns may be well grounded:
Hillary Clinton has begun distancing herself from President Barack Obama, suggesting that she would do more to woo Republicans and take a more assertive stance toward global crises, while sounding more downbeat than her former boss about the U.S. economic recovery.

Mrs. Clinton gave a gentle account of their policy differences in her new book, "Hard Choices," though she wrote that she would have armed moderate Syrian rebels at a much earlier point in the country's bloody civil war.

In another contrast, Mrs. Clinton has said U.S. presidents must never stop courting Congress. Mr. Obama has questioned whether such efforts make any difference. Mrs. Clinton expressed skepticism of candidates with "beautiful vision," while Mr. Obama still hammers on his 2008 campaign mantra: "Hope."

"I mean, some people can paint a beautiful vision," she said at a CNN event last month. "And, thankfully, we can all learn from that. But then, can you, with the tenacity, the persistence, the getting-knocked down/getting-back-up resilience, can you lead us there?"
http://online.wsj.com/news/article_email/hillary-clinton-begins-to-move-away-from-obama-ahead-of-2016-1404691988-lMyQjAxMTA0MDAwNzEwNDcyWj
The recent tactics from Hillary seem to be revealing the same mercenary, conservative/non-Progressive sensibilities we saw from Hillary in 2008. I'm not going to rely on one article to define Hillary but I am prepared for the possibility of seeing Hillary continue down this road of Republicanism under the guise of "working for bipartisanship" and "reaching out to Republicans"…just as Bill did.
Bill Clinton's years were a boon for many key Repub agendas, destroying unions while outsourcing jobs via NAFTA, killing Glass-Steagall and setting the country on a course for Wall Street to rob the 99% and crash the economy and forcing a work requirement on those on Welfare.
Anyone who's become a bit familiar with Bill Clinton and his foundation knows that it's all about networking with the wealthiest people to get them to back his projects. Bill has extremely close relationships with the same wealthy Republican throwing millions into elections to elect Republicans by hook or by crook (with an emphasis on the "crook"). Chelsea Clinton worked for a hedge fund, her husband ran a hedge fund and the Clintons have a net worth somewhere between $55-$80 million dollars.
Now that may not be Romney cheddar but how many people do you know who have $55 million and think most about those who are struggling? In between their catered benefits and galas?
Bill Clinton makes $200,000 per speech (that's more than $200,000/hour since his speeches don't last as long as an hour…so maybe $200,000/half hour?) and in total, he's made over $100 million just for giving speeches.
Hillary Clinton received a $14 million advance on her recent book, Hard Choices and receives the same average of $200,000 for her speaking fee (guess taking that kind of money for just speaking isn't a Hard Choice). She claims that all of the money she gets from college speaking fees (that doesn't include fundraising, corporate and other speaking fees) go to the Clinton Foundation, not to her. Er, isn't her last name Clinton?
The Clintons are incredibly wealthy people who move in the circles of the same wealthy and powerful people who have inordinate control over our democracy and society, they are friends and peers with them…so is it most likely that if elected, she's going to hammer her best friends to help "the others"?
Her quickness and lack of hesitation or conscience to spin and stab Obama in the back as referenced at the top of this article and her dishonesty about her and Bill leaving the White House "dead broke" revive that creepy feeling in me that I had about her in 2008…that she may be what we used to call…"A Republican".
While he was President, it was argued that Bill Clinton was one of the better Republican Presidents. Hillary Clinton seems like she can hardly contain herself when it comes to saber rattling, anxious to prove she doesn't think "like a girl" and would happily send our troops into harm's way if given the chance (this hawk aspect of Hillary is primarily what opened the door for Obama in 2008).
Because the Republican Party has moved so far to the lunatic fringe, in comparison, a Hillary Clinton who wants limited new wars, wants to support bills to which Republicans are sympathetic and is beginning to run against Obama as part of her campaign may not seem to be the definition of today's GOP but think back a decade or two, wouldn't a Republican in the 1990's have similar positions?
It is probable that whoever the Republican candidate turns out to be, would be far more toxic for our nation than Hillary. In a General Election against Rand Paul or Jeb Bush, she would be the better choice…but since it still wouldn't be voting for a Progressive, it would be more a situation of voting for the lesser  of two Republicans.
I make predictions here from time to time, my batting average ain't so bad but of course it's not perfect (I was so sure that aqua was going to be the new black this season!). I do think this is an easy one though since she's already seemed to tip her hand a bit. I expect Hillary to run philosophically as a moderate Republican. That is, she will support the social issues that most Dems support, the right to contraception and abortion, immigration reform, gay marriage, etc., but she will also support the financial and international issues that Republicans support, aggressive involvement in world conflicts, minimizing regulations on corporations and supporting tax benefits for the wealthy ("to encourage investment") and framing Obama and his successes as failures.
You couldn't blame Hillary for being convinced by those in her bubble and the MSM that she's entitled to win the Presidency and make history as the first woman President. You couldn't be surprised by her taking the Progressive base for granted ("Who are they going to vote for anyway?") and appealing to conservatives and RWs to win the election in a mandate landslide. And she shouldn't be surprised that a presently unlikely candidate for the Dem nomination may run to her left and give her a run for her money (which would be quite a run)…and maybe even beat her.
Hillary seems to be ready to start off as running for the General Election instead of running to win the Dem primary and that is the same slippery slope she slid down in 2008. It wouldn't be strange if an actually Progressive candidate started gaining ground on her in the primaries. I could imagine her suddenly adopting that candidate's Progressive values while attacking that candidate as ruthlessly as she attacked Obama (we all remember how vicious she and Bill were towards Obama when he started looking stronger…both throwing around the race card with Reverend Wright and other racial statements, it was Hillary supporters who started the Birther accusations against Obama, Hillary attacked Obama as unAmerican for his "ties" to Bill Ayers and of course Hillary just outright lied about her and Chelsea being shot at on a runway by a Bosnian sniper to seem more heroic than Obama).
Counting on a leopard to change its spots is not the best bet to make in Vegas. Bill and Hillary breathe the same rarefied air that the mostly Republican 1% breathe, they fly in the same private jets, they've supported the same policies and agendas and they "pal around" with the same financial terrorists who destroyed our economy and cracked economic inequity wide open for the 99% (far more than Obama "palled around" with Bill Ayers). So does she really look like she'll be the champion of the 99% over the 1% if she becomes President?
We should never crown Presidents in America. Hillary doesn't have a right to become President, she should have to compete against worthy opponents and earn the nomination if she's to have it. I'm hoping to see a very spirited Democratic Primary in 2016 and I will support whoever wins that primary against whatever lying nihilist likely comes out of the GOP's primary…but let's have a real Primary race and elect the Democrat who best reflects Progressive values.