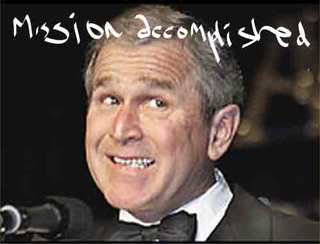 We are now witnessing the inevitable consequences of going into a war in a nation that posed no threats to the US, was politically stable, sectarian, where Shiites, Sunni and Christians lived side by side in relative harmony and al Qaeda was viewed as an enemy by all sides. We installed a puppet regime that was wholly Shiite with some token Sunni leaders, a regime that crackdown on the Sunni population and ironically a regime that is firmly allied with Iran and now we have the decrepit old warmonger John McCain demanding that Obama fix the mess his political preferences caused by doing Iraq war 2.0, with the same gang of henchmen that lied us into a war that has totally destabilized Iraq and the surrounding nations.
McCain insisted that we supply weapons and money to the Sunni opposition in Syria, the same people who allied themselves with al Qaeda and have joined forces with the Sunni awakening in Iraq but not so clever John, now wants to go to war against those people he so recently was man crushing on as true patriots. It's impossible to fathom how somebody can be wrong all the time and can even flip sides and do a complete 180 by wanting to now defend a puppet regime that is an ally to Iran and yet there it was yesterday, when McCain went to the floor of the senate to berate the POTUS for not being a duplicitous chameleon bent on war like good old, bloviating and useless John is.
OK John, how do you square the circle of creating the destruction of a once secular nation into a bloodbath that is drawing in extremists from around the world? How do you square the circle that the insurgents are funded by US dollars that you insisted on being provide to them and how do you square the circle of al Qaeda now having control of 1/3 of Iraq, a country that had no al Qaeda presence before the Bush multi trillion dollar war for oil and no bid contracts for war chasing corporate profiteers?
According to John, you side with the pro Iranian despot who Bush installed as president of Iraq and squander untold $ billions if not trillions fighting against the very same people you wept and bemoaned needed our military aid and support when they were across the border in Syria. You want the Bush team of warmongers returned to power to lead a war against the people you so admired early this year and late last year.
All I can say is thank the mercies of fate that you never became president and got to live out your desires for never ending wars as you'd have us fighting against both sides of every conflict depending on which way the wind was blowing.
We should have left Iraq alone in 2003 as ironically it was America's major bulwark against Iran and its presence kept a state of balance in the region. The complete unraveling of the entire region can be traced back to the Iraq invasion in 2003, the Syrian crisis, the division of Iraq into pro Iran and collectively anti the US, the Sunni awakening and the rise of al Qaeda where it never existed before are all being laid at your neo con doorstep, so what's an old whining warmonger to do? Blame Obama because you belong to the party of chaos and no personal responsibility other than feeding the notion of war for profit at the cost of lives and the bankrupting of America.
It's time for you to retire seeing you are so unhinged that you thought Sarah Palin would have made a great VP in 2008 and railed against the Biden plan on Iran that was to create a loosely federated nation of 3 constituent parts that would have seen this current carnage never arise.