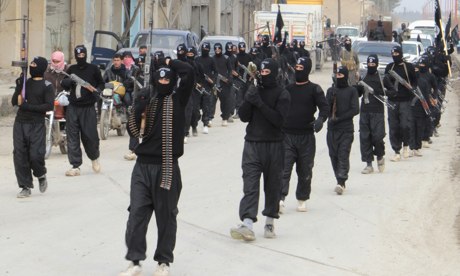 It seems like so long ago and yet not so far away, The Bush Administration was on an aggressive campaign to convince Americans and the world that we were all in danger from the evil Saddam Hussein who could kill us at any moment…and thus we needed to attack Iraq.
We would be greeted as liberators, with flowers and candy, the war would pay for itself through oil revenues and a domino effect of democracy would occur that made the Middle East a thriving Western democracy.
Those chickenhawk neo-conservatives who held the reins of our government while George W. Bush was president are now watching the dominoes they knocked over continuing to fall and no doubt they have one very upset reaction to what they're witnessing, "It's Obama's fault, Obama lost Iraq."
Those of us who aren't so committed to denial that we would do anything to ignore reality, see this unimagined consequence of such narrow minded war mongering as the true and continuing "Mission Accomplished" by George Bush and his administration.
The truth is, we've spent billions and the lives of many of our soldiers, training a cowardly Iraqi Armed Forces that when confronted with an attack, tear off their uniforms and run away. Then they beg America to bomb their country again to defend them. Now that is a very complex mindset.
It is somewhat reminiscent of when Americans tried to train South Vietnamese forces to fight the North Vietnamese but finding that no matter how much time and resources were poured in, many were reluctant and afraid to do so. And when the Americans left, the South quickly fell. It is proven to be hard to turn those reticent about violence into becoming hardened soldiers. The current crisis in Iraq makes that clear.
ISIS, the radical Islamic army sweeping through Iraq and conquering town after town in a blur and terrible bloodshed, is a continuation of the Bush Doctrine at work. Republicans are especially bad at anticipating blowback, whether it's what they say or what they do publicly, whether it's Eric Cantor being taken out by the Tea Party monster he helped create or Iraq being so devastated and weakened by an unnecessary war that right now it looks like a helpless child being mauled by a bear.
To those Republicans who constantly reach for the "Bush isn't President, time to stop blaming him for everything" panic button, actions have consequences and the destabilization of Iraq so that it could be on the brink of becoming the most dangerous, radical state on the planet, is primarily a consequence of Bush and his administration forcing their dishonest, trumped up war on the nation and the world. They sought to break Iraq apart and destroy its government so their cronies could profit from it…they threw the brick through the window but someone else more dangerous is crawling through the hole they created for themselves to use.
Saddam Hussein was a bad guy but there are many bad guys running countries in North Korea, Russia, Egypt, etc. Sometimes it's not a choice between good and bad, it's between bad and worse. ISIS is a terrorist group, they could be the first to control their own nation (the Taliban were not exactly terrorists when they controlled Afghanistan, they were religious extremists that harshly applied their system on the nation and though they harbored Al Qaeda, they did not commit terrorist acts against the U.S. or have an agenda to do so).
And who does ISIS have to thank for the deadbolts being broken on the doors to Iraq? They ought to commission a bathtub self portrait of George W. Bush out of gratitude.
Calculating blowback may be something Republicans are very bad at but at least they never learn from their mistakes.
In the 1980's, a little known Republican President named Ronald Reagan set the example by financing and training Osama Bin Laden and other Islamic militants to fight a proxy war against the USSR in Afghanistan and that group came to form Al Qaeda. Yes, following the blowback trail, Reagan helped bring about the 9/11 attacks. But hey, let's just name another bridge or ocean after him.
As for Bush's legacy from the blowback of his deadly choices in the global arena, we don't know right now where it will end or how horrible it will become.
It is ironic and sad that some are now looking back to the days when Saddam Hussein ruled Iraq as "the good old days" but it is hard to argue against that today. He had no weapons of mass destruction, no ability or agenda to attack the U.S., his brutal regime kept a lid on extremists (though many innocent Iraqis were killed, tortured and jailed under Hussein…but in numbers dwarfed by those that the U.S. war in Iraq brought about and is bringing about via blowback) and an invasion like we're seeing today would have been violently confronted by Hussein's military.
So here we are, trillions of dollars, thousands of American lives, hundreds of thousands of Iraqi lives and eleven years later, with Iraq on the verge of becoming the first Islamic terrorist controlled state. Well done, Bush! Another feather in your legacy cap…right next to the one for the global financial collapse.
"We don't want the smoking gun to be a mushroom cloud," that was at the core of the fear mongering by Bush but the smoking gun of the Bush Administration's warmongering is a political mushroom cloud that continues to radiate to this day.
So do we get drawn back into airstrikes in Iraq to try and mitigate the cascading disasters that Bush's fraudulent and greed-driven Iraq War has wrought? Or are we so war weary as a nation and now that we're finally out of Iraq, we eschew further military force and watch as Baghdad falls to an army and regime of radical terrorists?
There is no good decision here, as with Saddam Hussein vs. ISIS, it is not a decision of one thing being better than the other. It becomes a decision over what is going to be worse…and trying to envision the blowback from making one decision or the other.