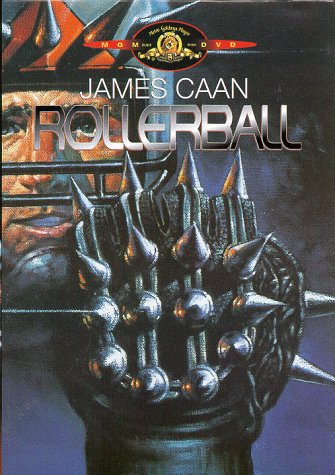 1975… My, how the years slip past so quickly.
Remember when this movie was an interesting science-fiction film?  A good yarn about one man taking-on the crushing corporate power in 'the future' (as 2018 was regarded back then) , 'Rollerball' was one of the seminal movies of my college years.
Long before it was obvious that nations were dissolving under the power of corporate money, we dozed under the dream-myth of 'rights' and 'freedoms' that we learned as children and still then believed.
Even though the cannon-fire echoes of Vietnam still echoed in our ears, we believed that as a country we had things 'right' and everything would work out 'better'.  After all, we were raised during the post-WWII years of good employment and job security, home mortgages that were affordable, a 'new' used-car once in a while.
At least many of us were living in that dream-world.  We were the lucky ones.  'Poverty'. we were taught, was something that happened in 'other' countries, 'poor' countries – countries where freedoms were limited and uneducated populations were exploited by a small class of wealthy, unscrupulous rulers and controllers aided by evil-minions.
Well, welcome to late-2013.
Times today are a little different than they were in 1975.  In the intervening 39-ish years, corporations have been granted 'personhood' by supposedly bright judges.  The impoverished 3rd-world countries are now exploited by corporations seeking lower costs, exporting manufacturing jobs overseas or importing low-wage overseas workers to make up for artificial 'job shortages' in the professional world.  Corporate money controls our very government from top to bottom, creating laws and court rulings favorable to The Corporation at great cost to our personal freedom and liberty.
In the meantime, as Rollerball so exquisitely illustrates, the people residing in the formerly 'free' countries are distracted by an entertaining gladiator-game full of action, violence, the occasional death or gruesome mash-up – as the crowds cheer wildly for 'their side'.
Threatened by one man, Jonathan E. (James Caan), the corporations (as personified by the brilliant John Houseman) realize they must crush his independence publicly and violently.  People are starting to wake up and realize they're being played.  This is the one thing corporate power fears – what if one person, or several people, or a lot of people suddenly wake up to realize they are being played?
The message here is that individuals are not powerless in the face of overwhelming adversity.  Each one of you has the power to make a change.  You do not have to be a Jonathan E., or a Martin Luther King, Jr., or a Mohandas Karamchand Gandhi – each of those men, and many others like them throughout history, were able to make changes because they had first one, and then two, and finally many other people who supported them in whatever capacity they could.
Read.  Write.  Speak.  Listen.  Participate however you can, at whatever level you can.  There is much to be done, and the feeling of incapacity can be paralyzing to us as individuals.
But that is the fallacy – we are not individuals!  As you have seen many times over the years, no matter how 'far out' you think you might be you consistently see other people out there with you.  Your ideas are not alone, and neither are you!
Don't expect things to change all at once.  Prepare for disappointments and setbacks.  Expect the long haul.  But always keep true to your inner voice – follow it where it leads you.
In the end, even if you do not see all of the change you desire, you have still done your part.  And like tossing a rock into a still pond, you can never know how your ripples will help move another.  And another.  And another…
You do make a difference.
Remember, the corporations have to win – we, the 'little people', only have to not-lose!